Tracking COVID-19 in the US, from March 2nd to July 23rd, 2020.
March 2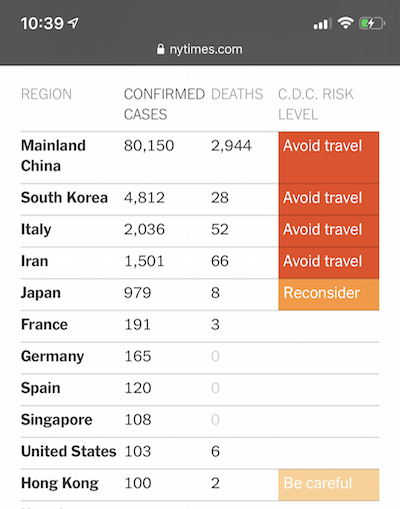 March 13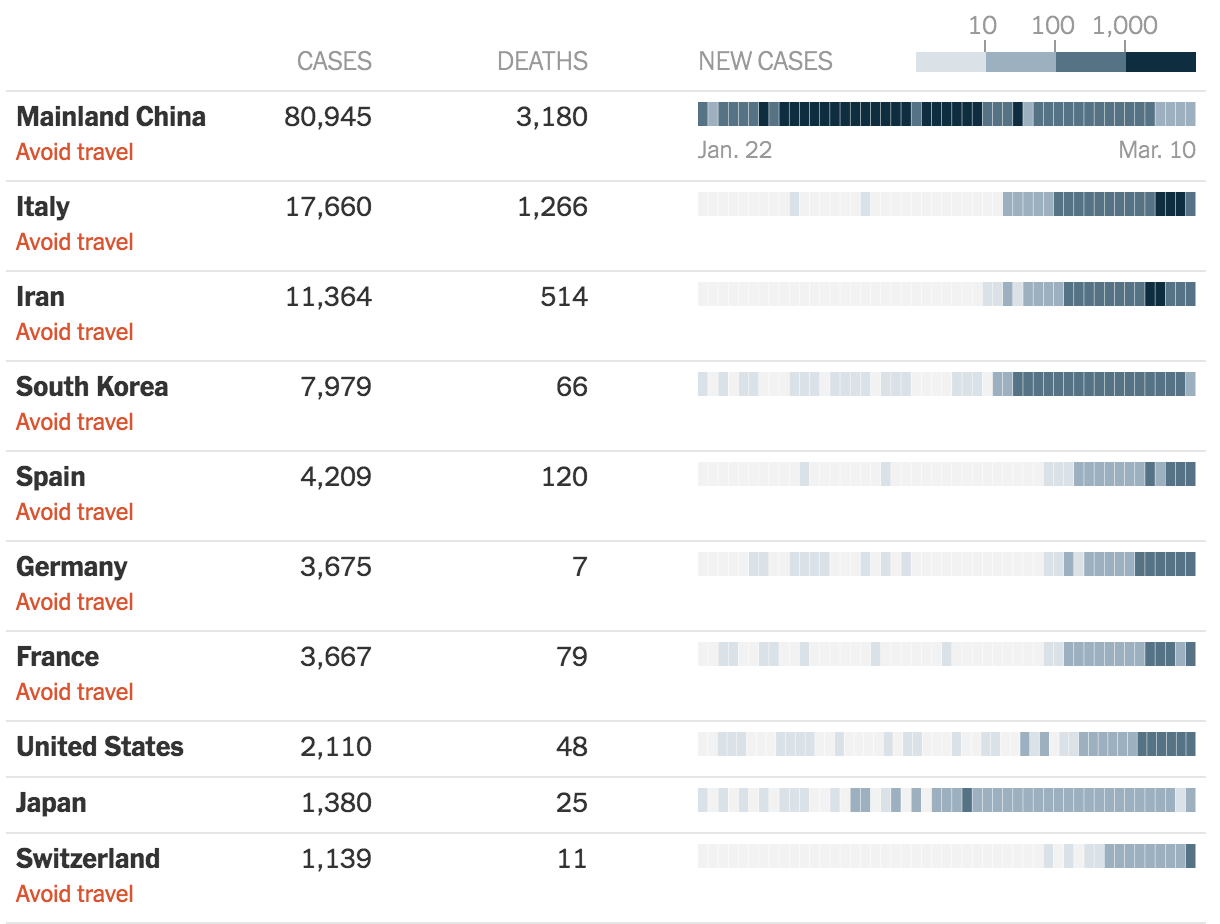 March 15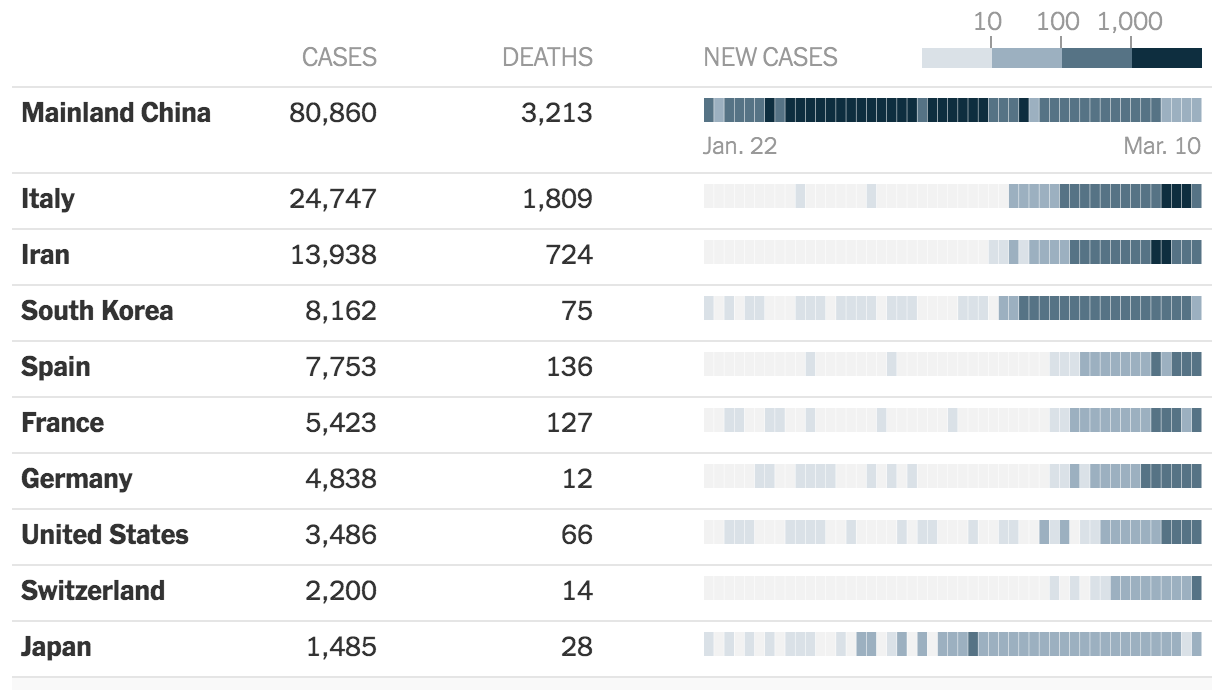 March 16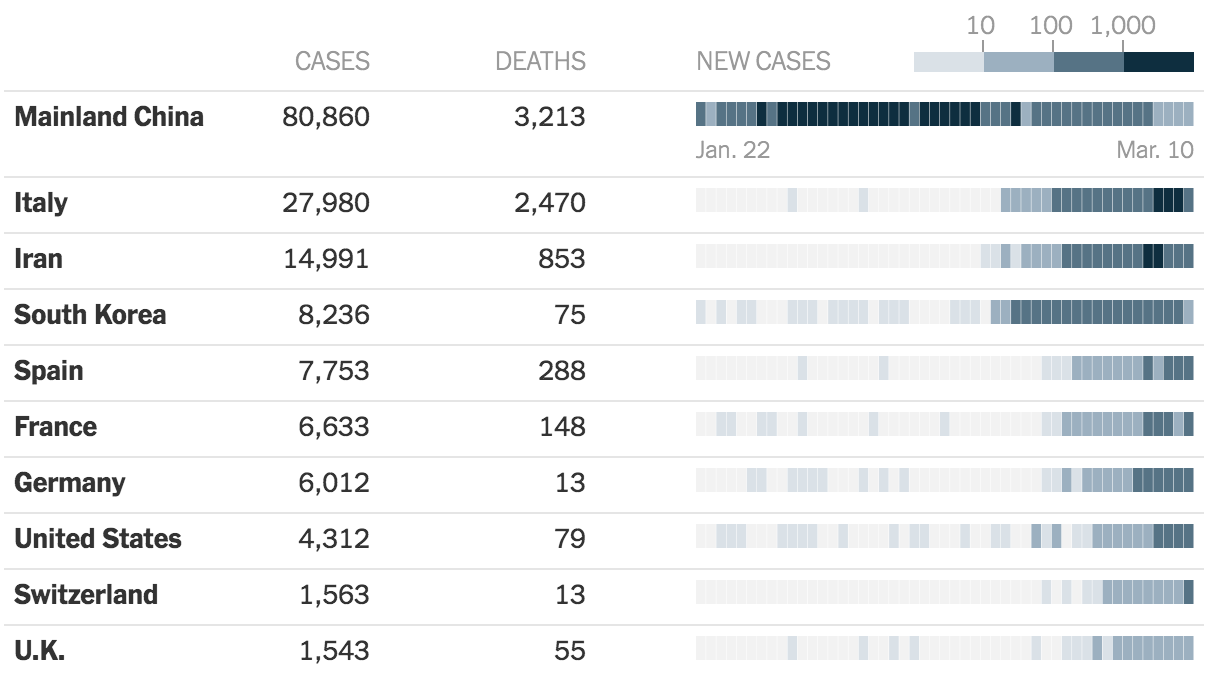 March 17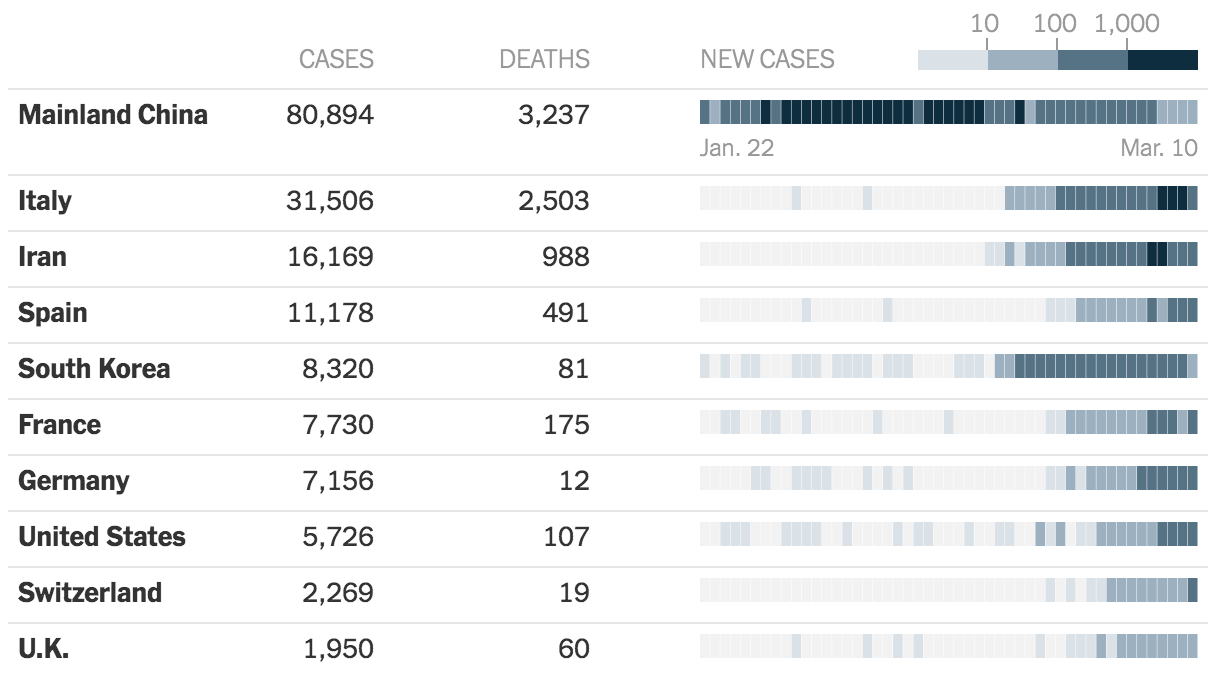 March 18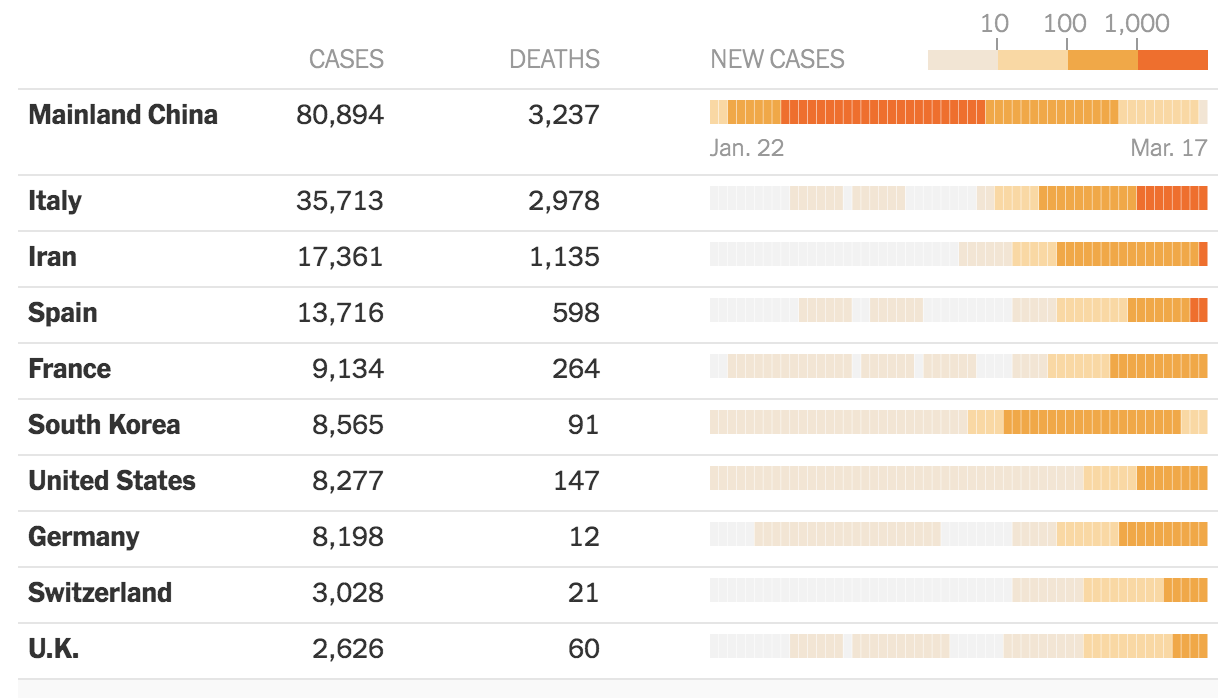 March 19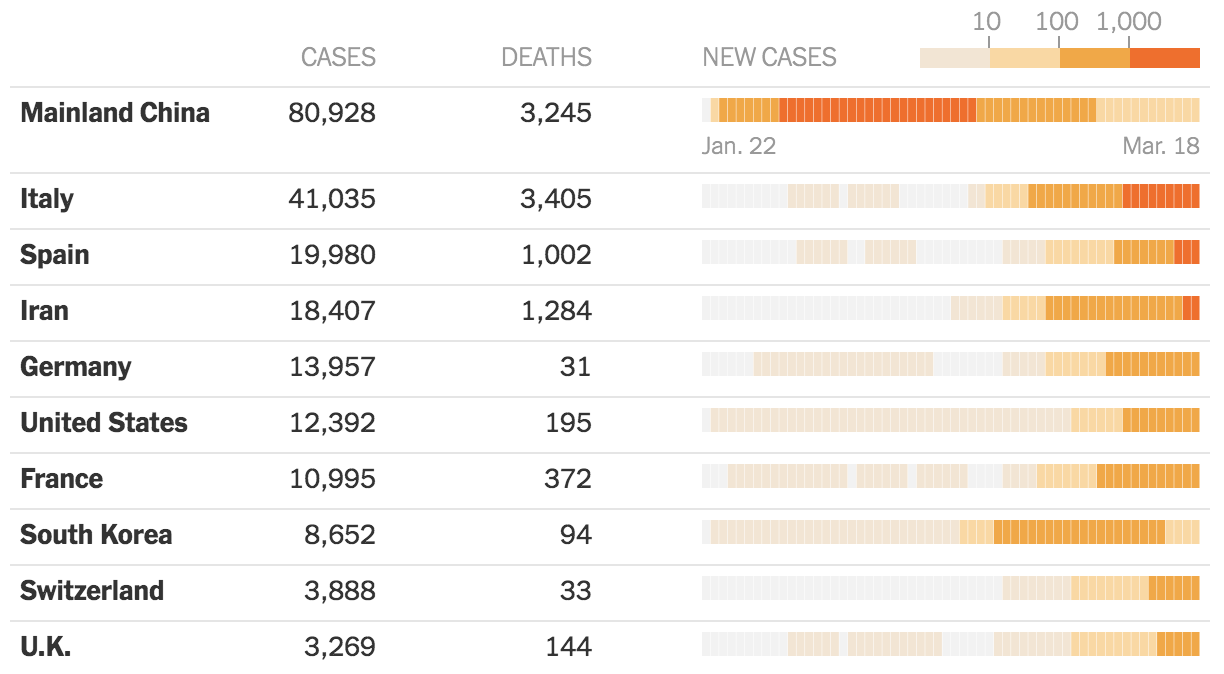 March 20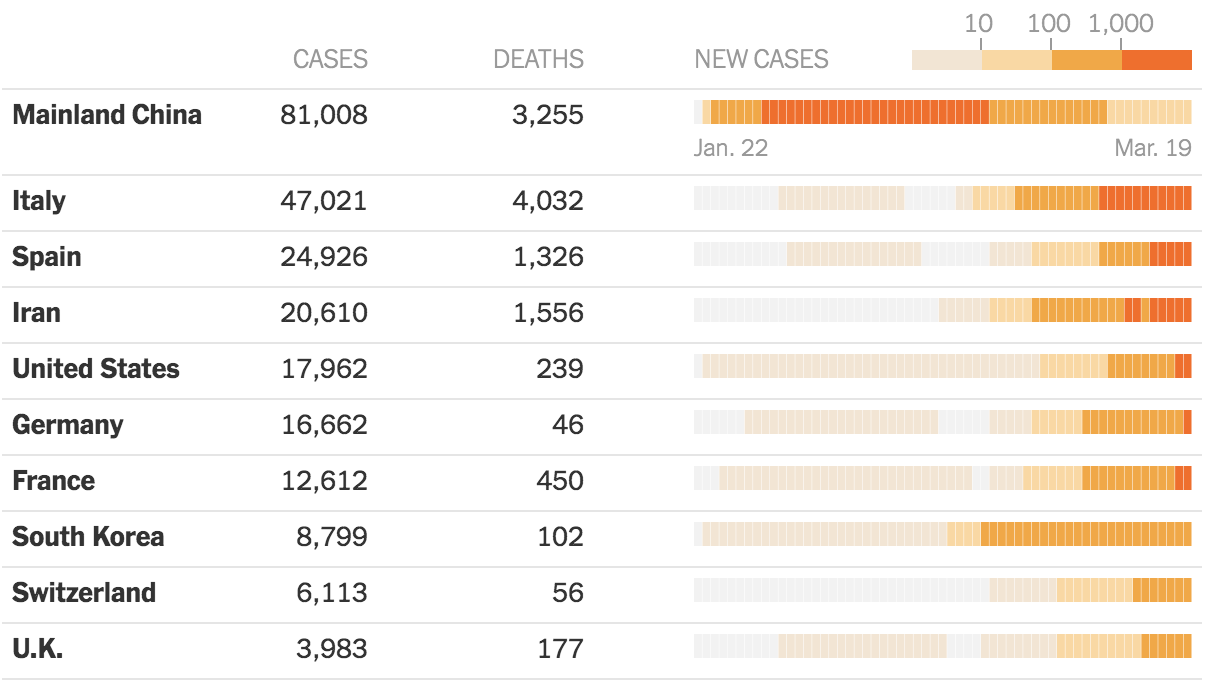 March 21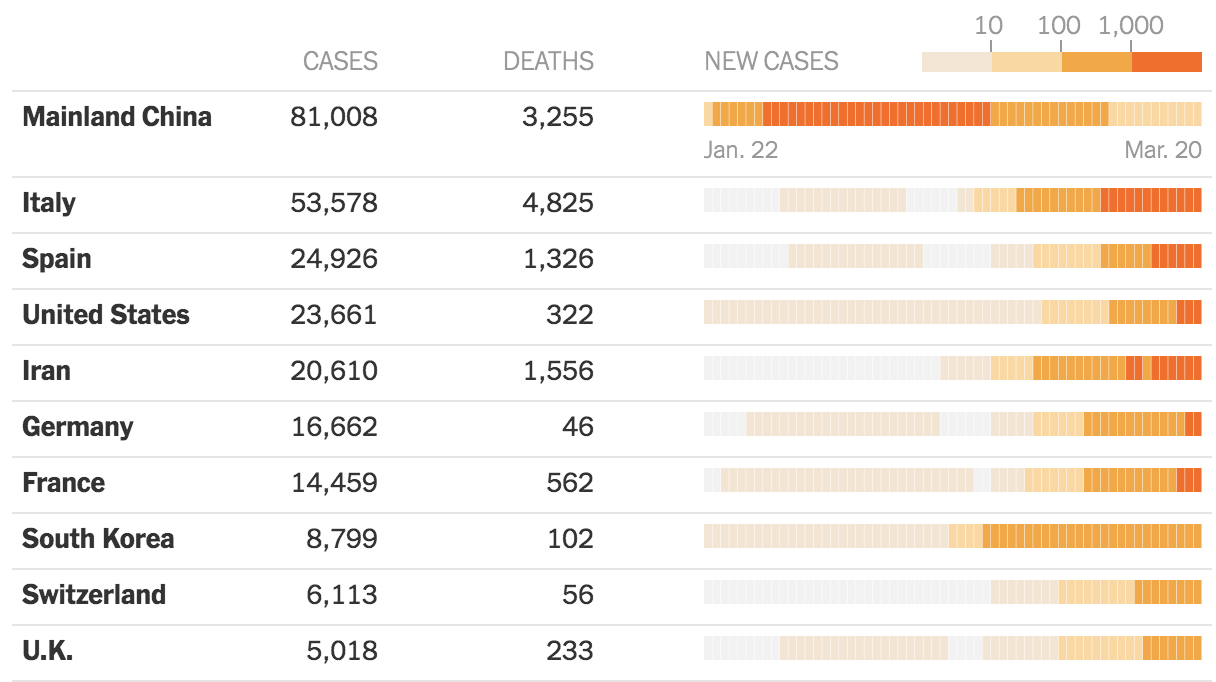 March 22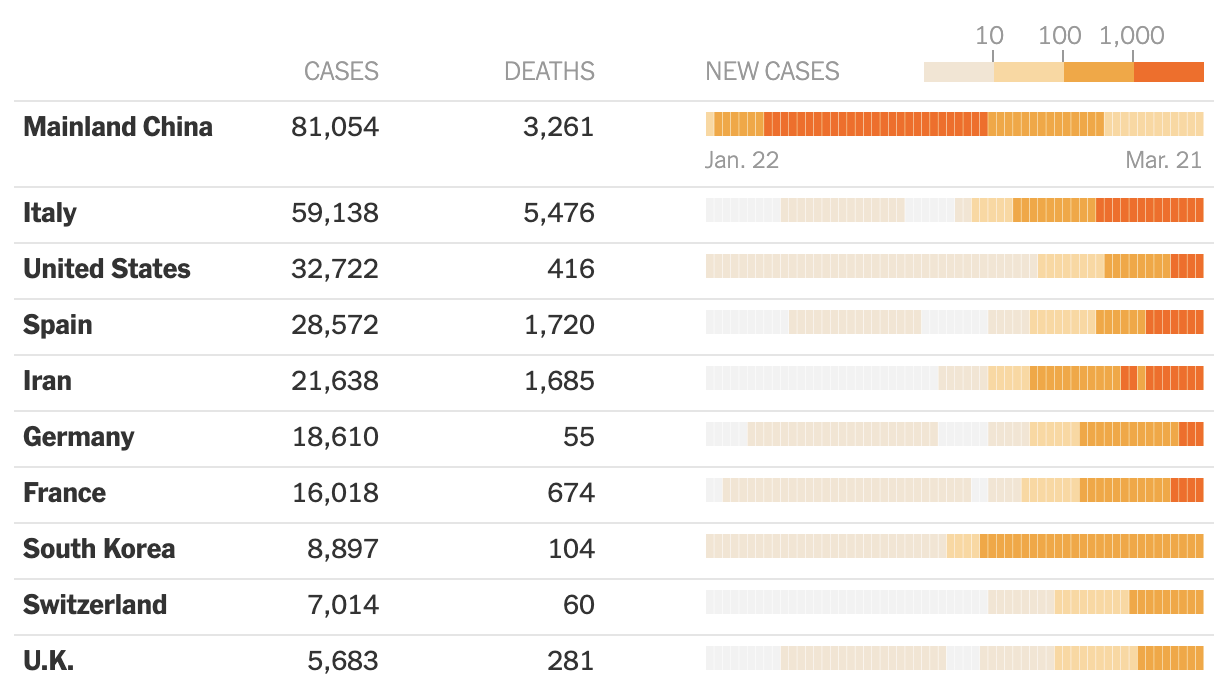 March 23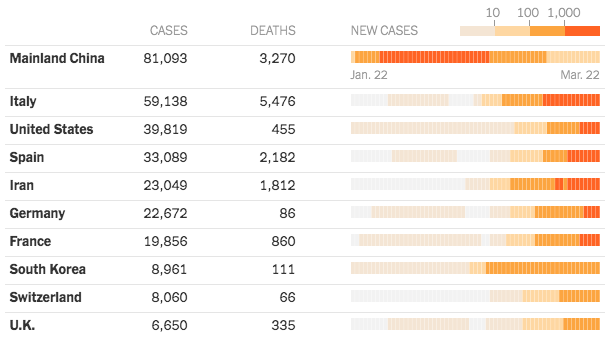 March 24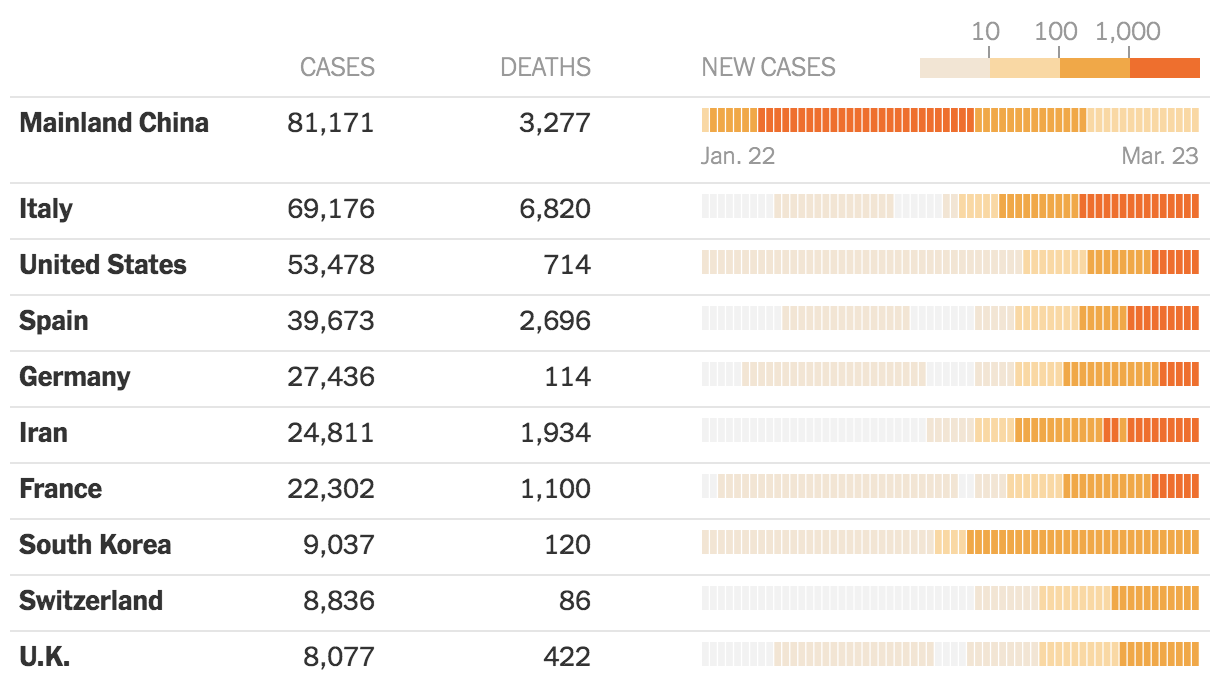 March 25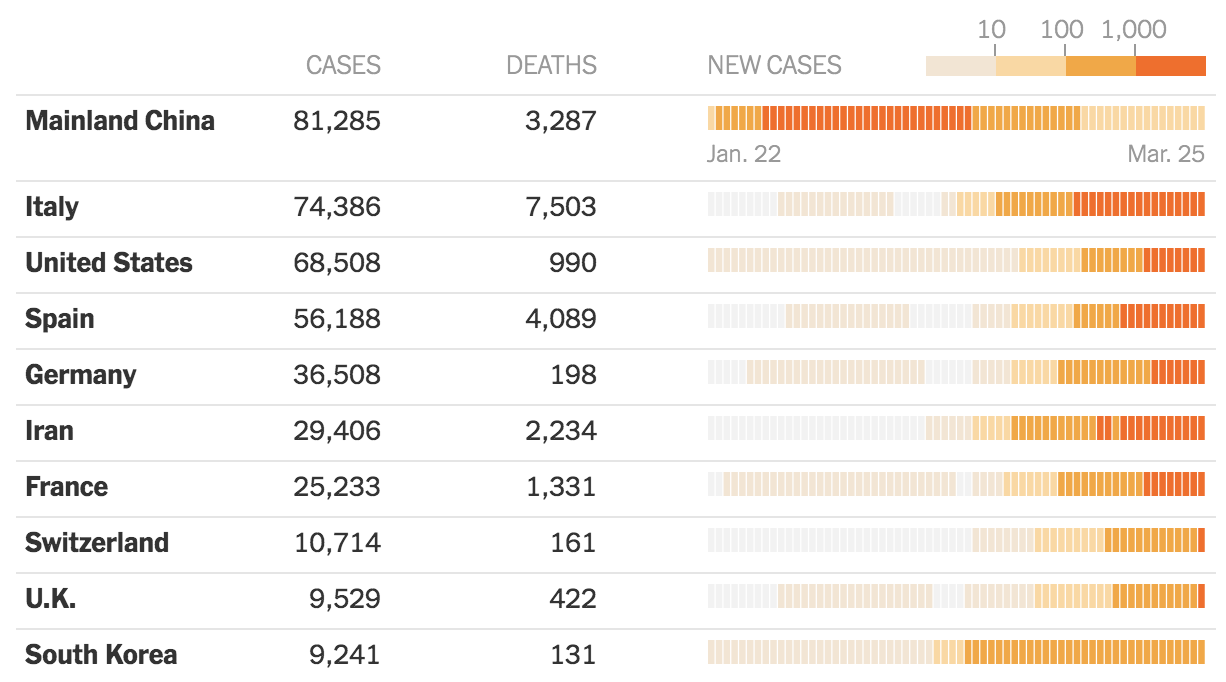 March 26

3.28 million people filed for unemployment in the last week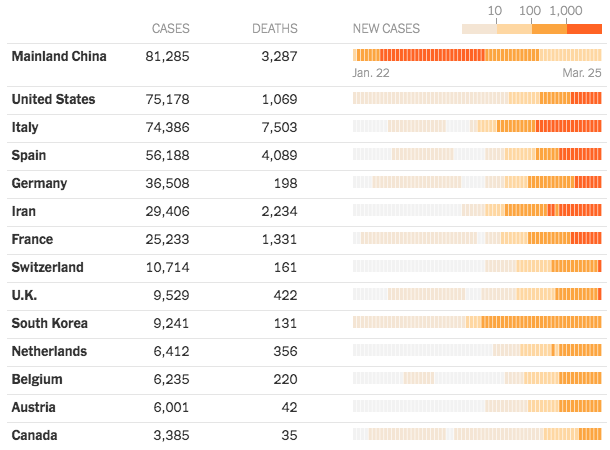 We'll be ahead of China overnight
March 27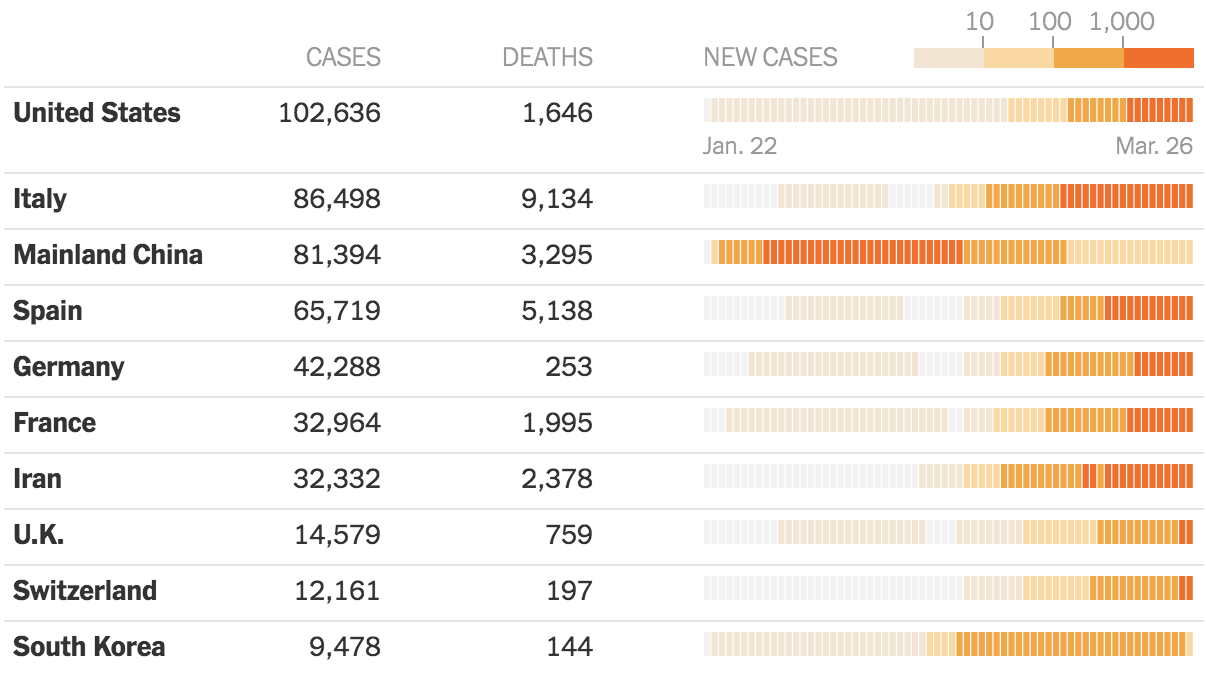 March 28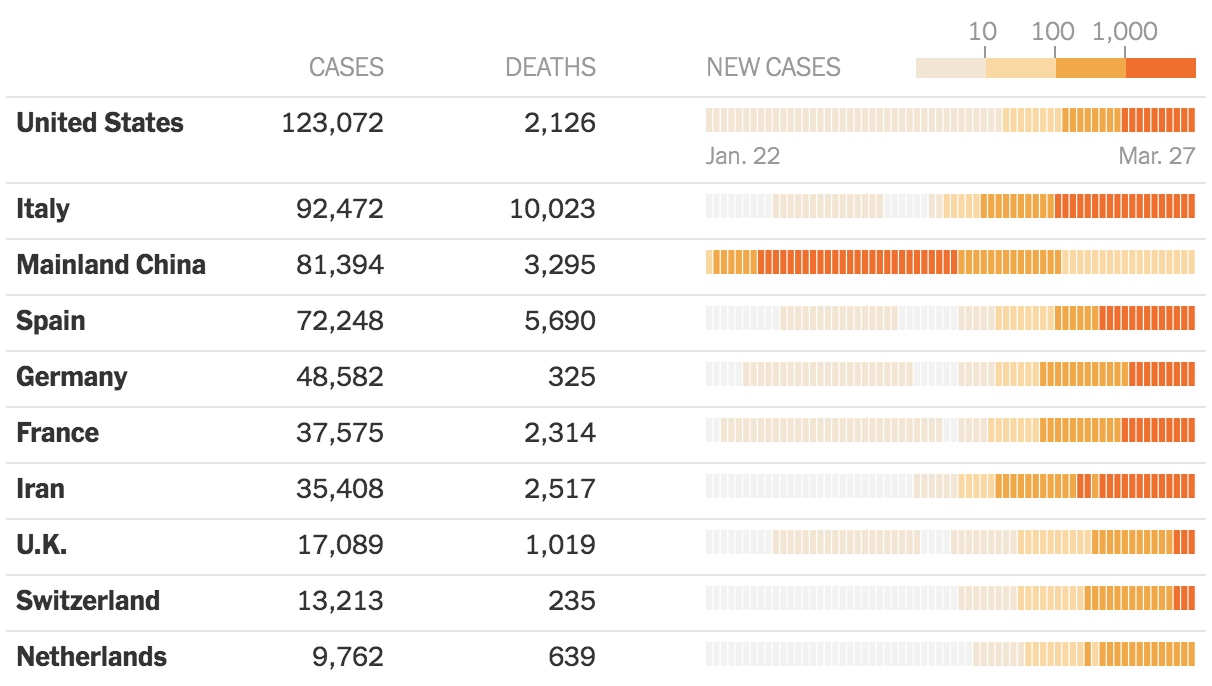 March 29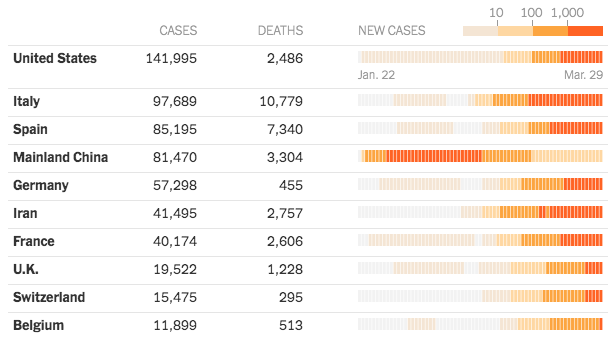 March 30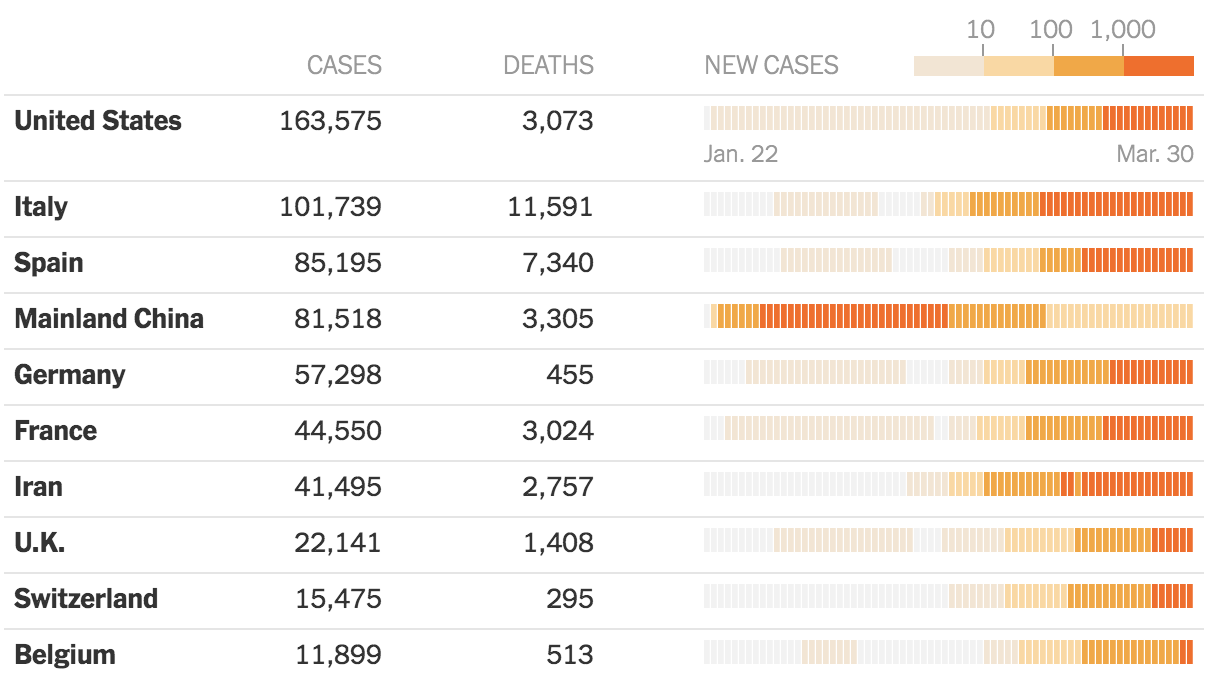 March 31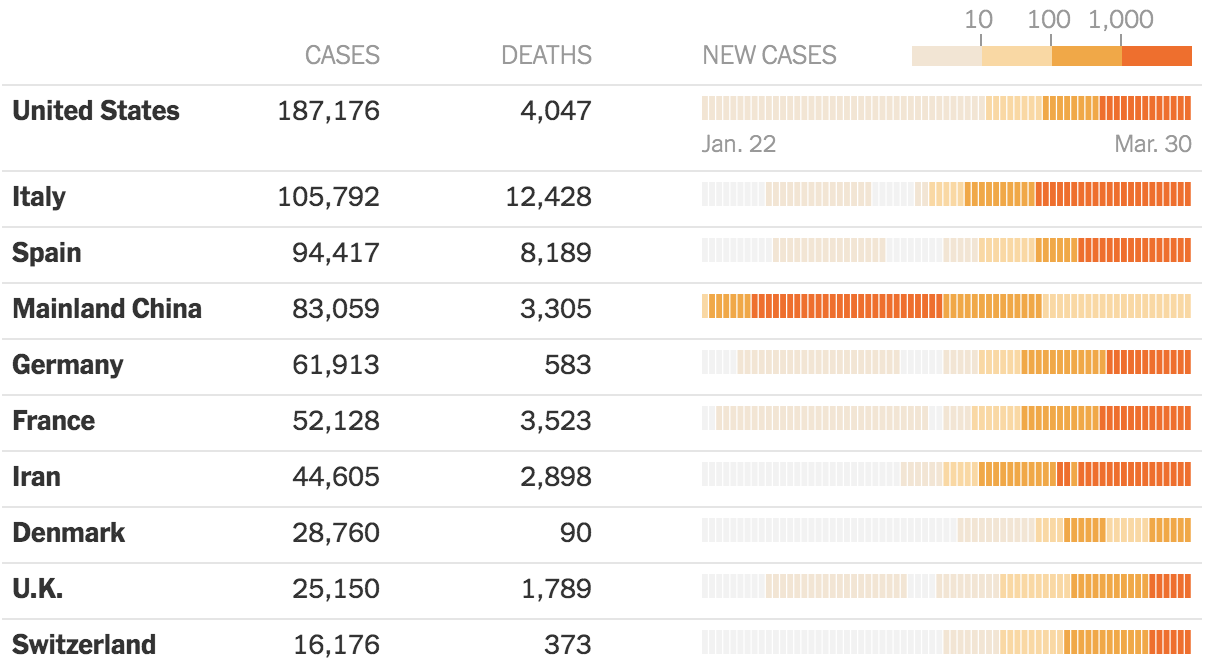 April 1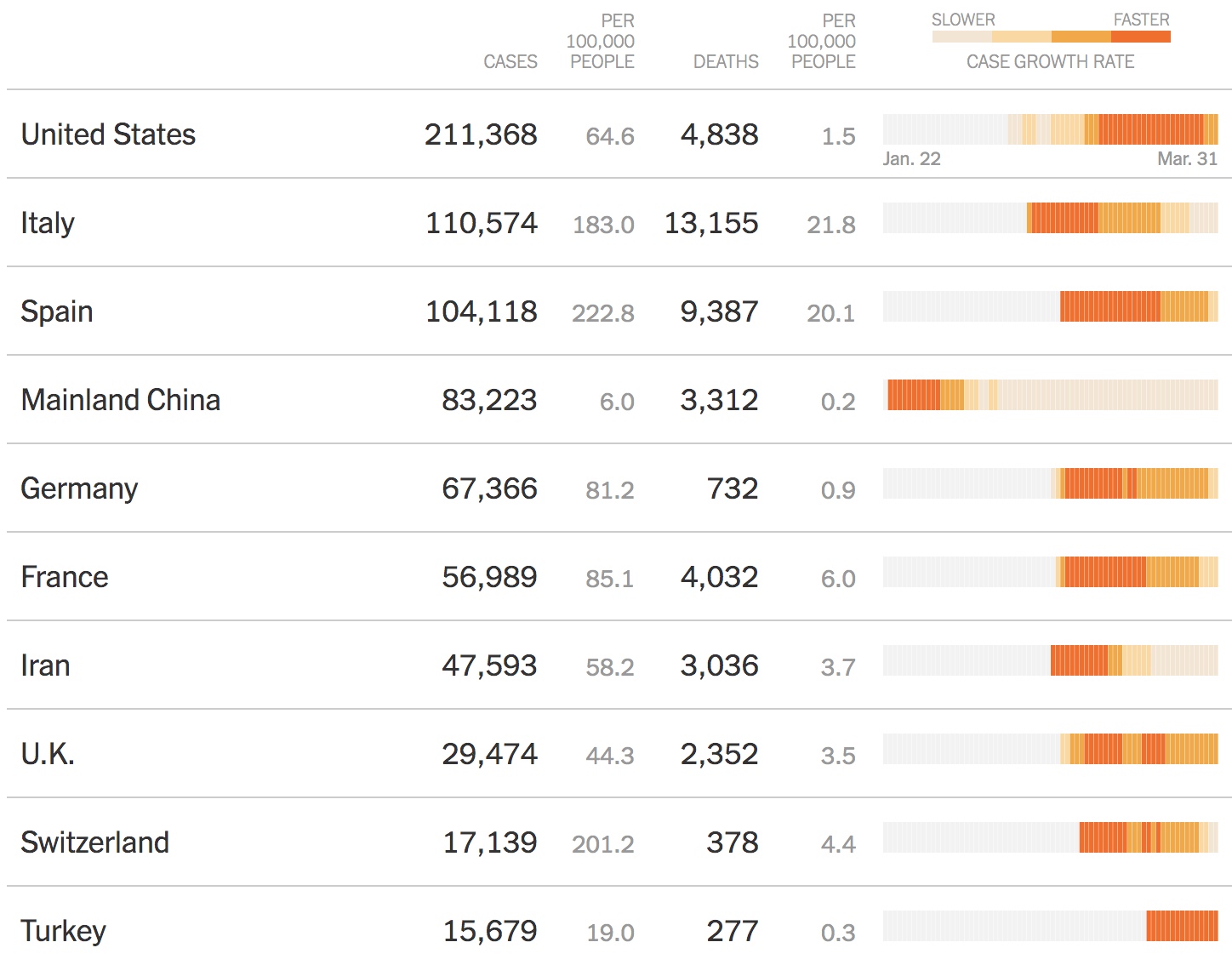 April 2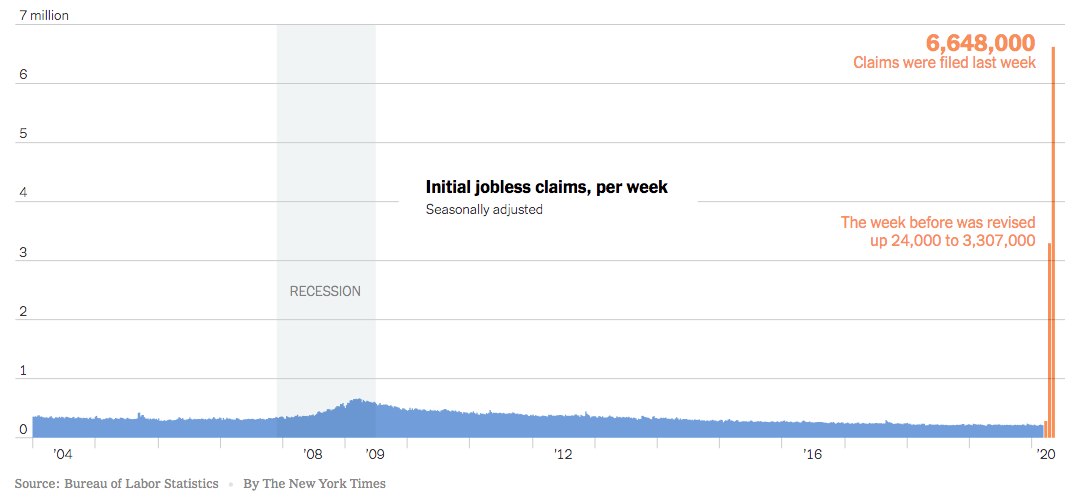 6.6M more unemployment claims filed last week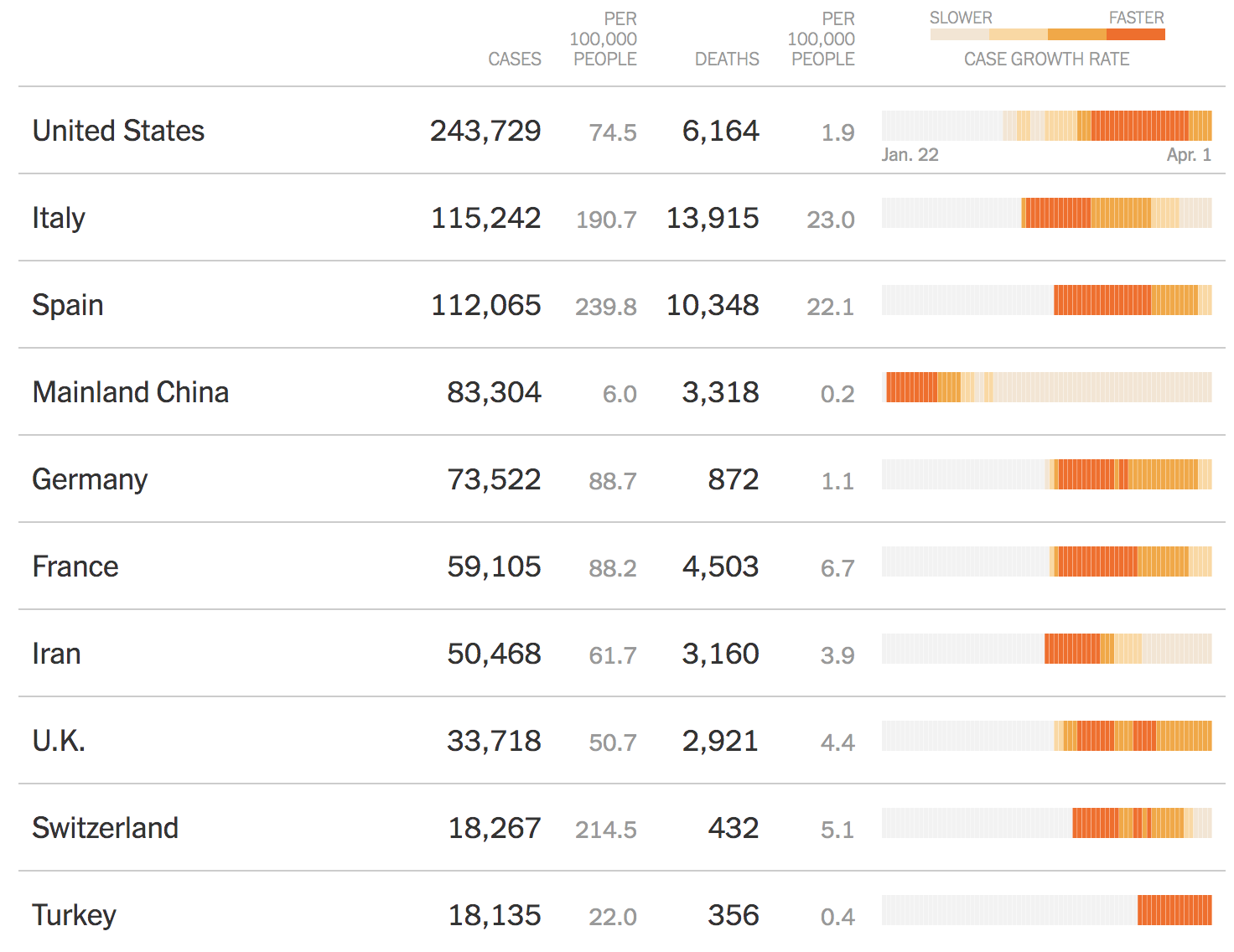 April 4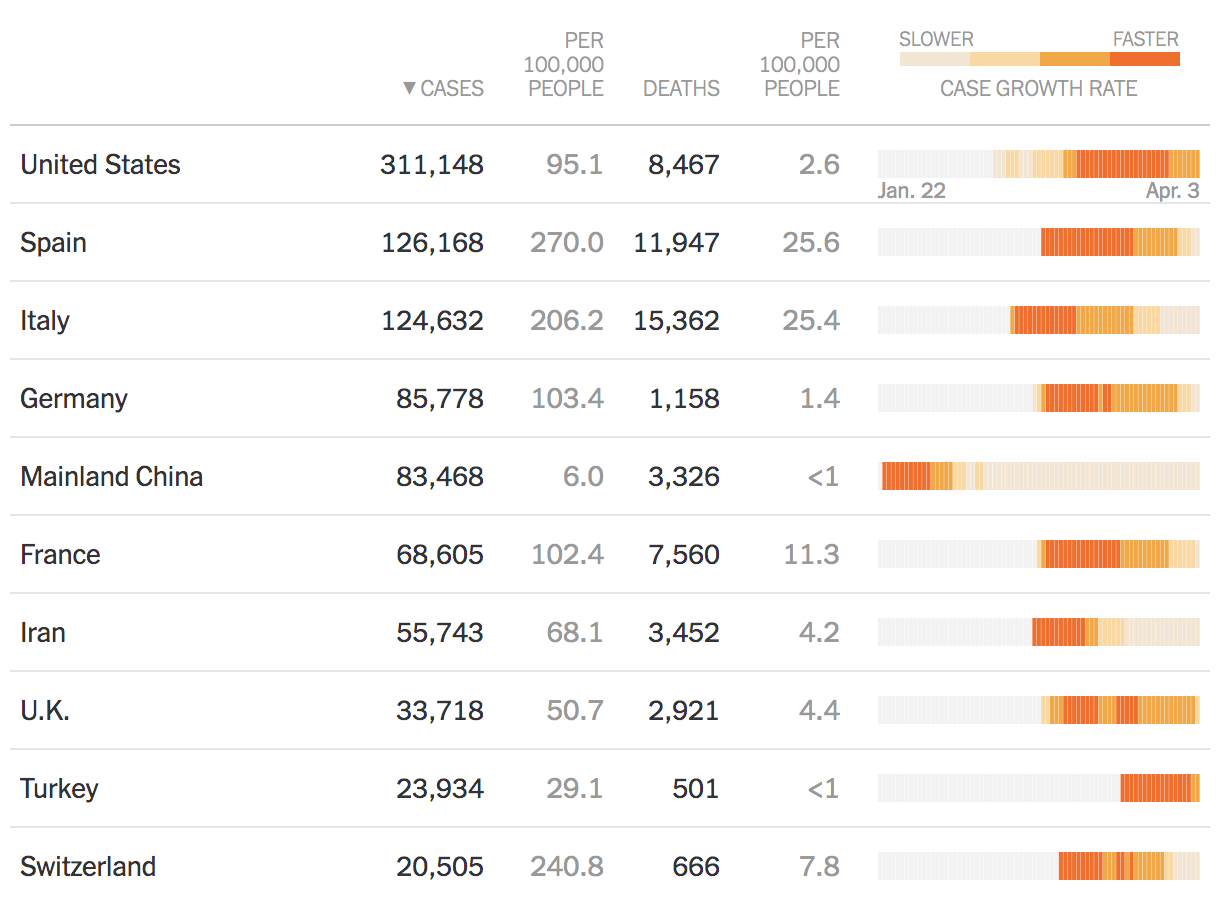 April 5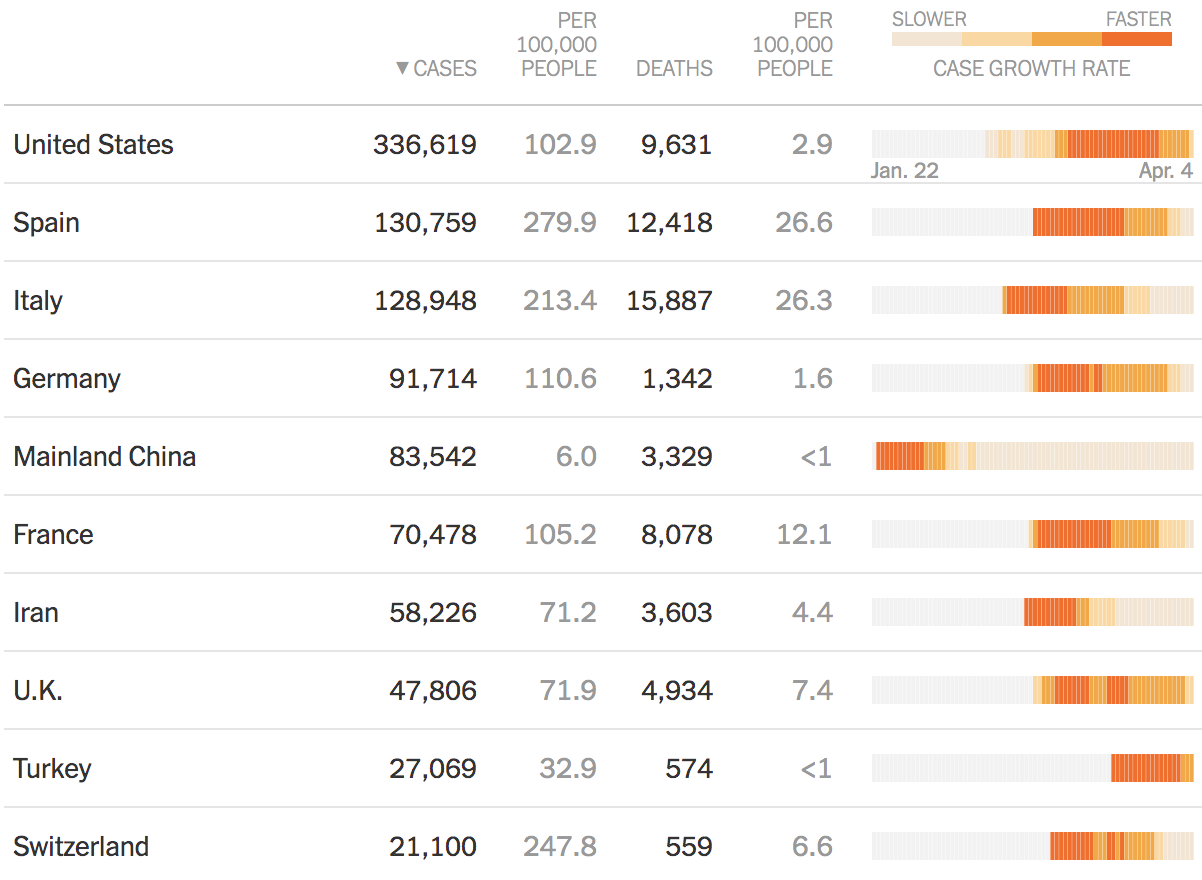 April 6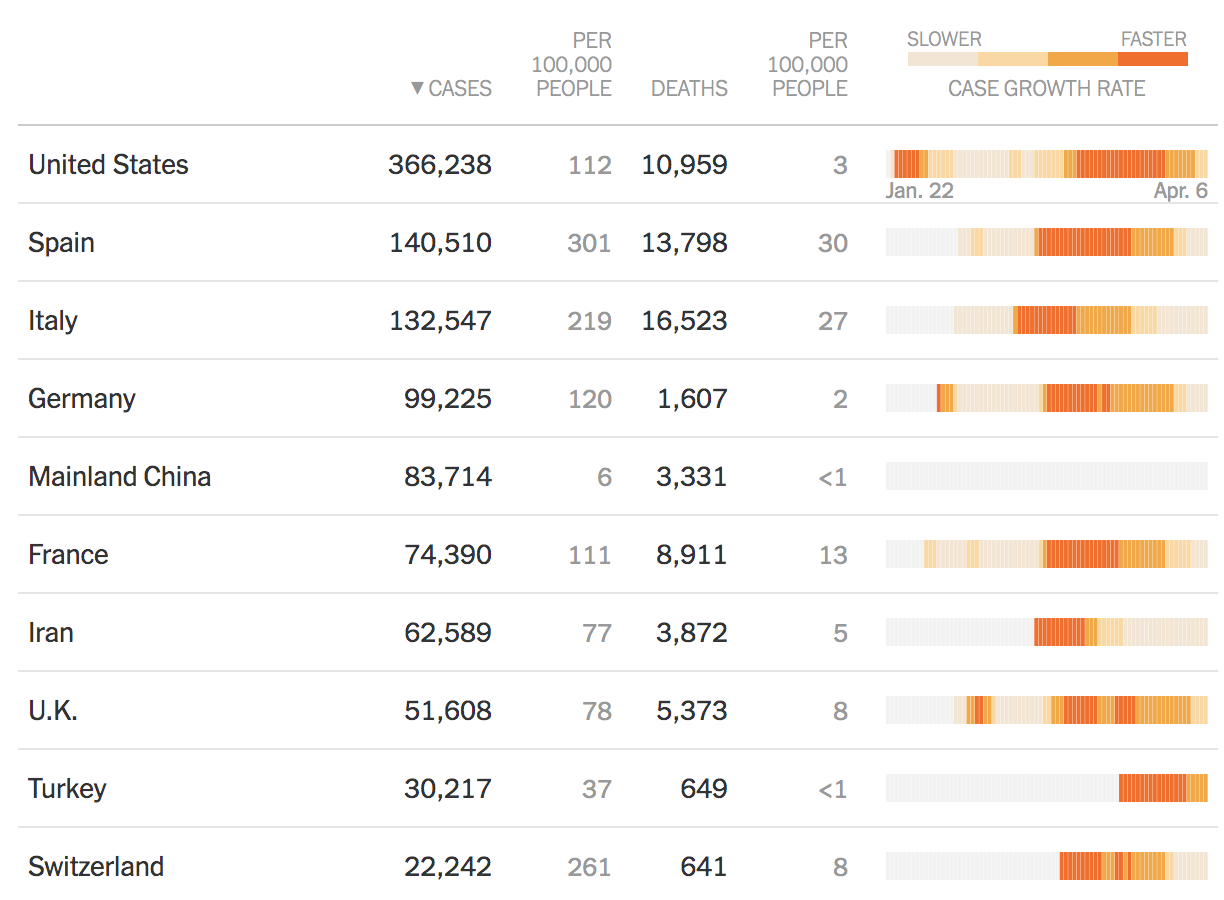 April 8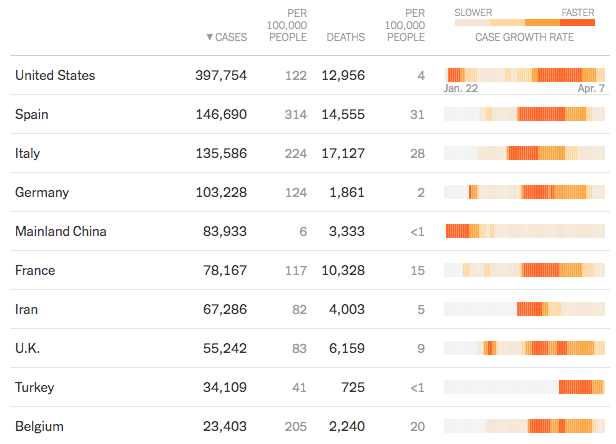 ~12p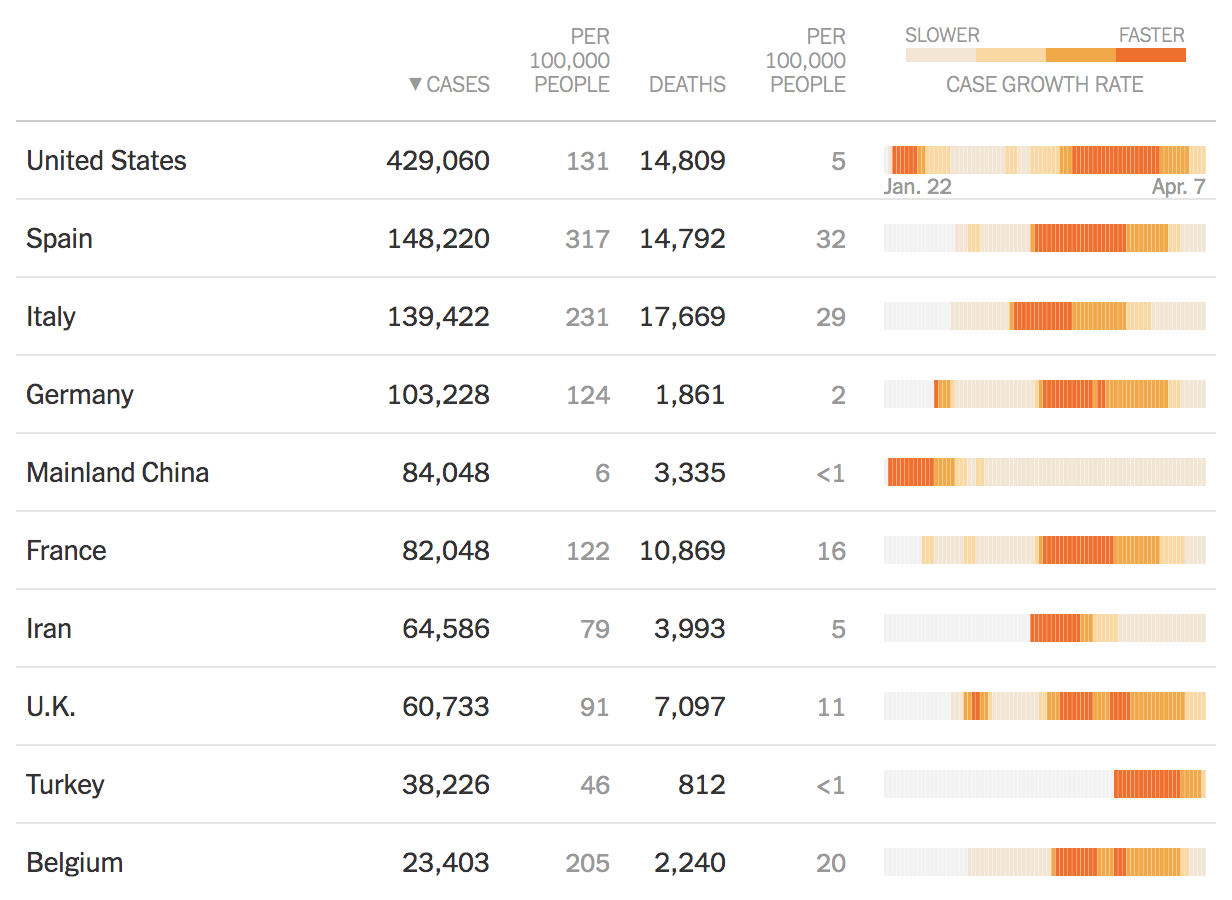 EOD
April 9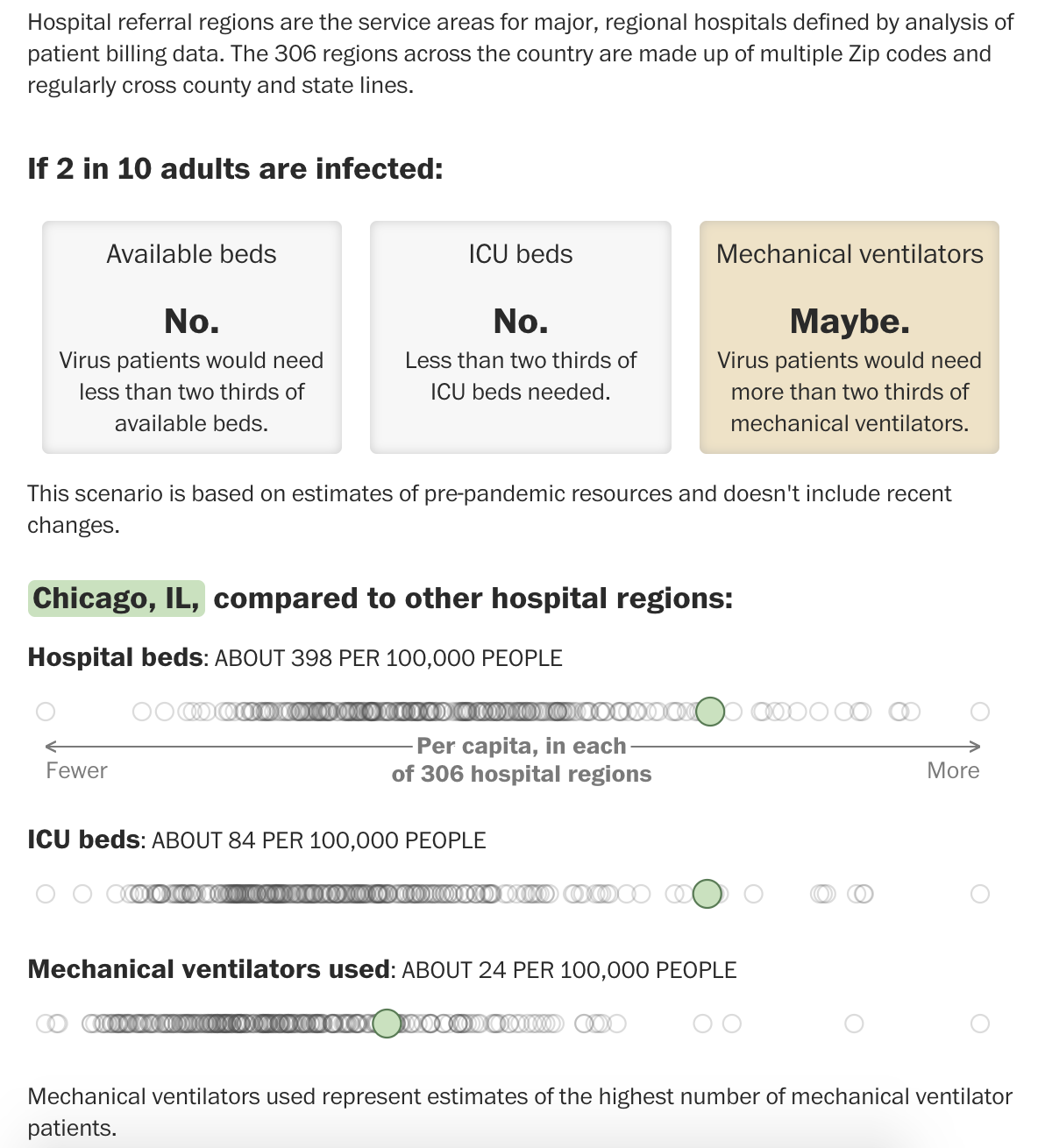 From https://www.washingtonpost.com/graphics/2020/investigations/coronavirus-hospitals-data
6.6 million more people lost their jobs: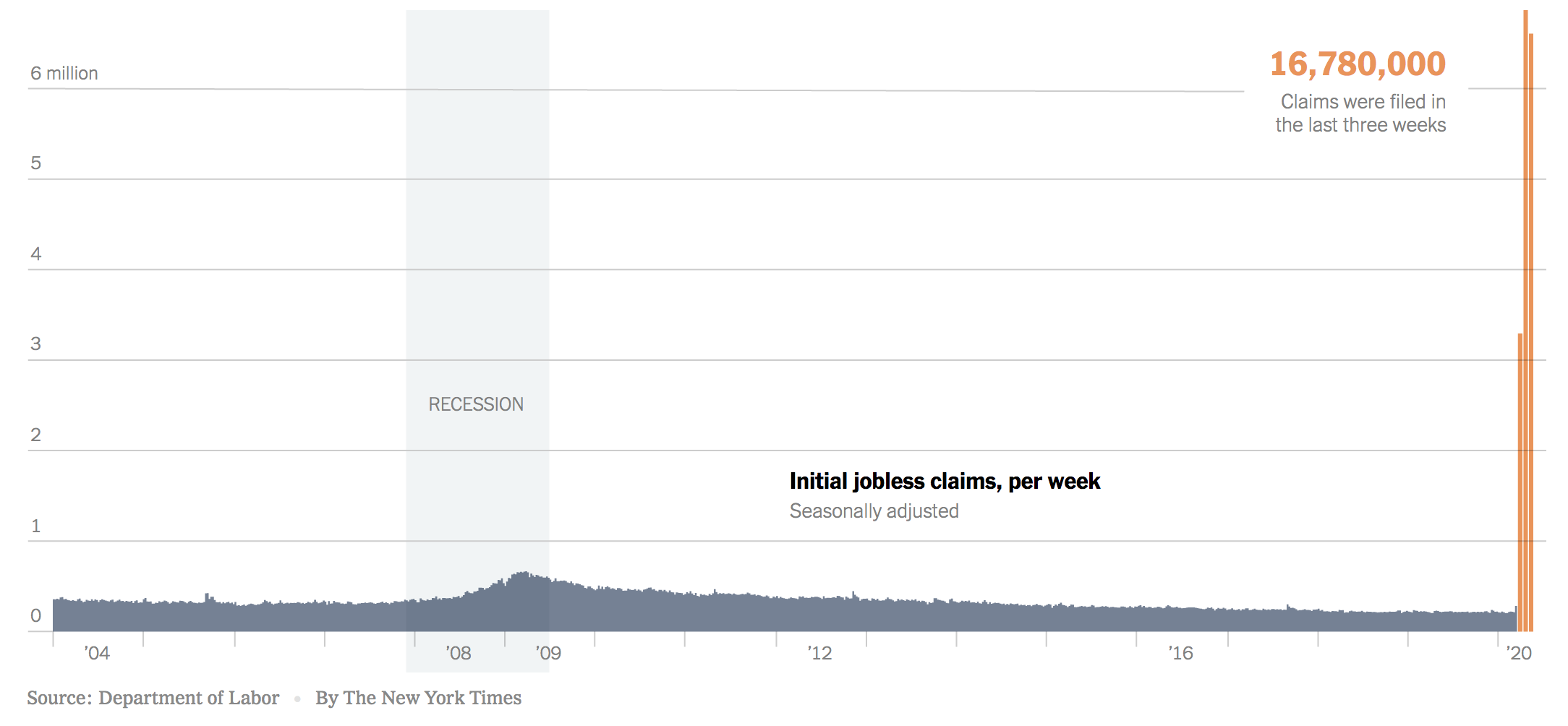 Unemployment Ranks Up by 6.6 Million as Coronavirus Hits Jobs - The New York Times
April 10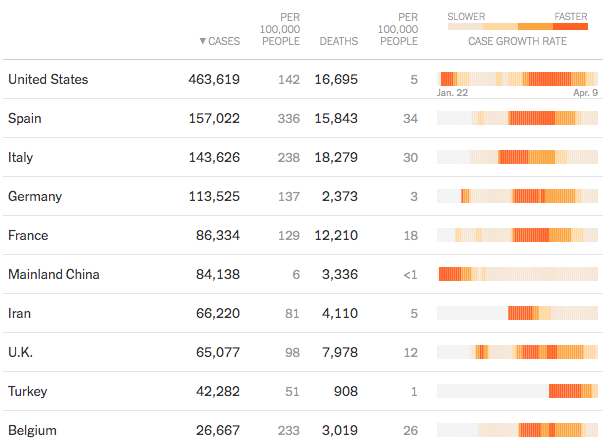 11:54 AM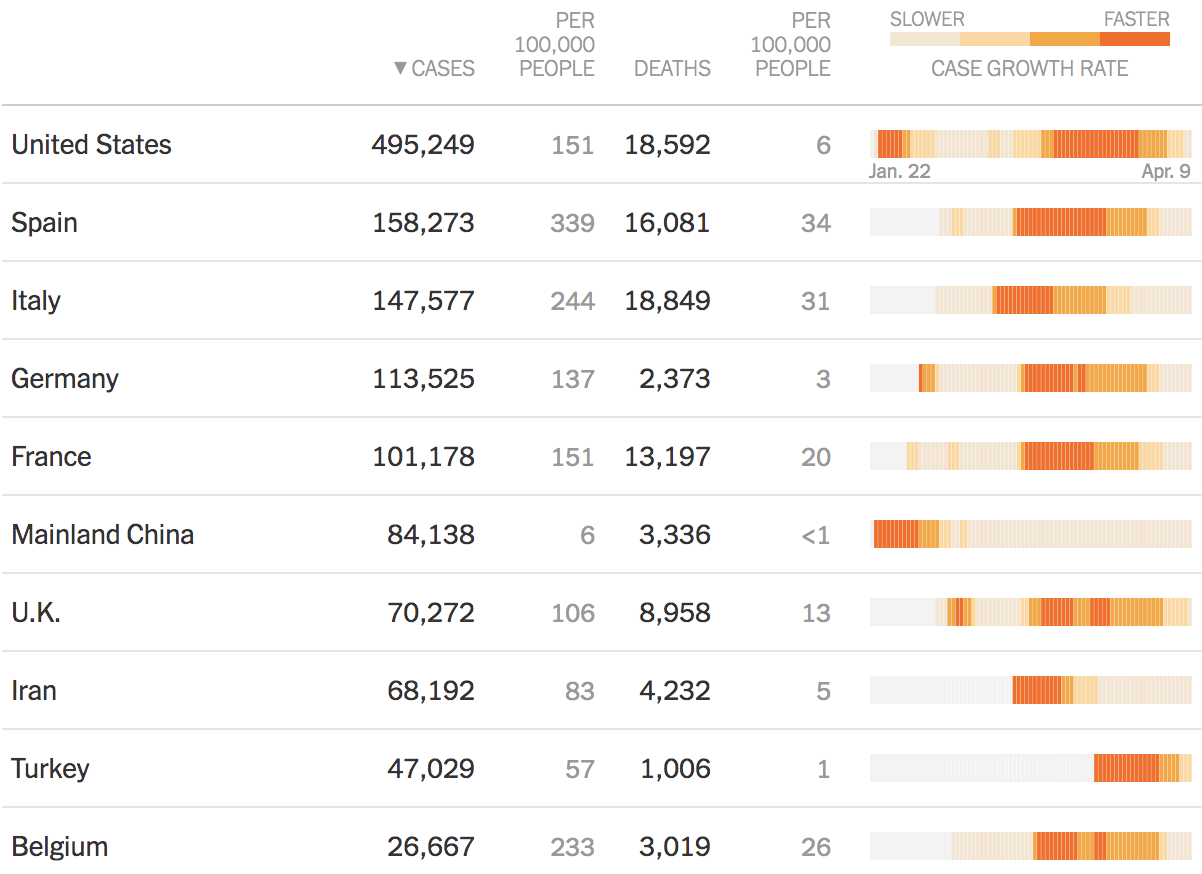 10:55 PM
April 11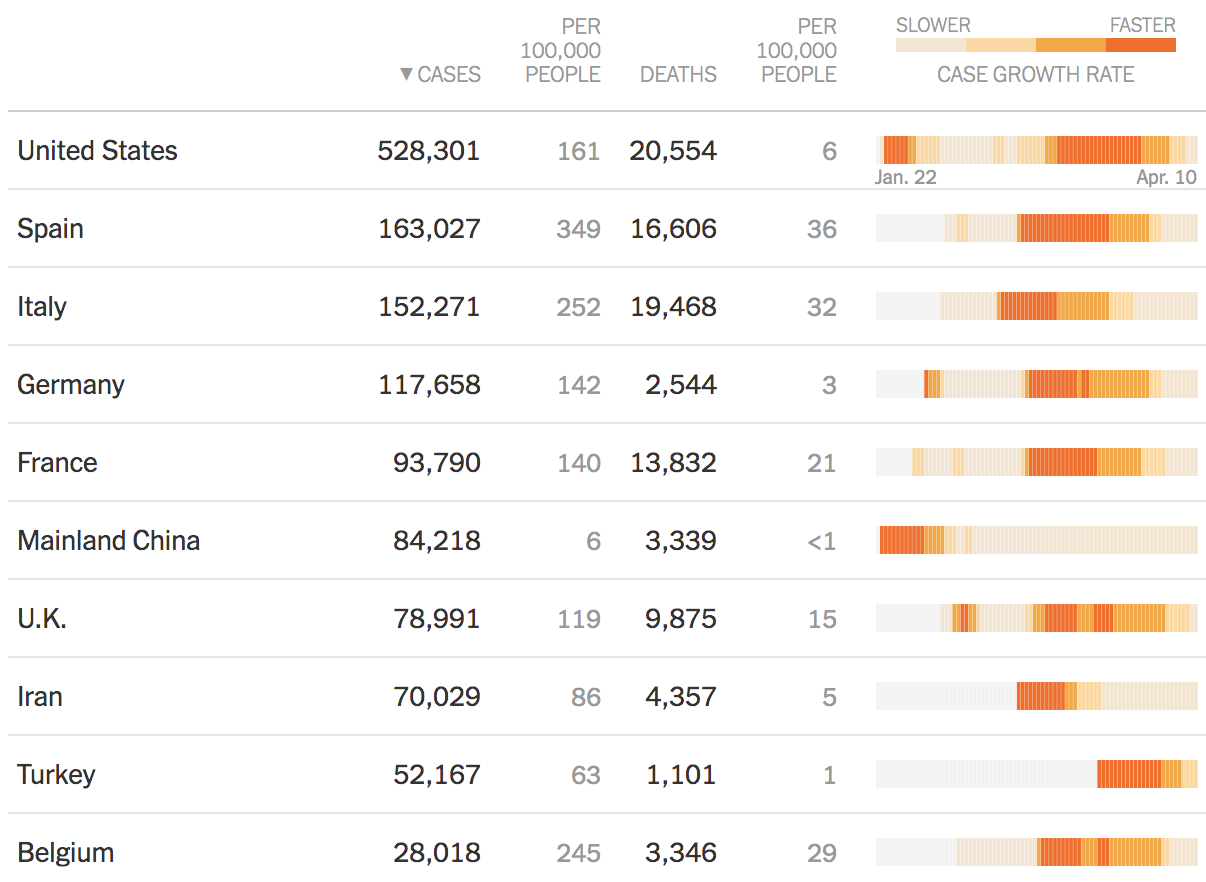 How the Virus Transformed the Way Americans Spend Their Money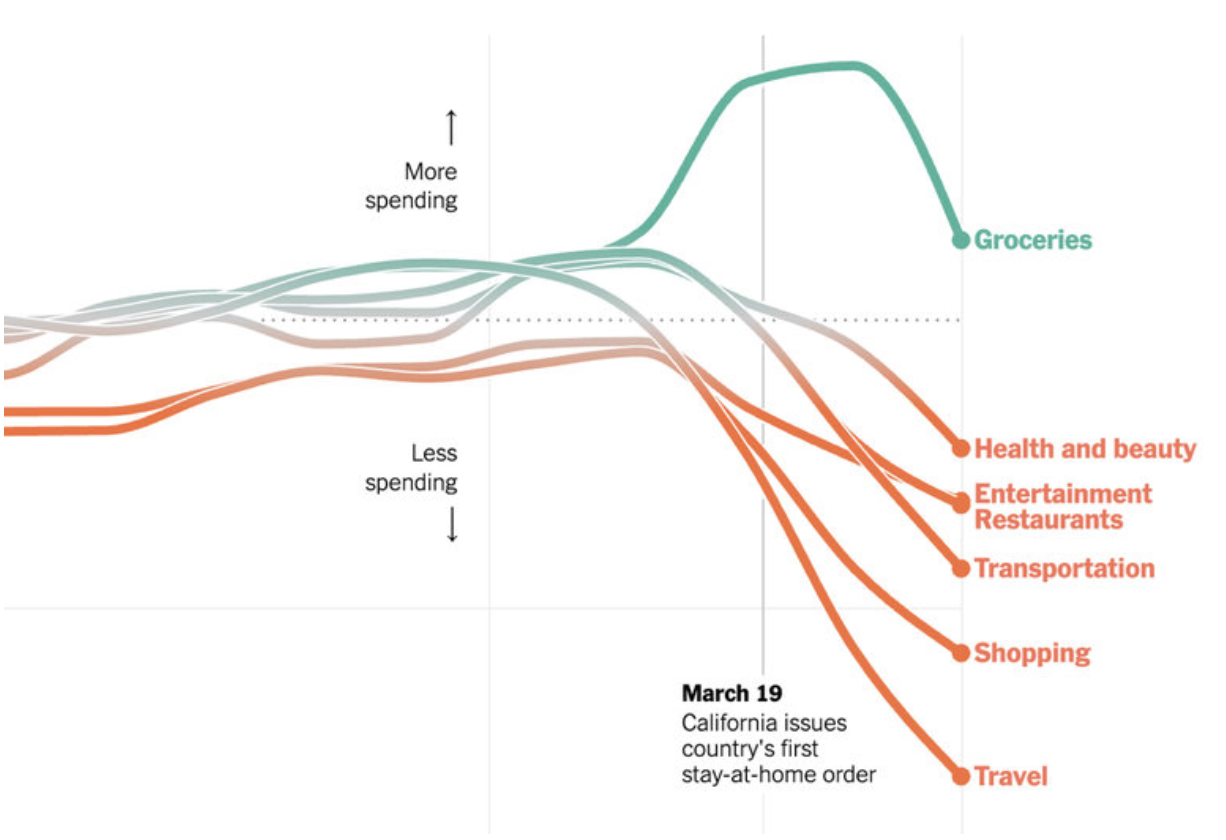 April 14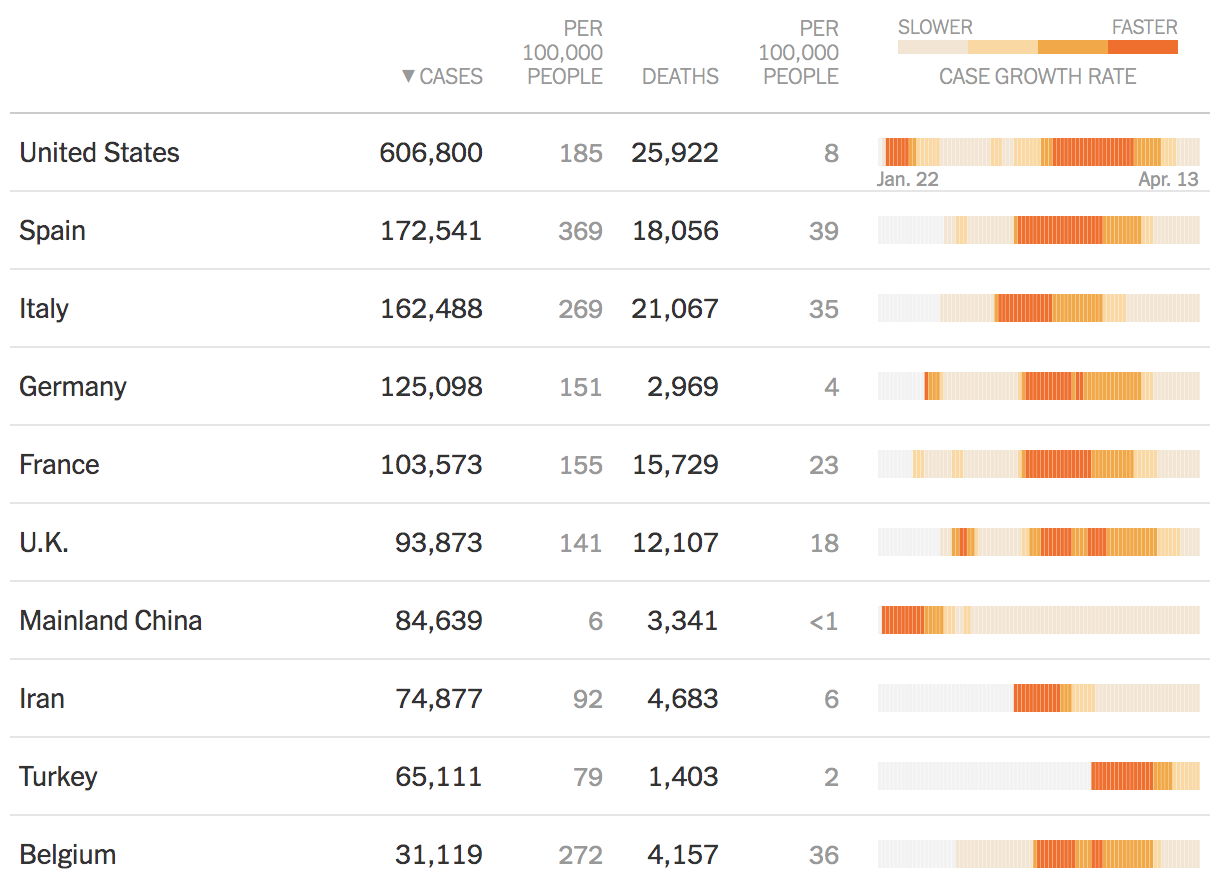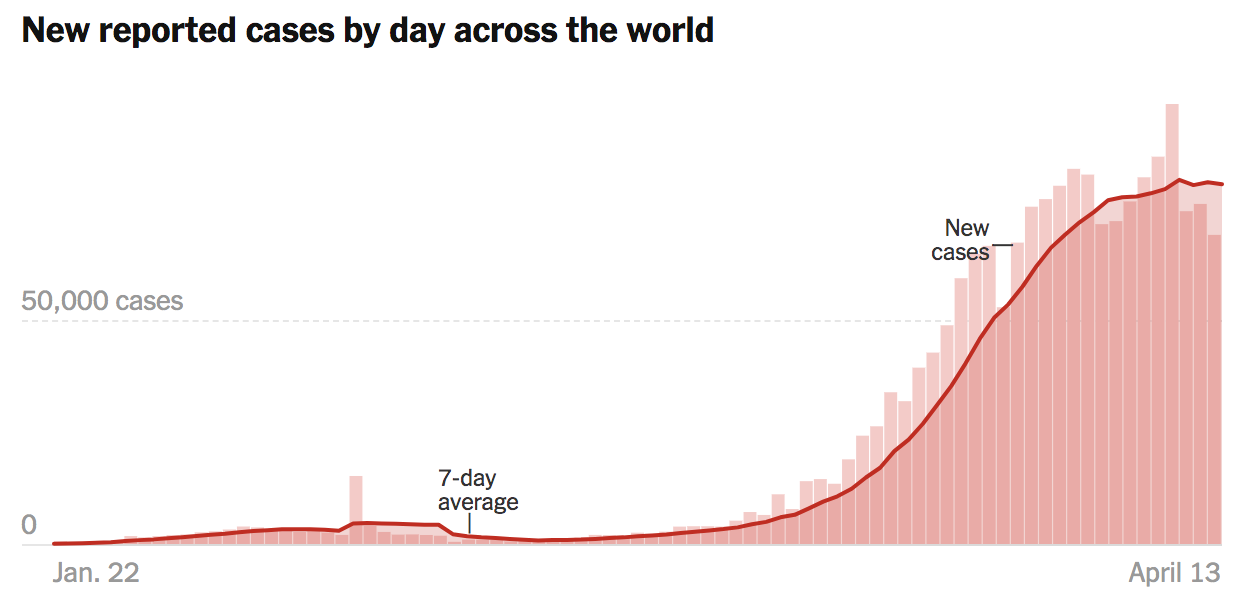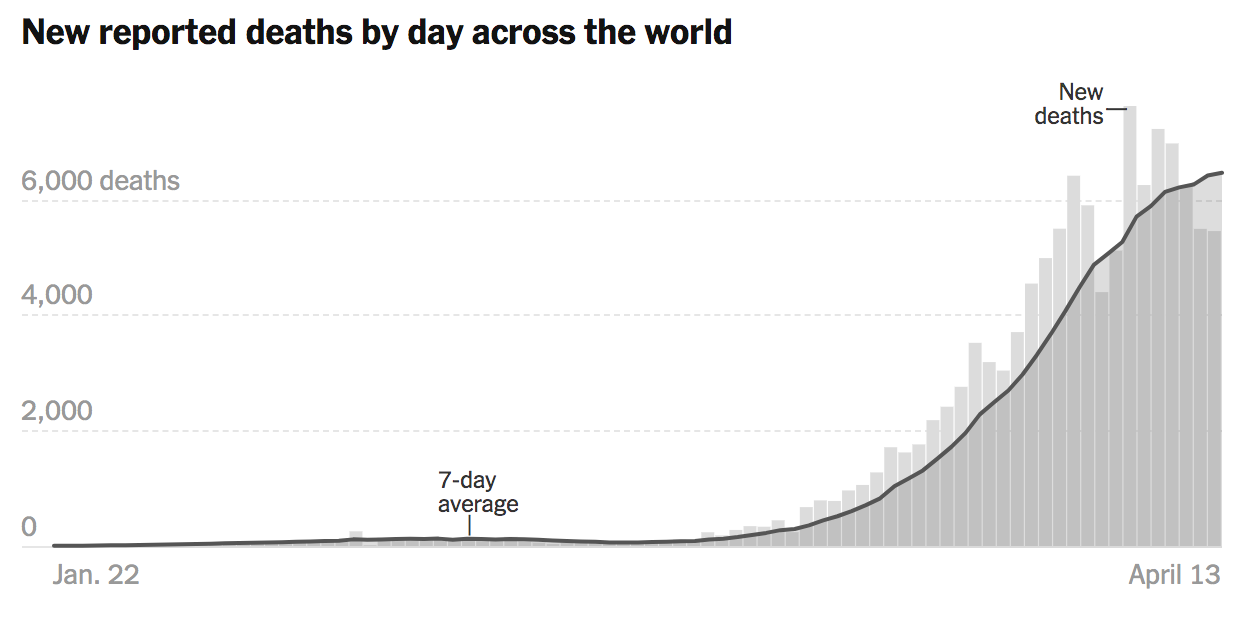 April 15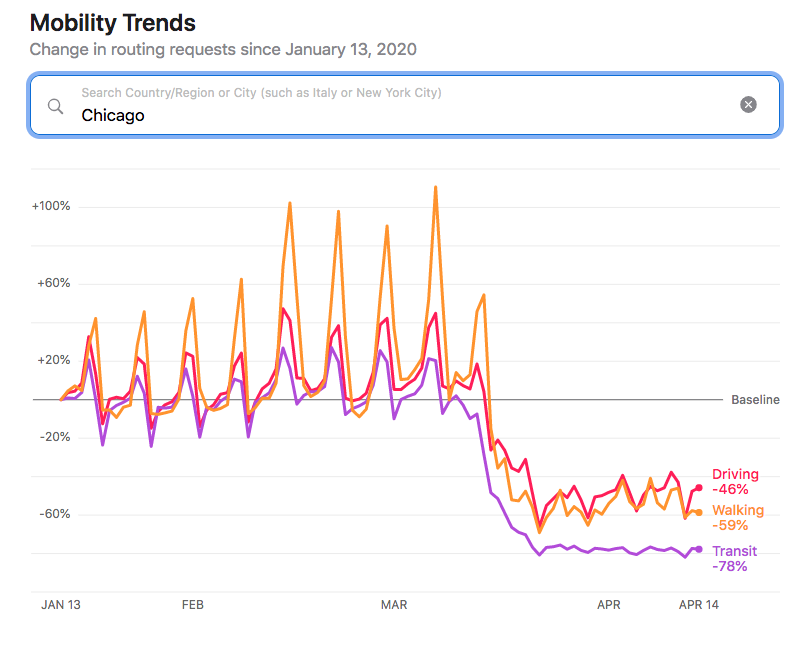 Transit ridership down 78% in Chicago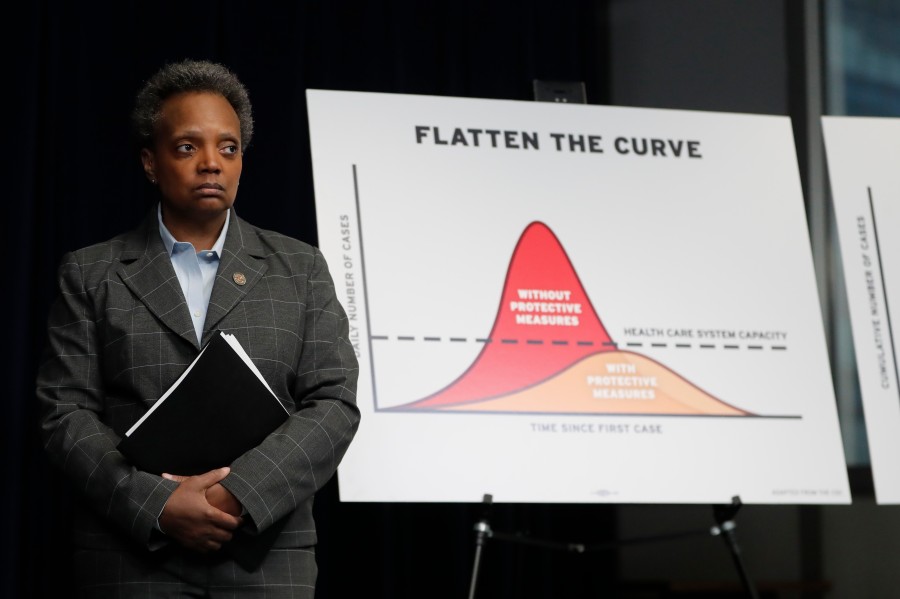 Chicago's COVID-19 Case Growth Slowing, New Data Show - WBEZ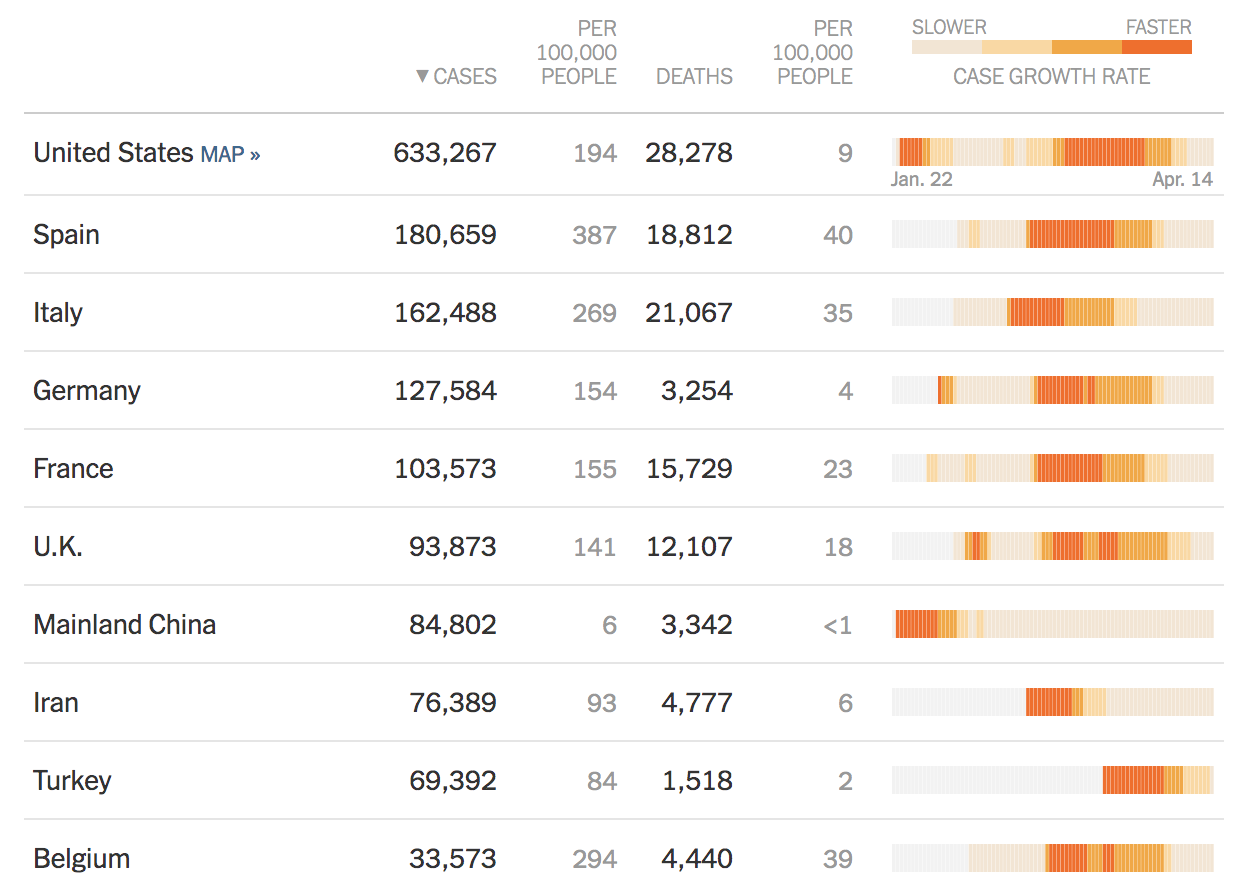 April 16
Thursday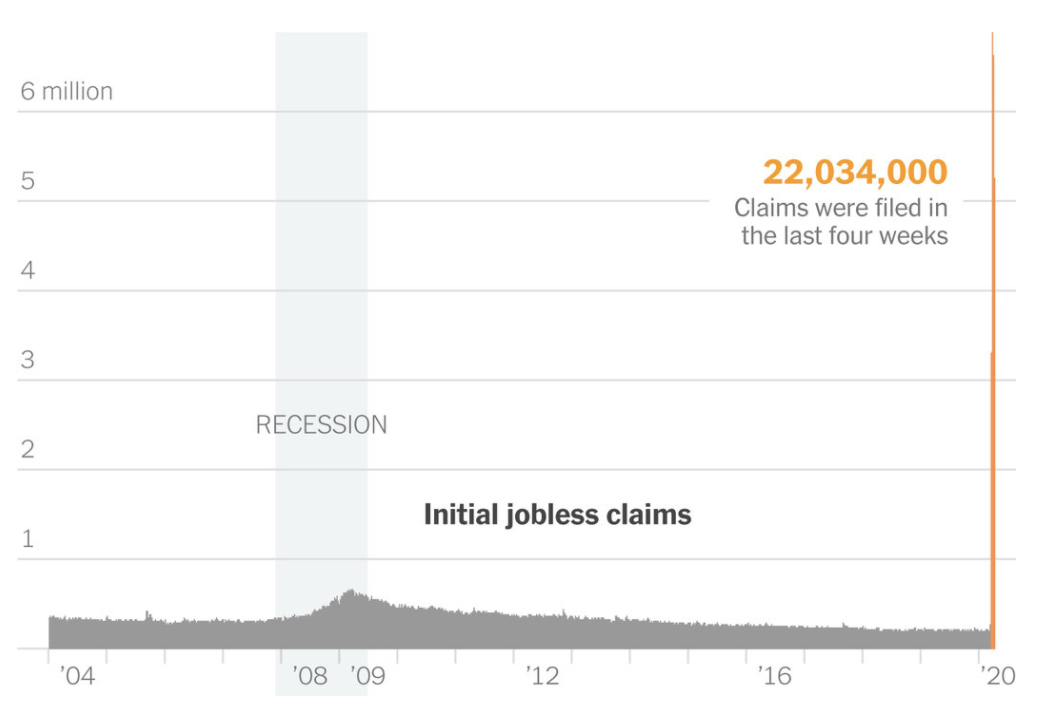 Coronavirus Live Updates: A Loans Program to Save Jobs Runs Dry; 22 Million Americans Have Filed for Unemployment - The New York Times
5.2 million workers added to unemployment tally
There's nowhere to hide," said Diane Swonk, chief economist at Grant Thornton in Chicago. "This is the deepest, fastest, most broad-based recession we've ever seen.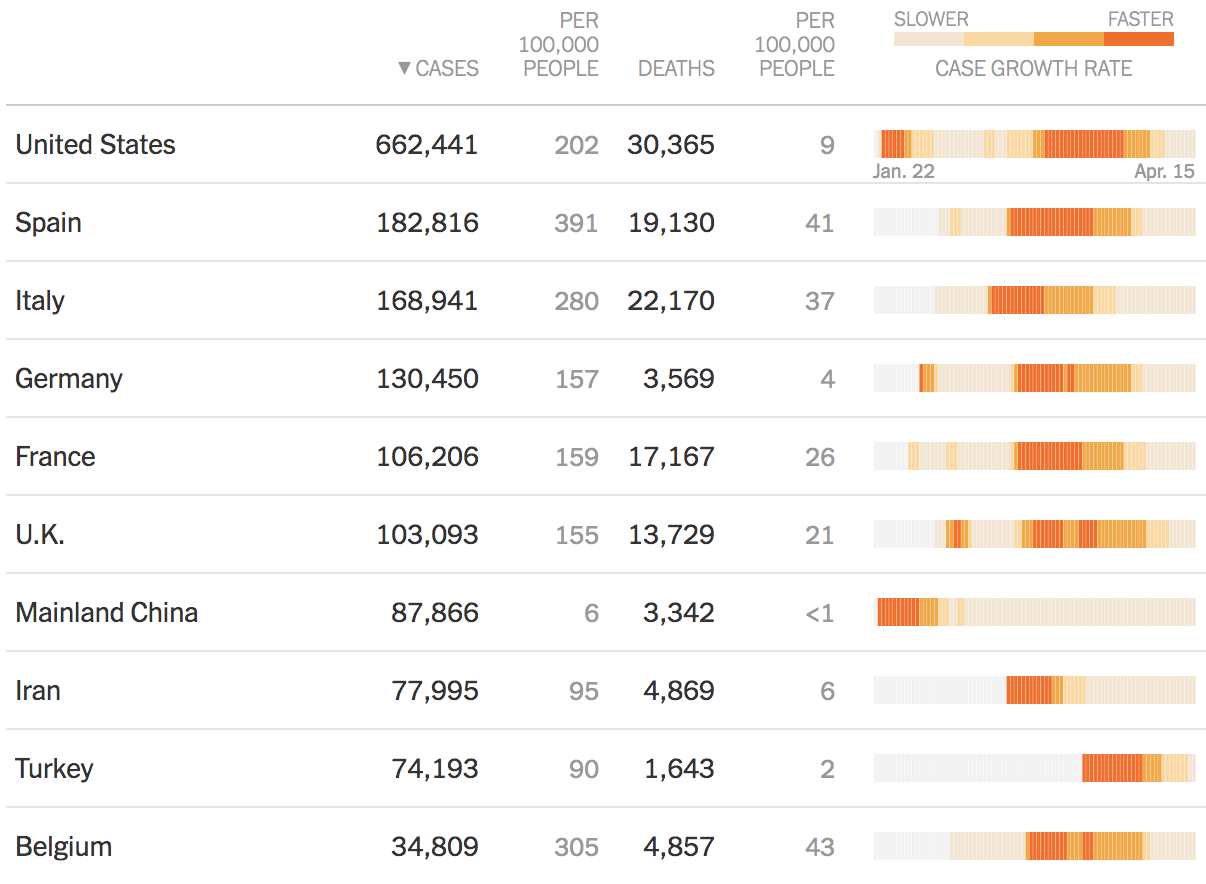 4:42 PM
April 17
Friday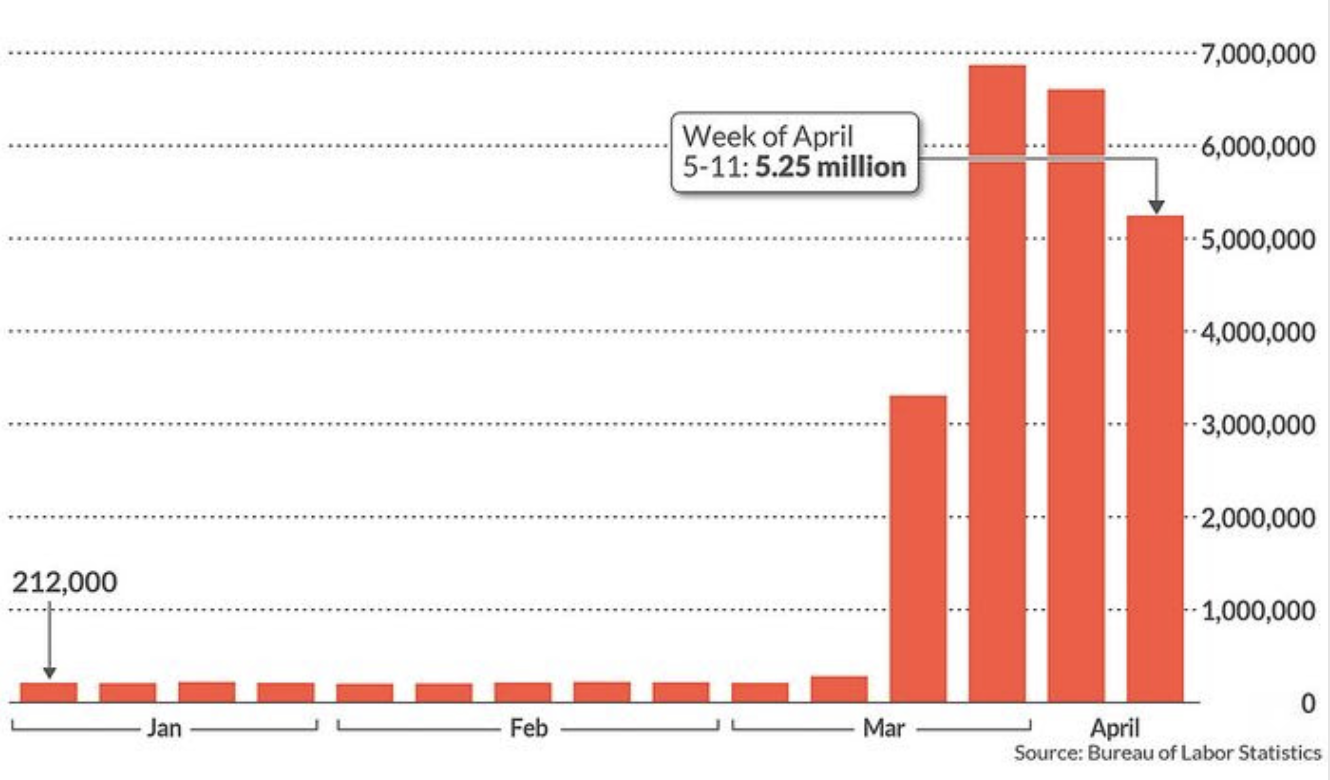 Jobless claims soar by 5.25 million to push coronavirus-tied layoffs above 20 million - MarketWatch
The status of COVID-19 antivirals and vaccines https://www.bloomberg.com/features/2020-coronavirus-drug-vaccine-status
April 18
Saturday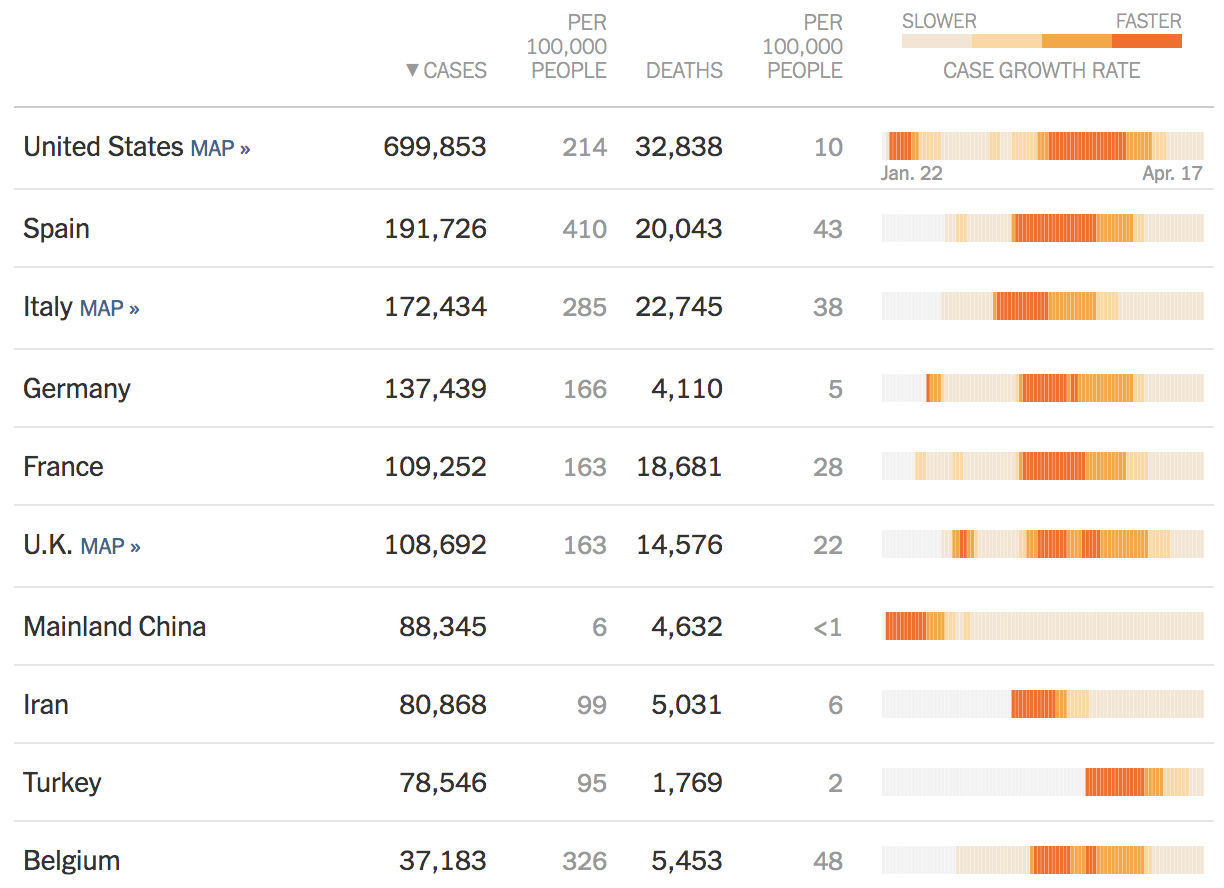 9:03 AM
April 20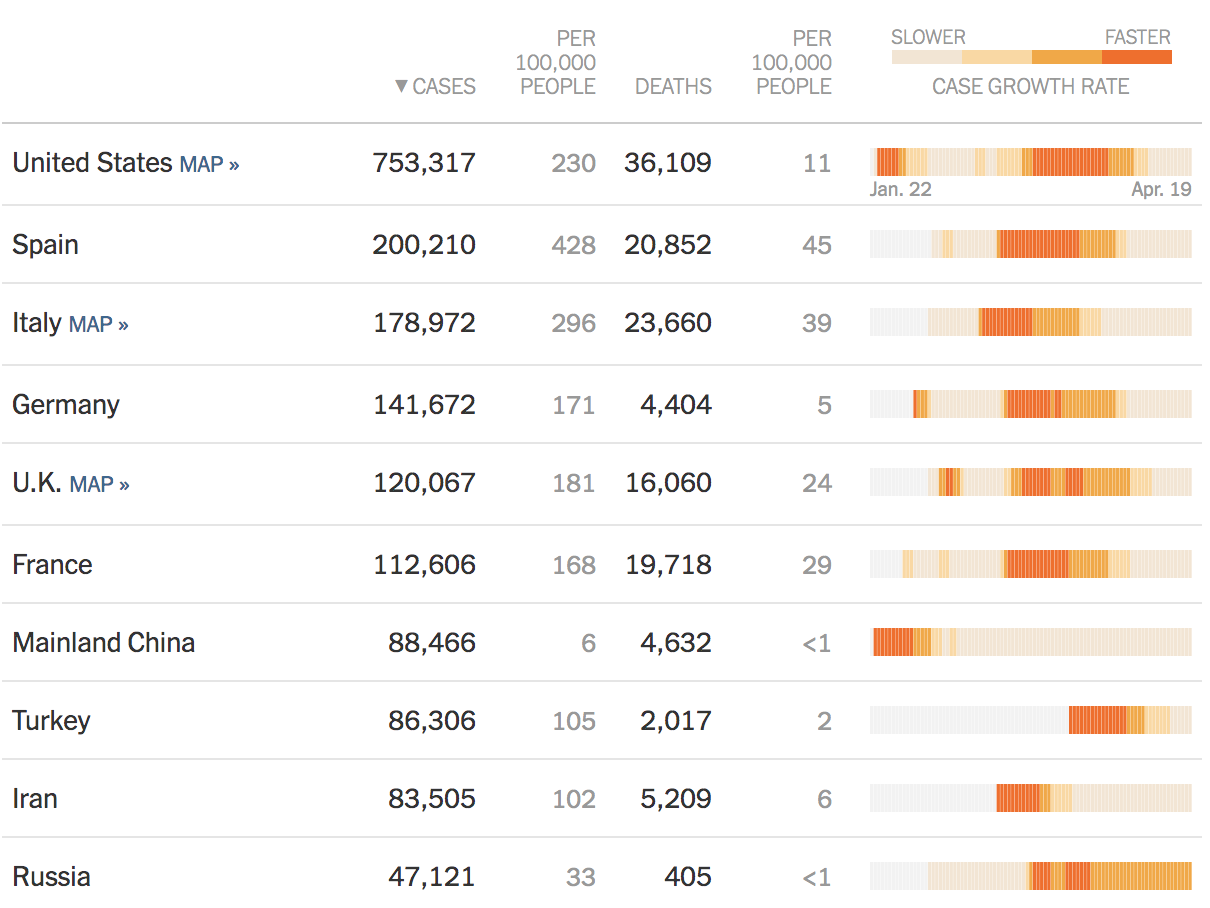 10:20 AM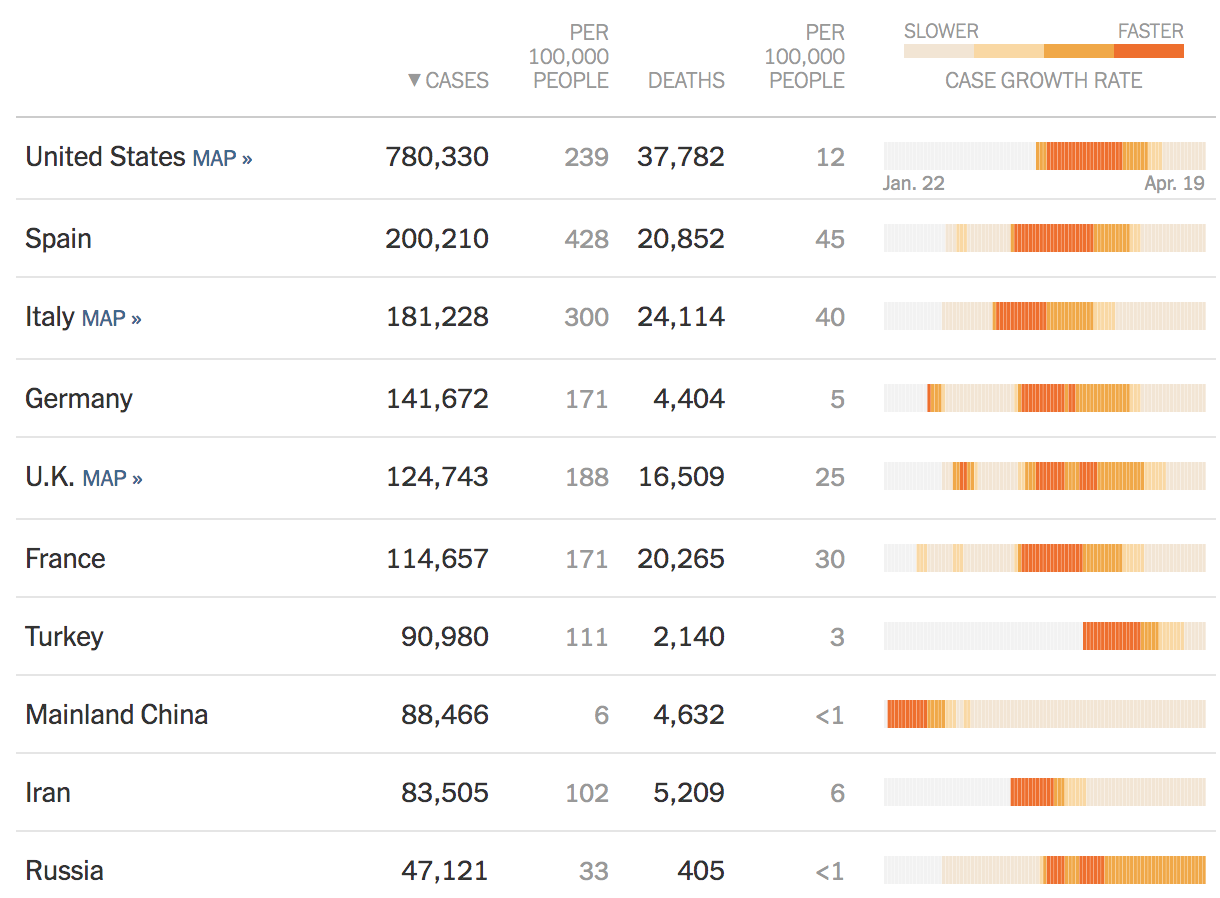 9:49 PM
April 21
9:39 AM: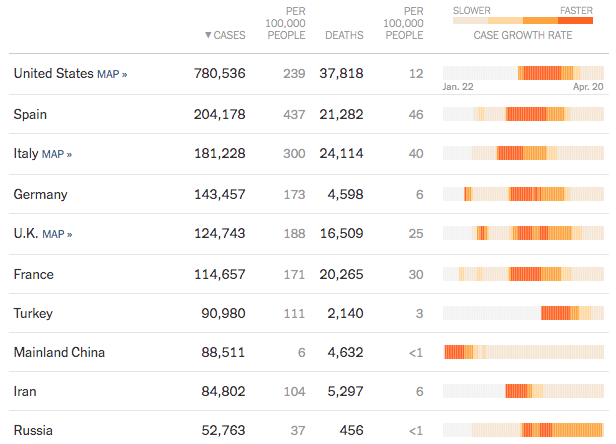 9:21 PM: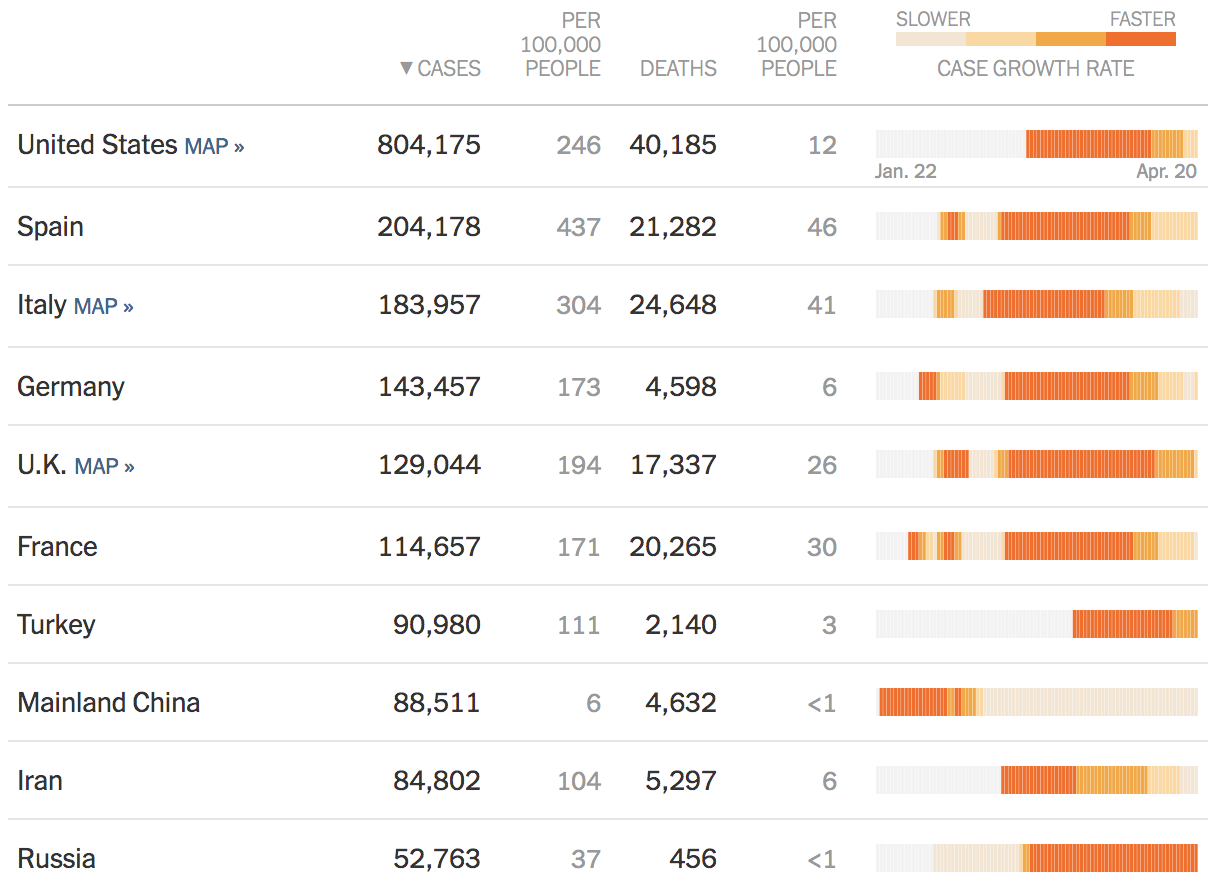 April 22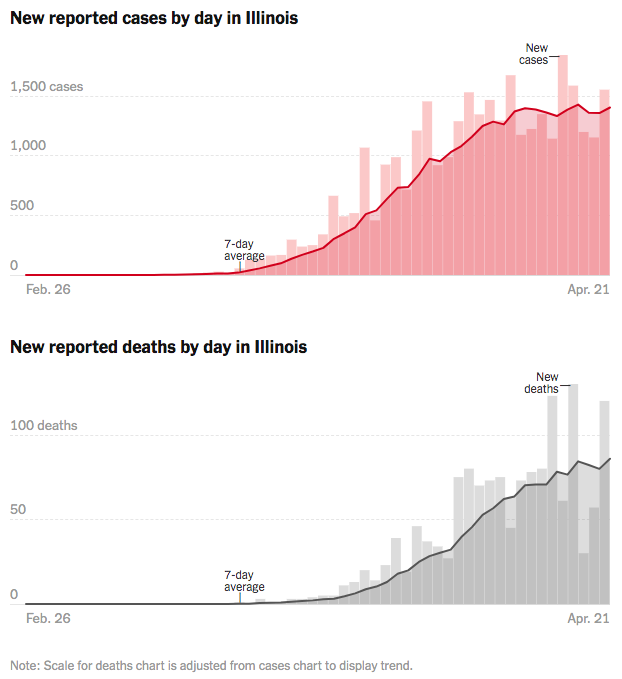 Illinois Coronavirus Map and Case Count - The New York Times
11:21 PM: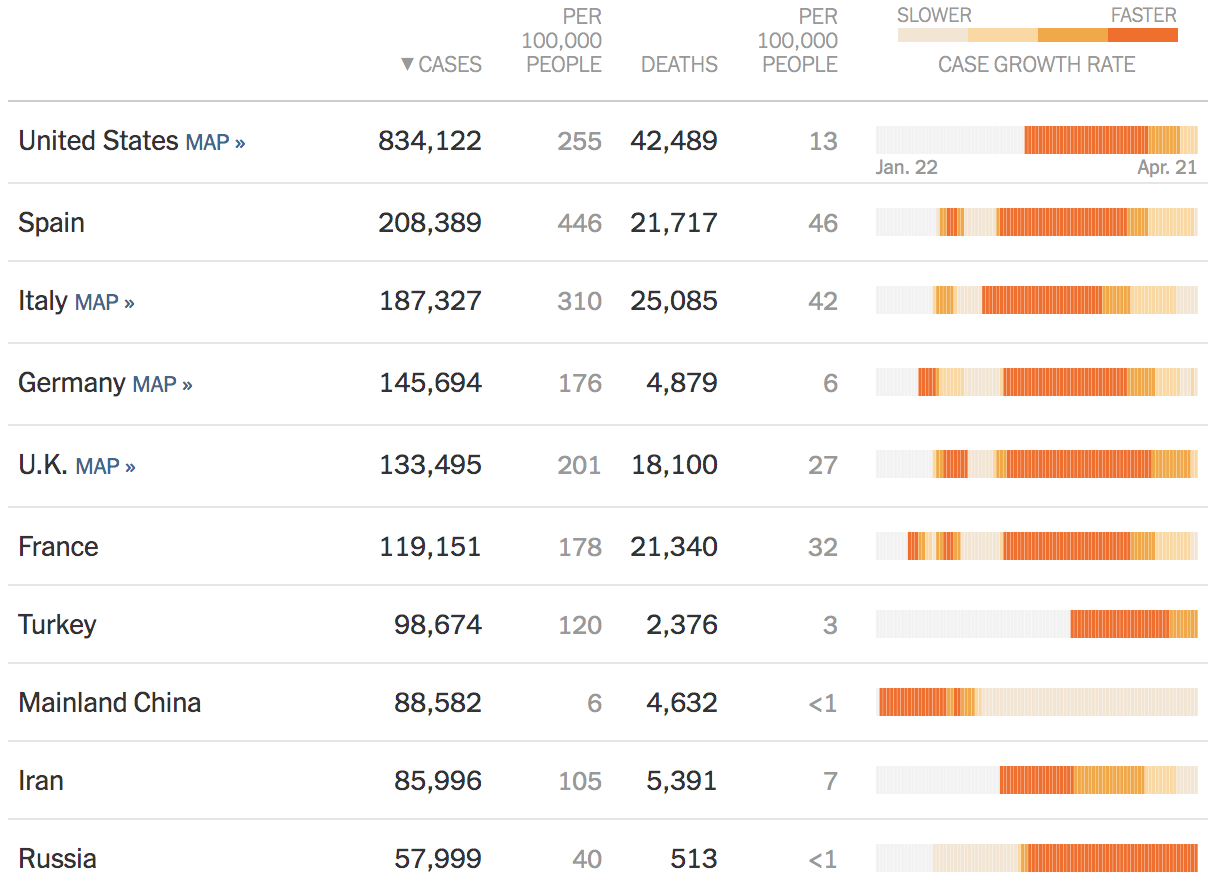 April 23
1:38 PM: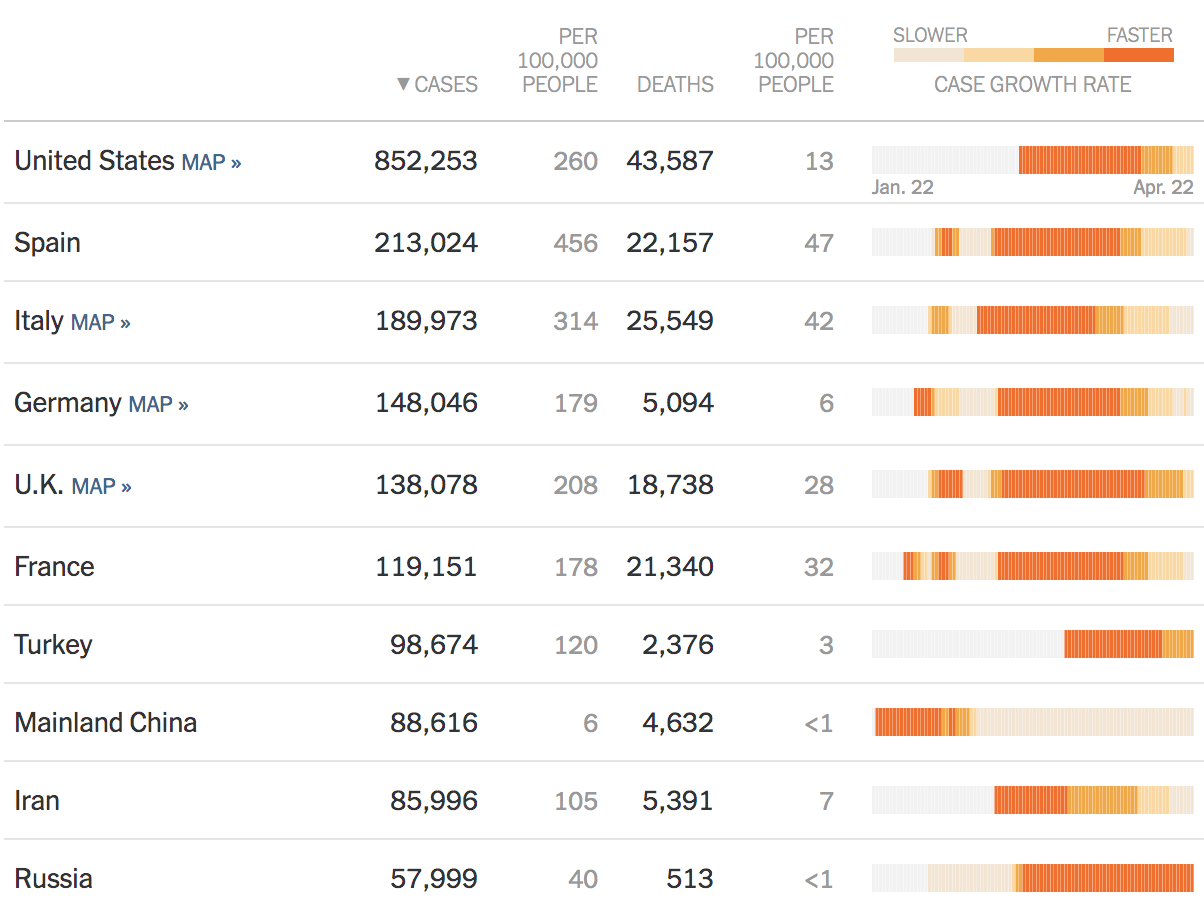 4.4 M more unemployment claims in the past week - 26.5M total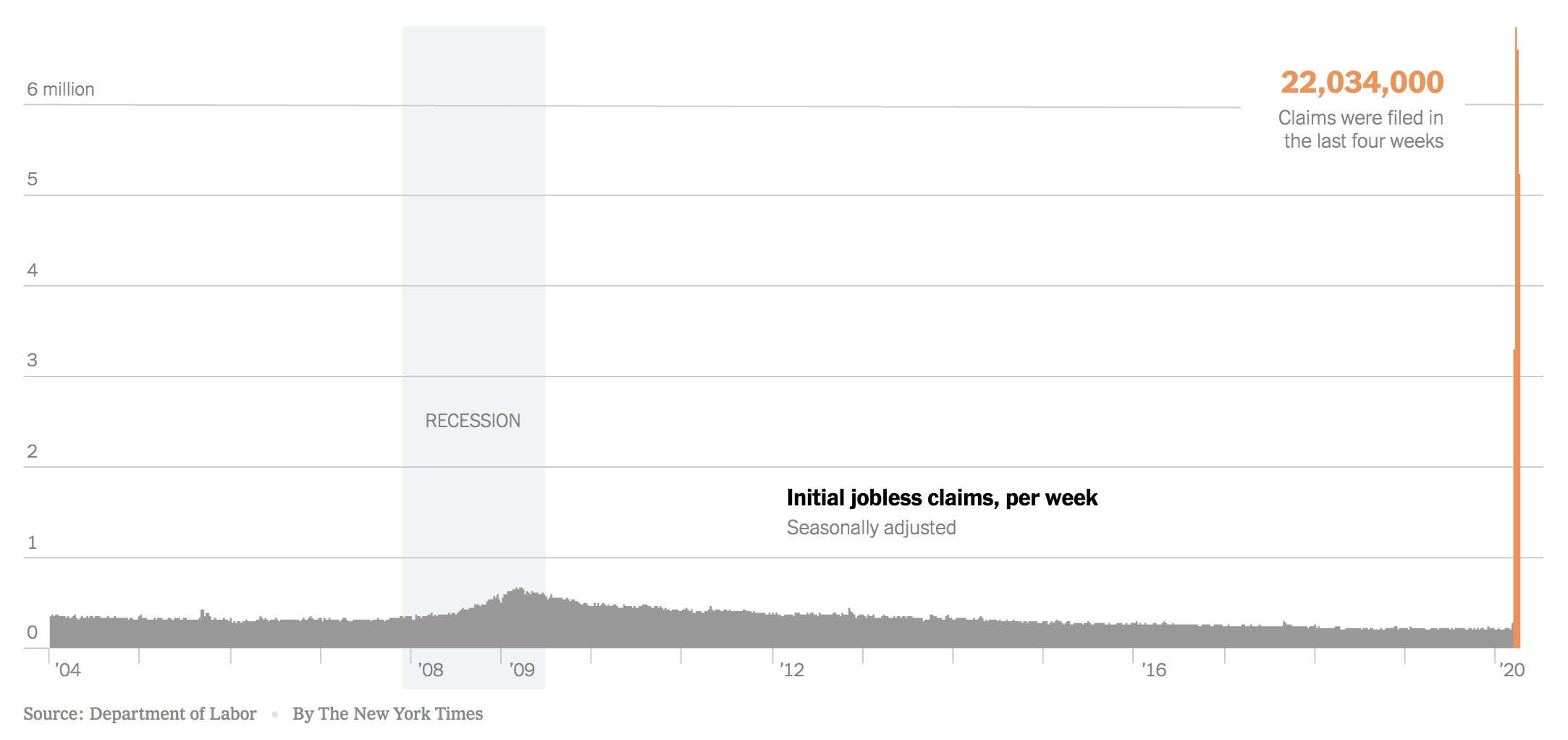 Unemployment Permeates the Economy During the Coronavirus Pandemic - The New York Times
Another look: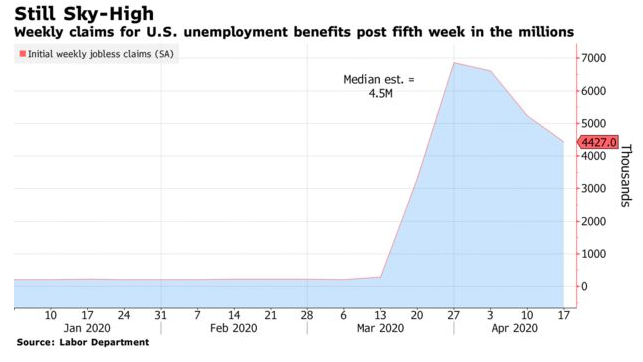 11:03 PM: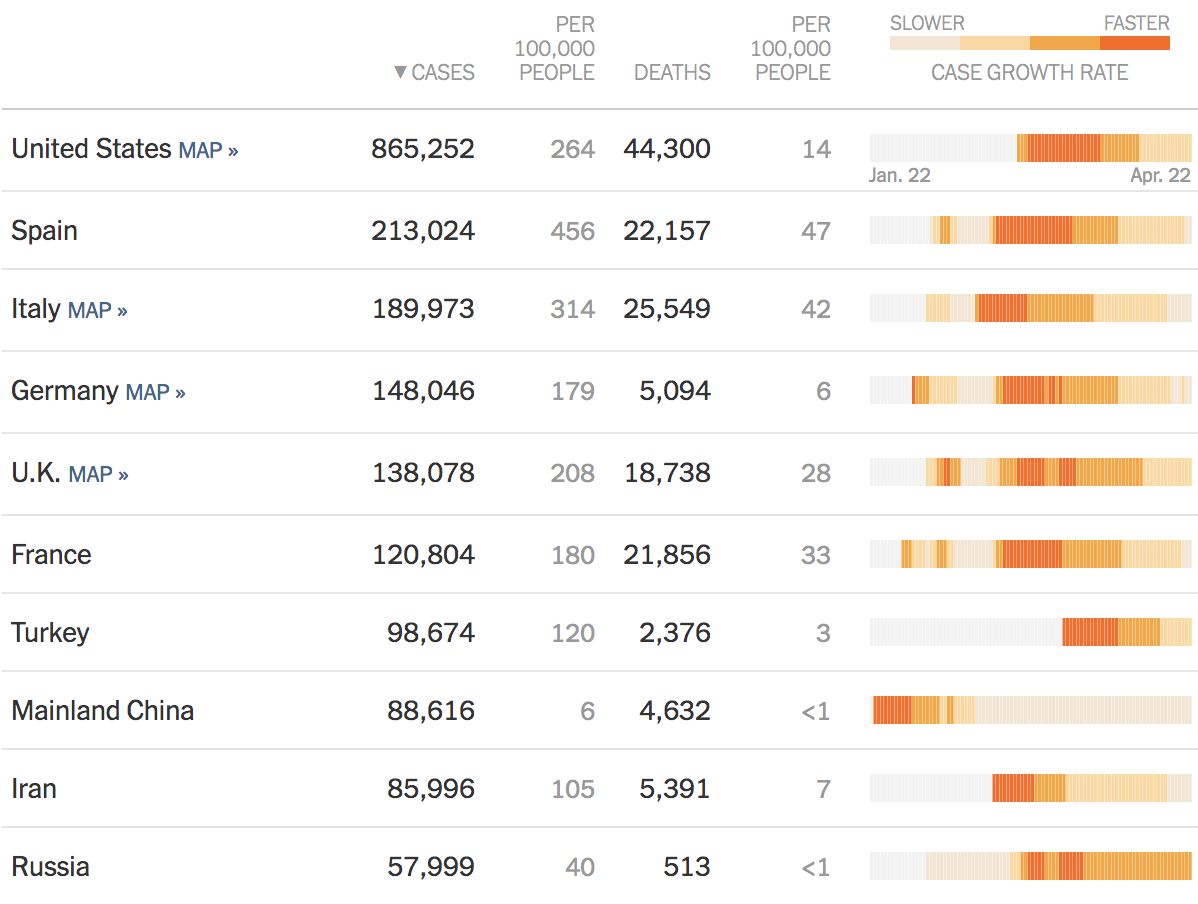 April 24
10:25 PM: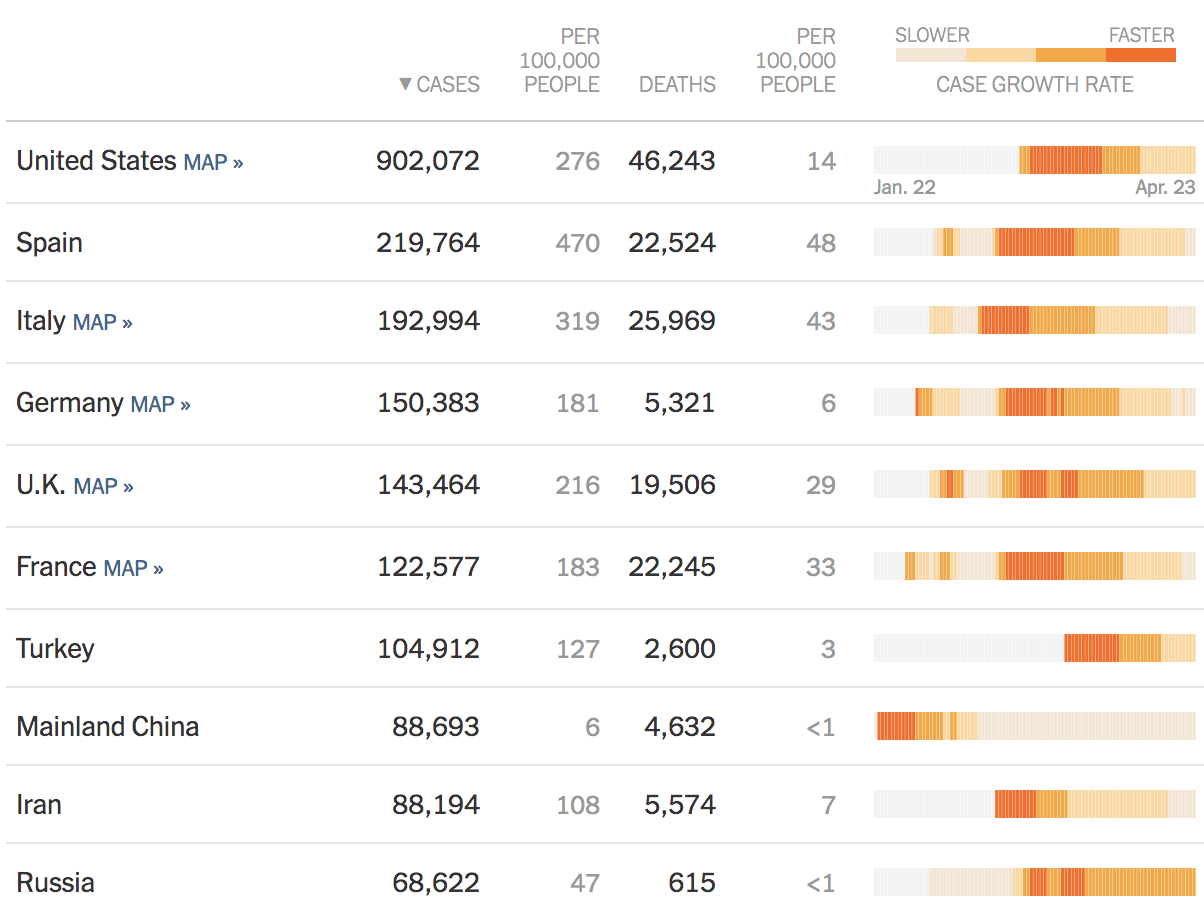 April 26
We're quickly approaching 1M cases and 50K deaths in the US: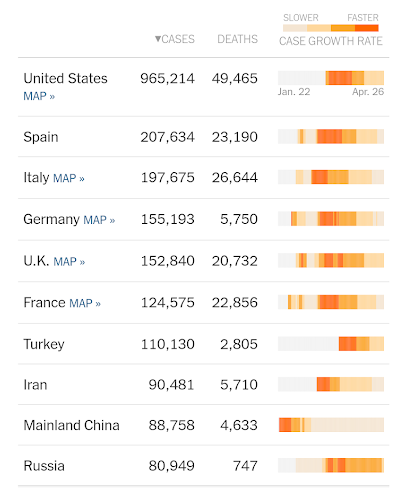 April 27
Rt is a key measure of how fast the virus is growing. It's the average number of people who become infected by an infectious person. If Rt is above 1.0, the virus will spread quickly. When Rt is below 1.0, the virus will stop spreading.
Illinois is currently measuring R 0.89 - which makes me very happy as a Chicago resident:

More information on Rt can be found at rt.live.
11:07 PM: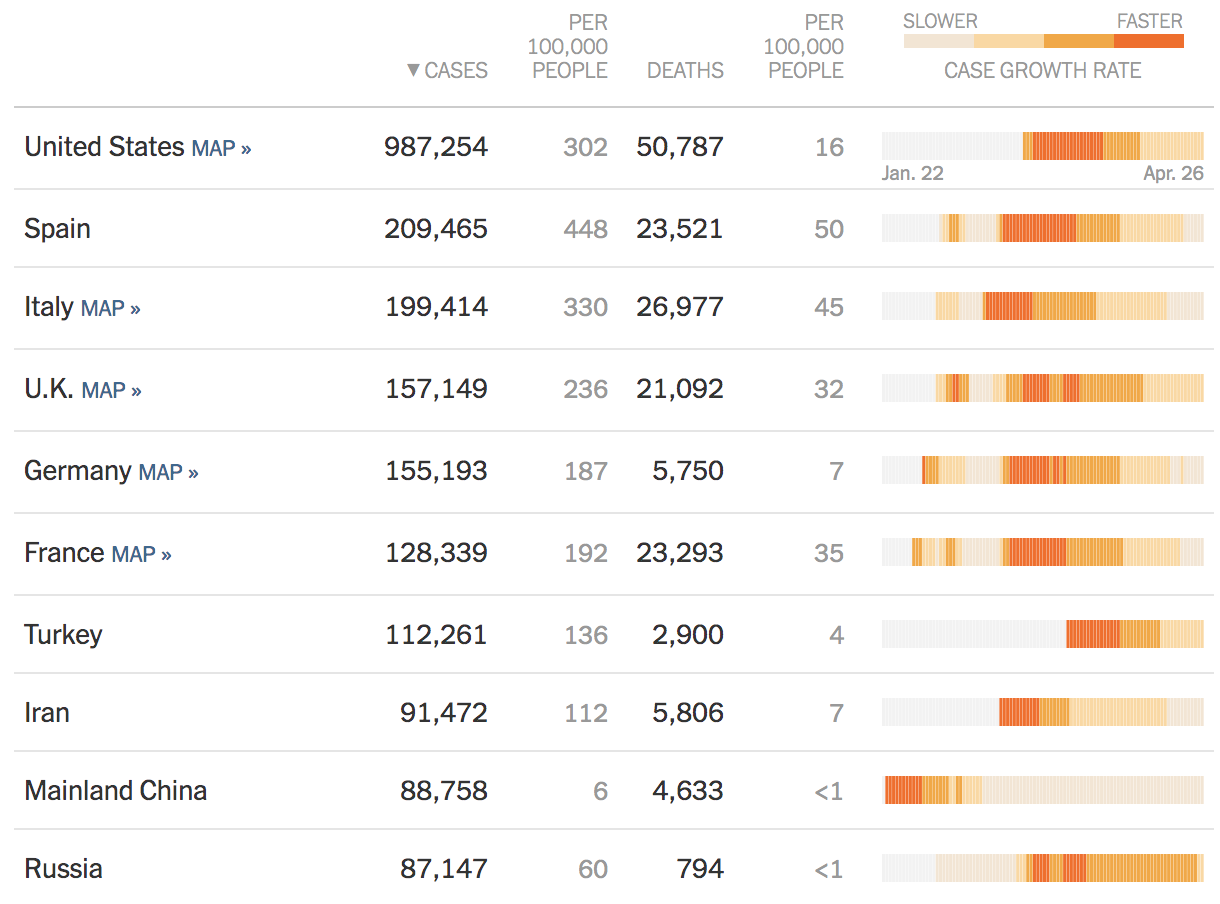 We hit 50K deaths in the US today – a sad milestone.
April 28
Some trend headway in Illinois:
We broke one million cases in the US today: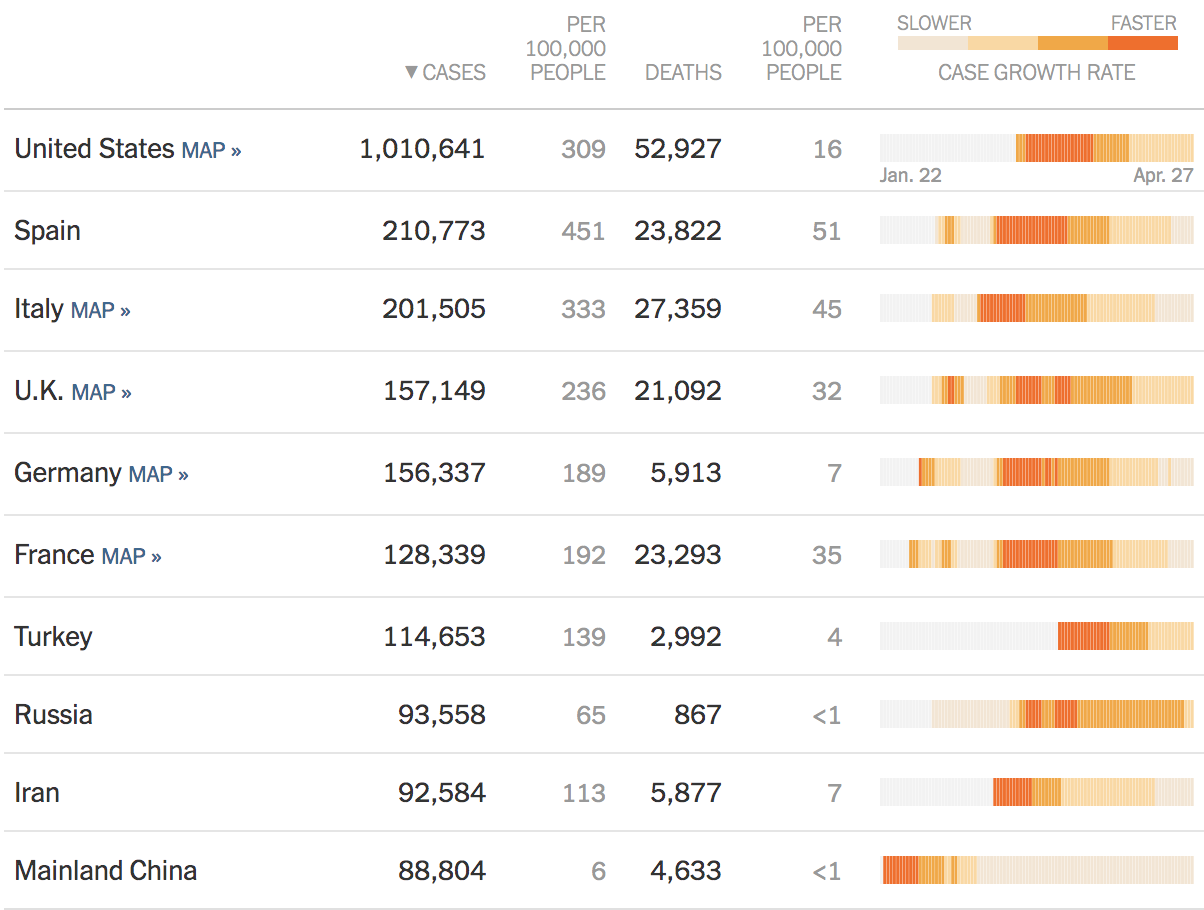 April 29
When Congress passed legislation mandating paid sick leave during the pandemic, it exempted 80% of American workers (the requirement does not apply to any business with more than 500 employees). Some lawmakers say their top priority in the next relief bill will be a liability shield for companies as states reopen, while others focus on worker protections.
April 30
60K deaths: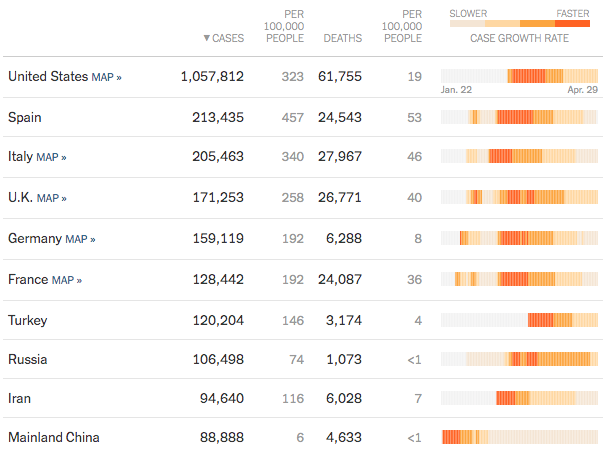 New reported cases by day appear to be trending down while we're seeing an uptick in reported deaths (given lag time):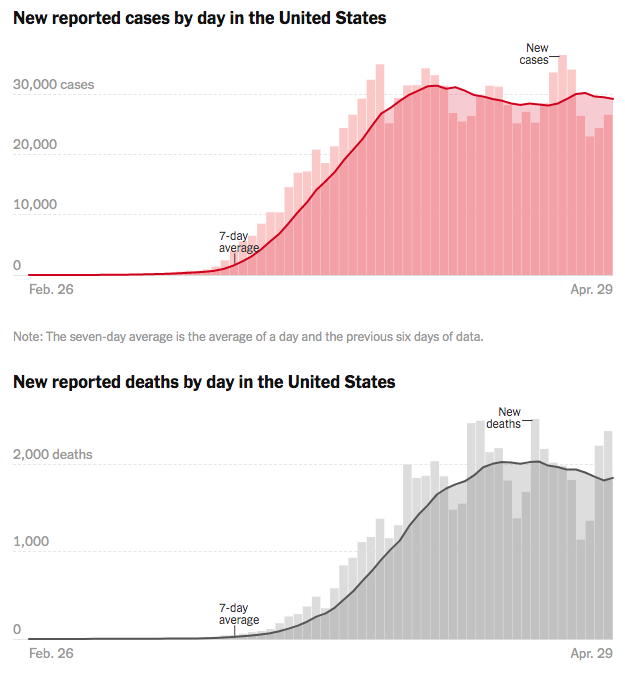 3.8 million more unemployment claims in the last week (30.3M in total in the past six weeks):
Interesting reads:
May 3
1.1M cases in the US: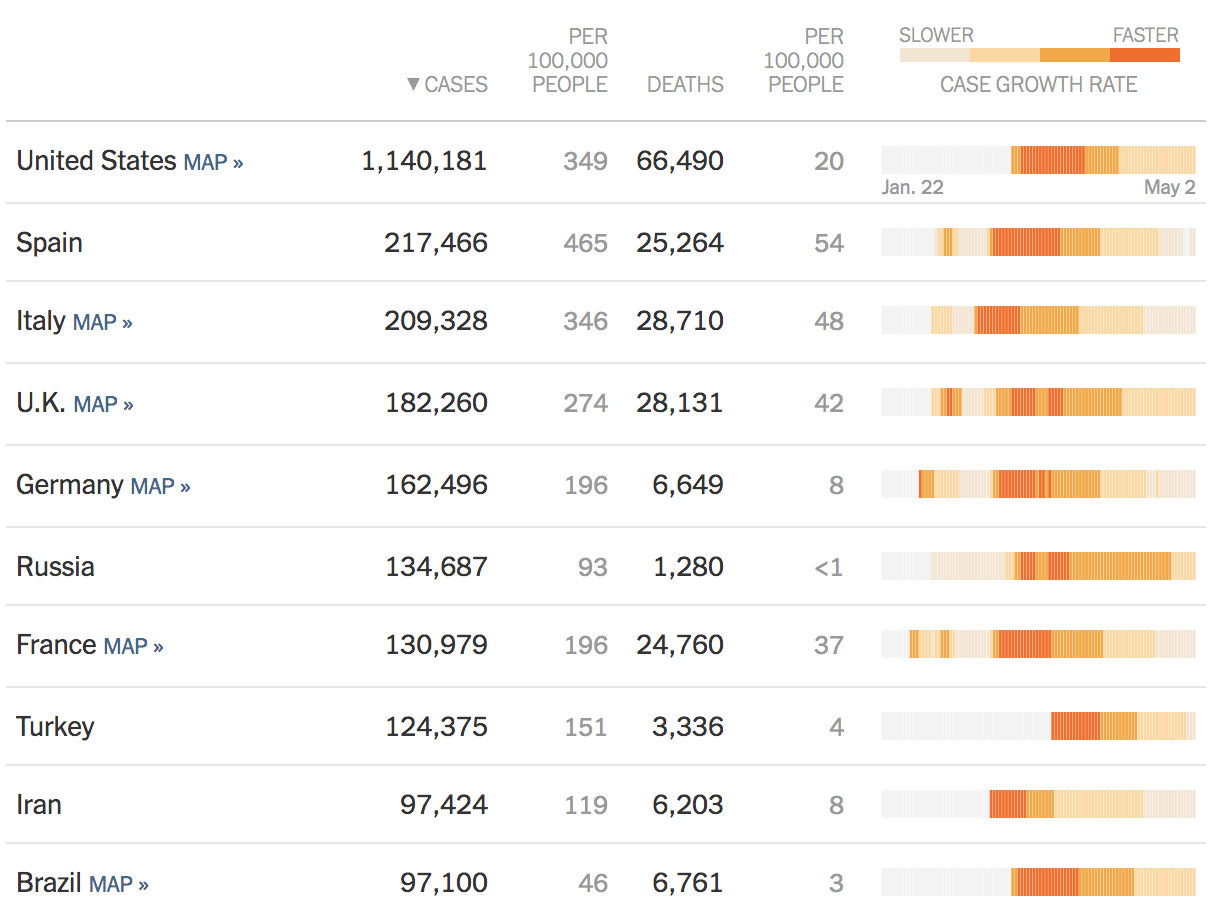 Illinois trending: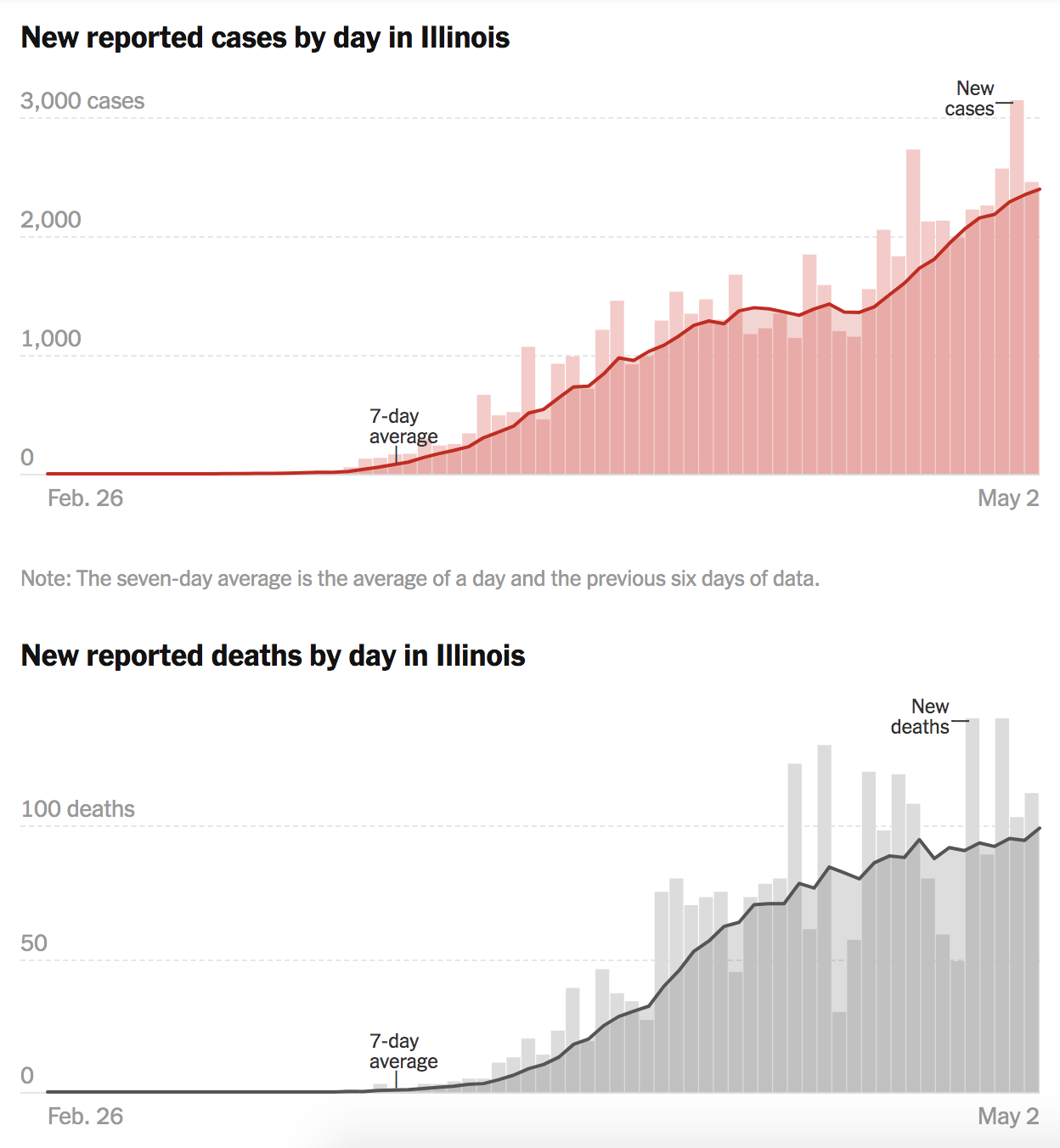 May 4
7-day moving average of new reported cases appears remains consistent: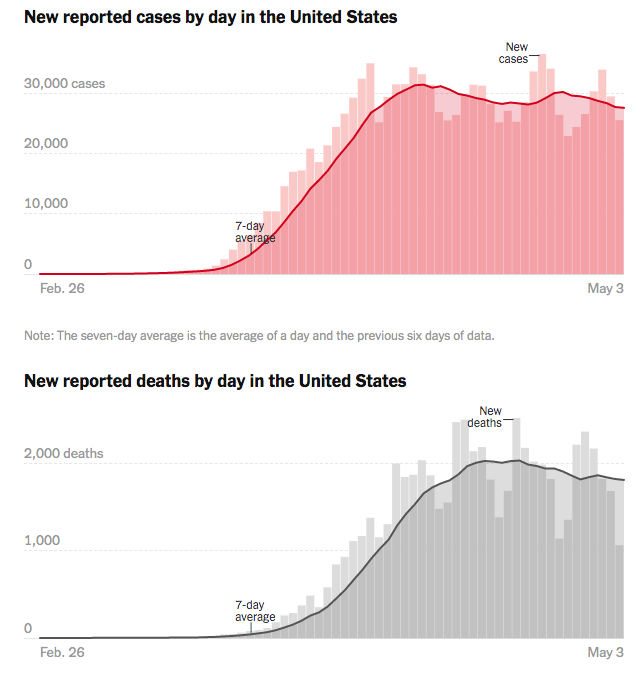 Illinois continues to grow - though the number of people tested daily continues to grow:
10K Americans reach 65 each day, and many are getting caught in the country's broken retirement system. Notes:
Over 30M Americans have applied for unemployment benefits since the pandemic struck - many will lose their jobs permanently and retire earlier than planned.
50% of Americans between the ages of 56-61 had less than $21,000 in retirement savings in 2016 - and not much has changed since (source).
40% of Americans over the age of 60 who are no longer working full-time rely solely on Social Security for their income — with a median annual benefit of ~$17,000 (source).
May 6
1.2M cases in the US (0.3% of the population), 72K dead: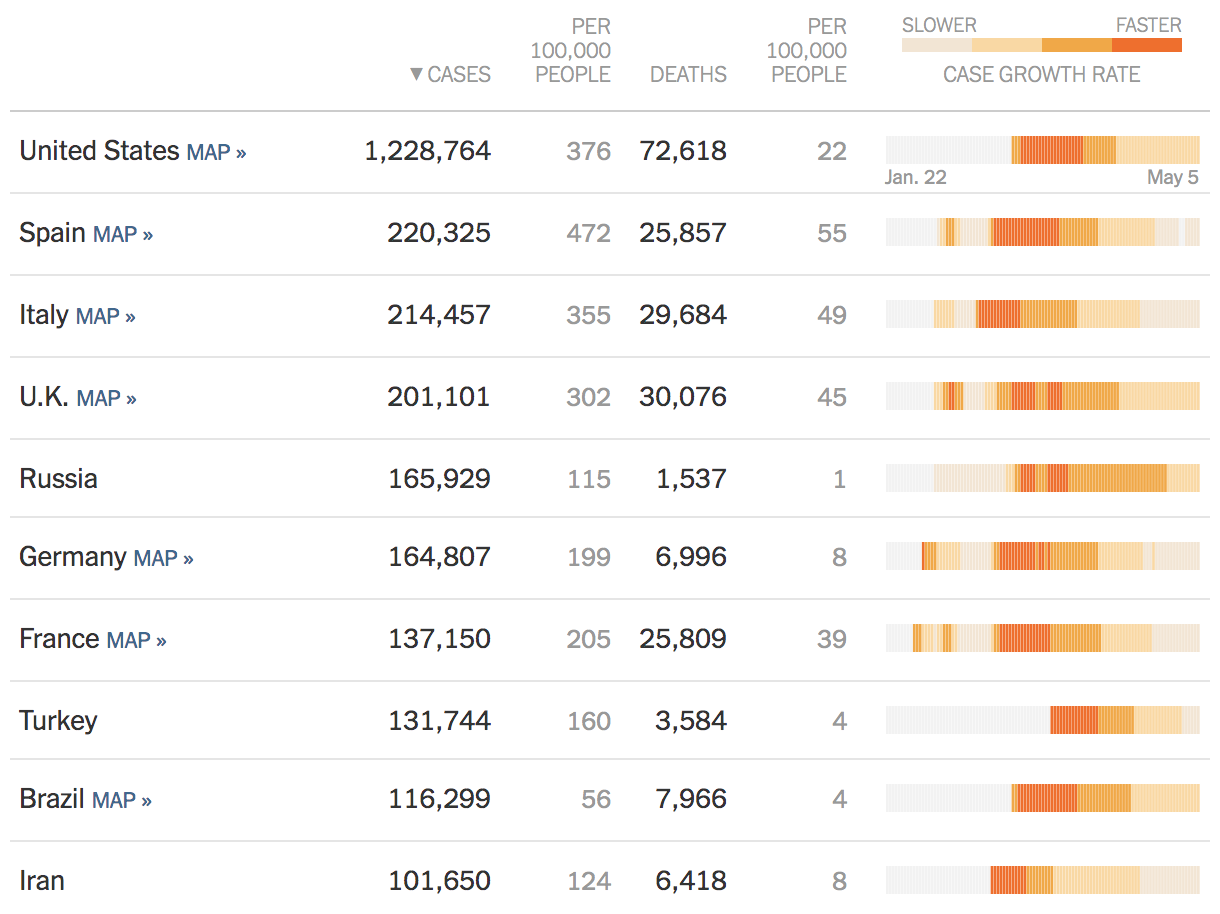 Reads:
May 7
Illinois trends: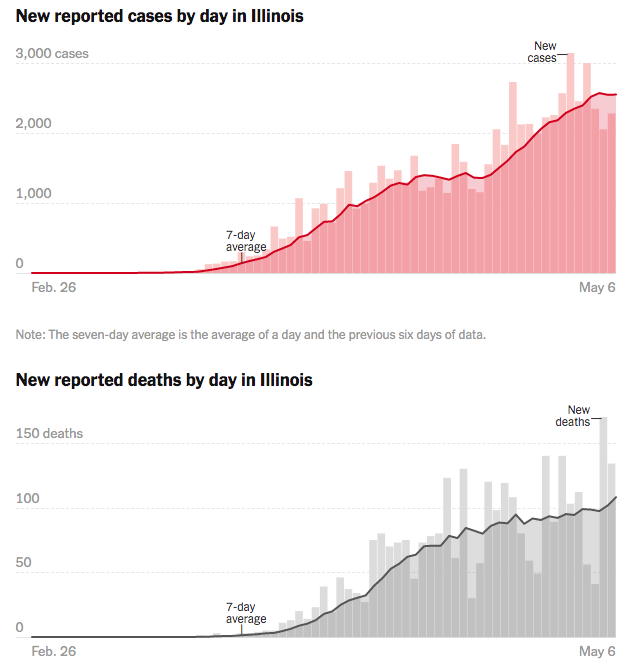 Reads:
The Ugly Truth - A whistleblower report released Tuesday documents corruption and dysfunction inside the Department of Health and Human Services
May 12
Some positive Illinois trends: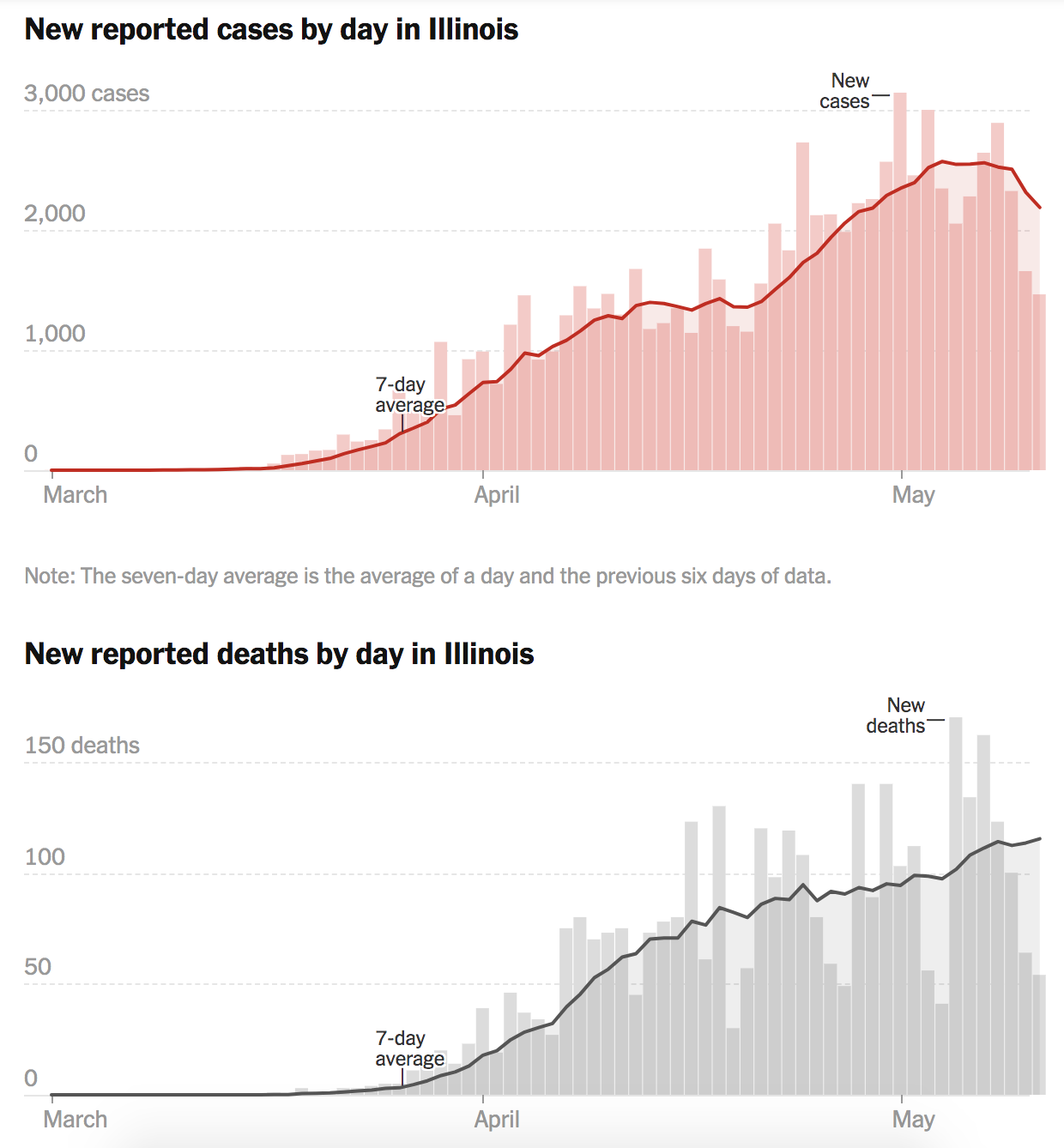 We also had our highest number of tests in 24-hours:
Today is a new high for cases (4,104) but also a new high for tests (29,266) says IDPH Director Dr. Ngozi Ezike.
via https://twitter.com/KristenThometz/status/1260308220658286594
May 13
Where people started leaving home again - a look at movement patterns using cellphone data: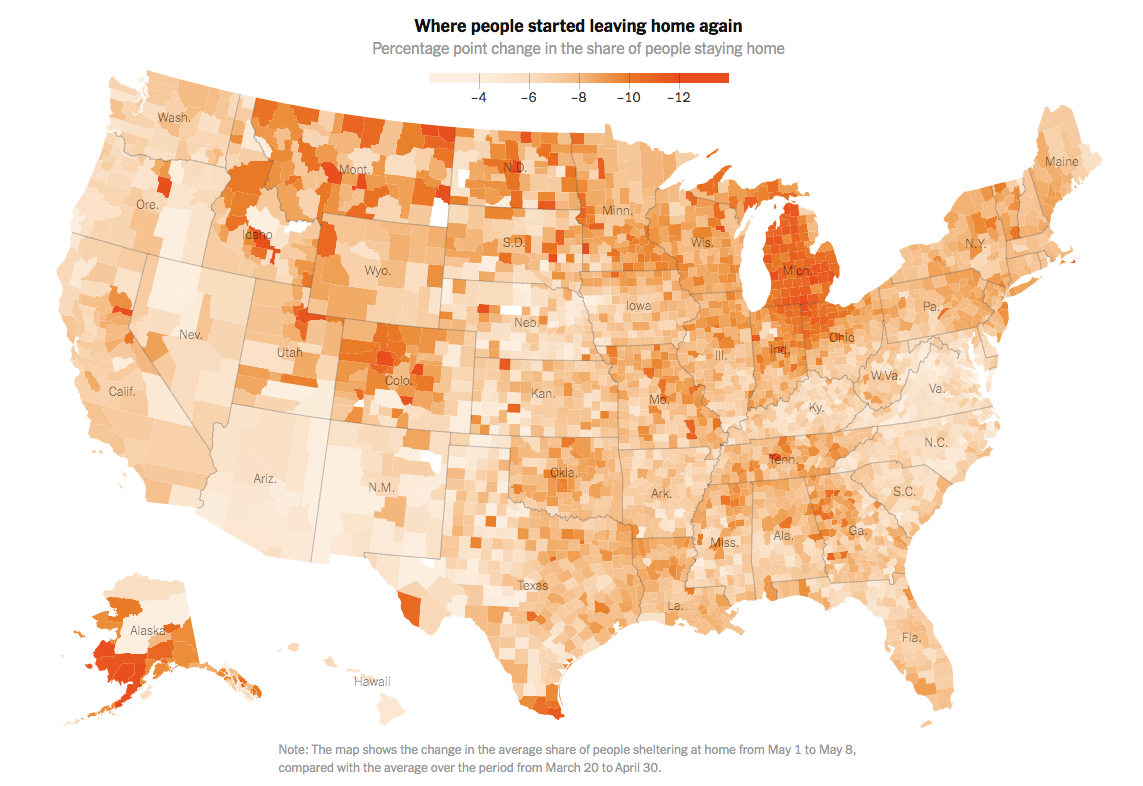 On first glance, I thought this was an article on relocation trends – something I'm following as the pandemic continues to change how we all live.
May 14
Almost 3M U.S. workers filed for unemployment last week: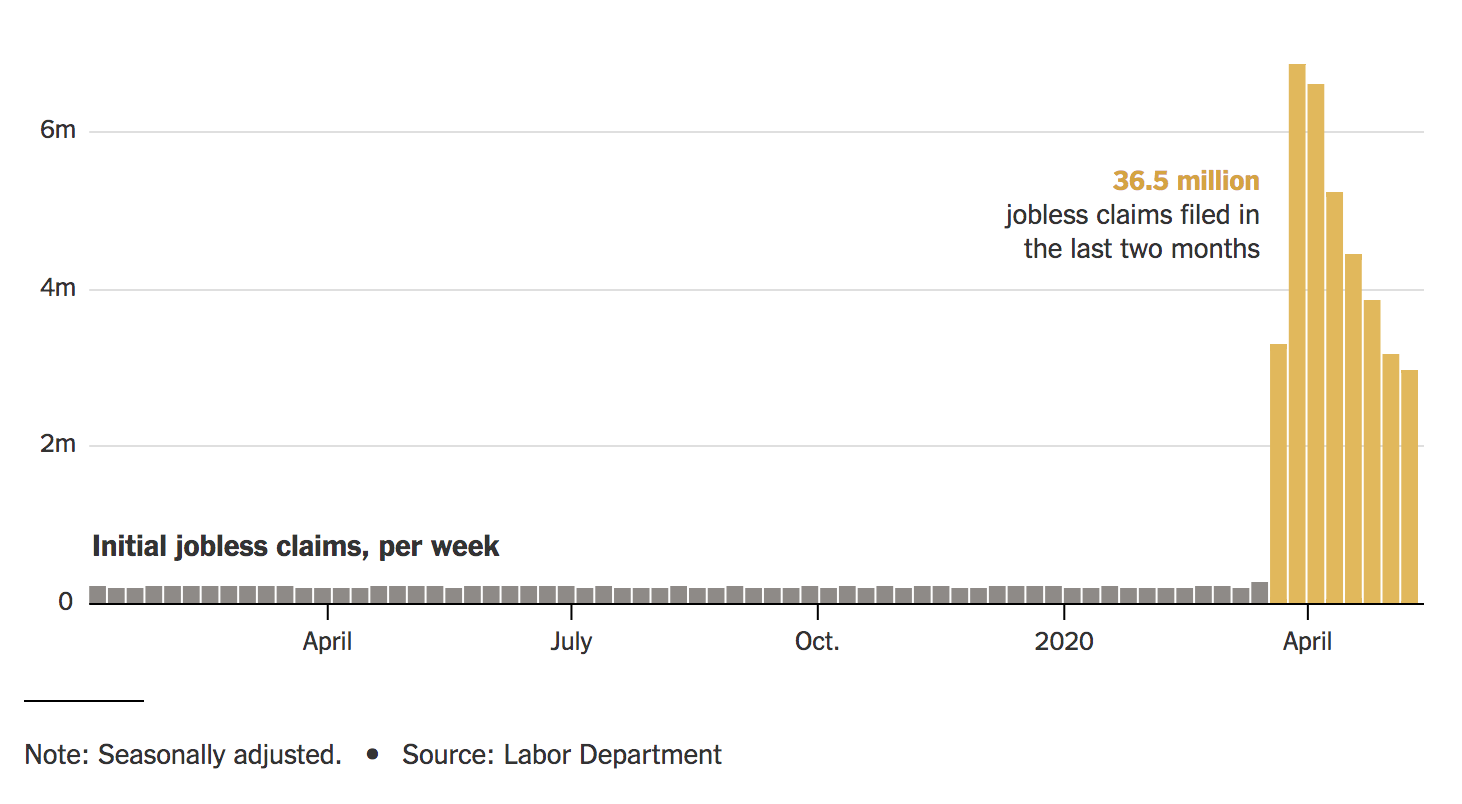 There has been a total of 36.5M claims since the pandemic started – or 23.4% of the estimated workforce (155.7M in 2018).
Currently at 1.4M cases and 85K deaths in the US: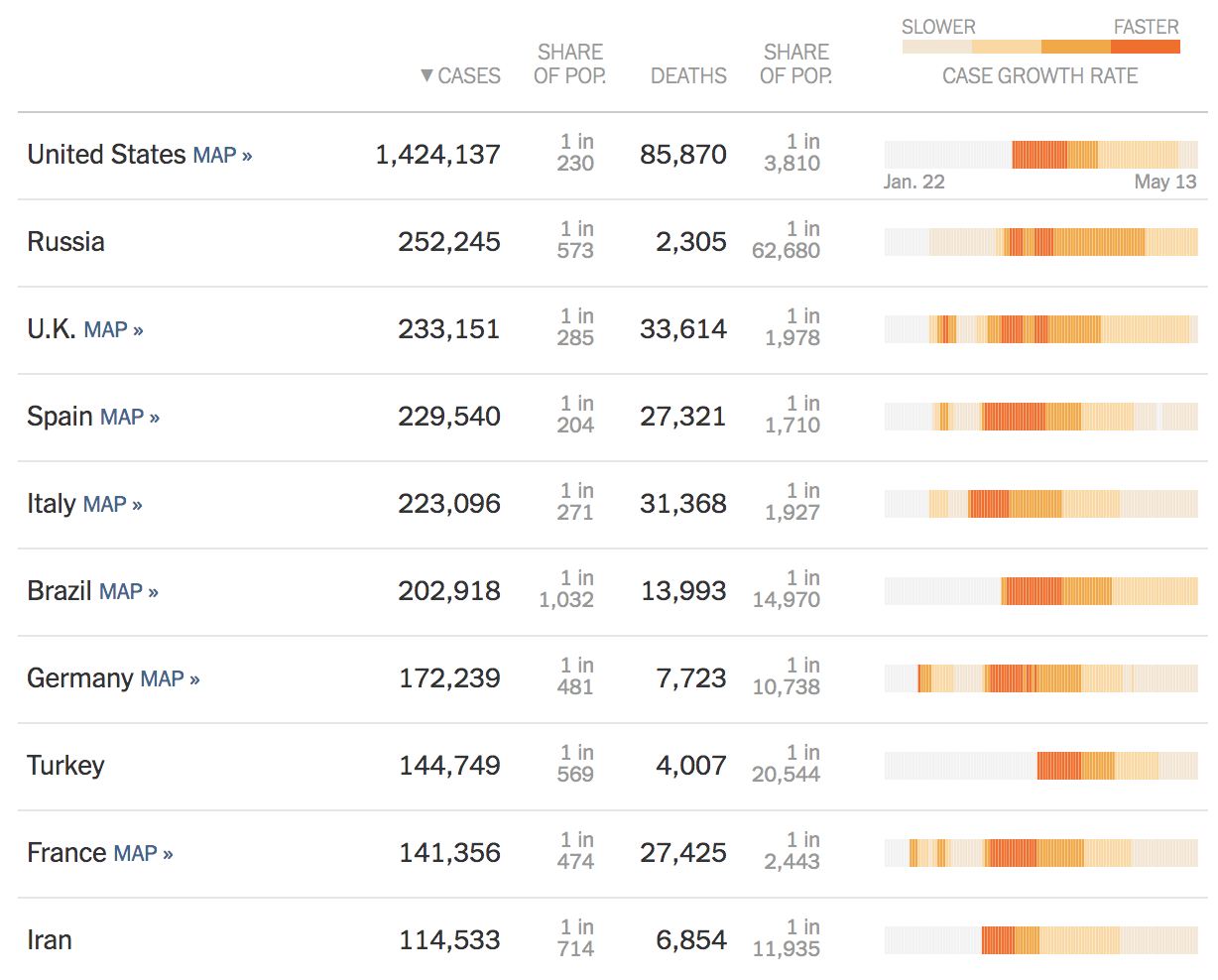 Thankfully, the number of new cases has continued to trend down: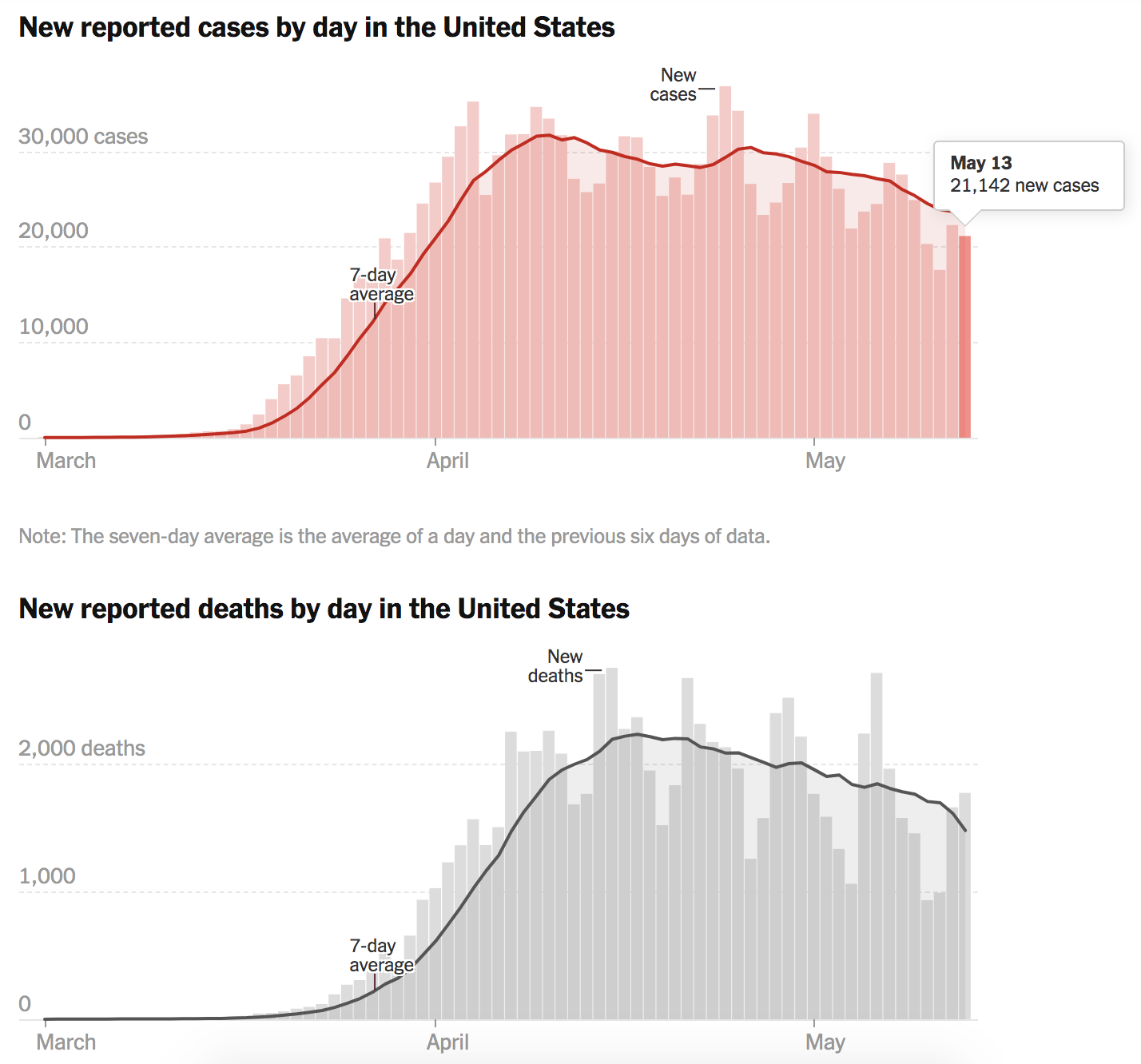 May 17
Approaching 1.5M cases and 90K deaths in the US: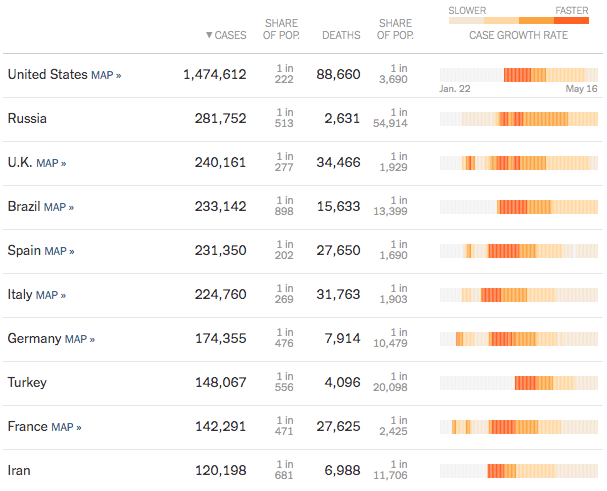 A look at trends in Illinois: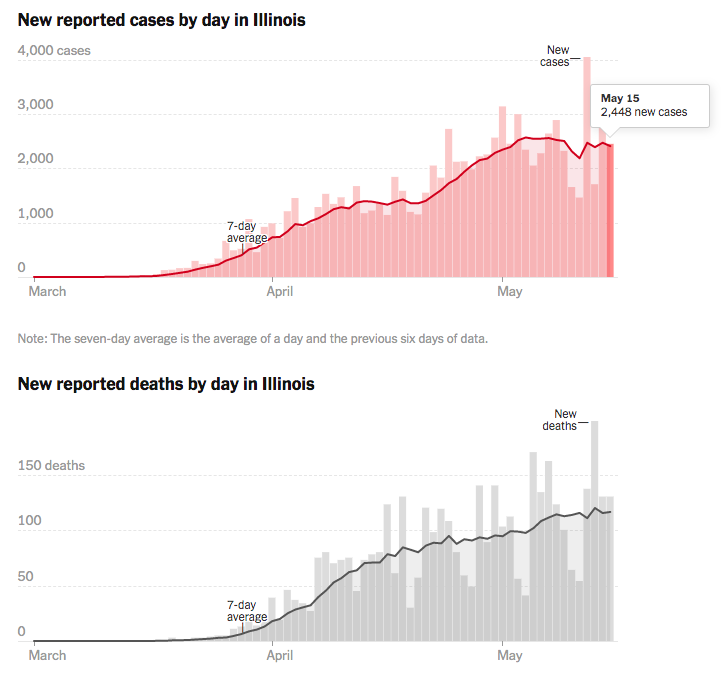 2,088 new cases were reported yesterday.
A look at Chicago cases - the NYT notes the city's status as flattening:

Currently at 3.49 new cases per 1,000 people (or 1 in 286).
"Your daily commute won't ever be the same" - a good article from National Geographic
May 18
1.5M cases and 90K deaths: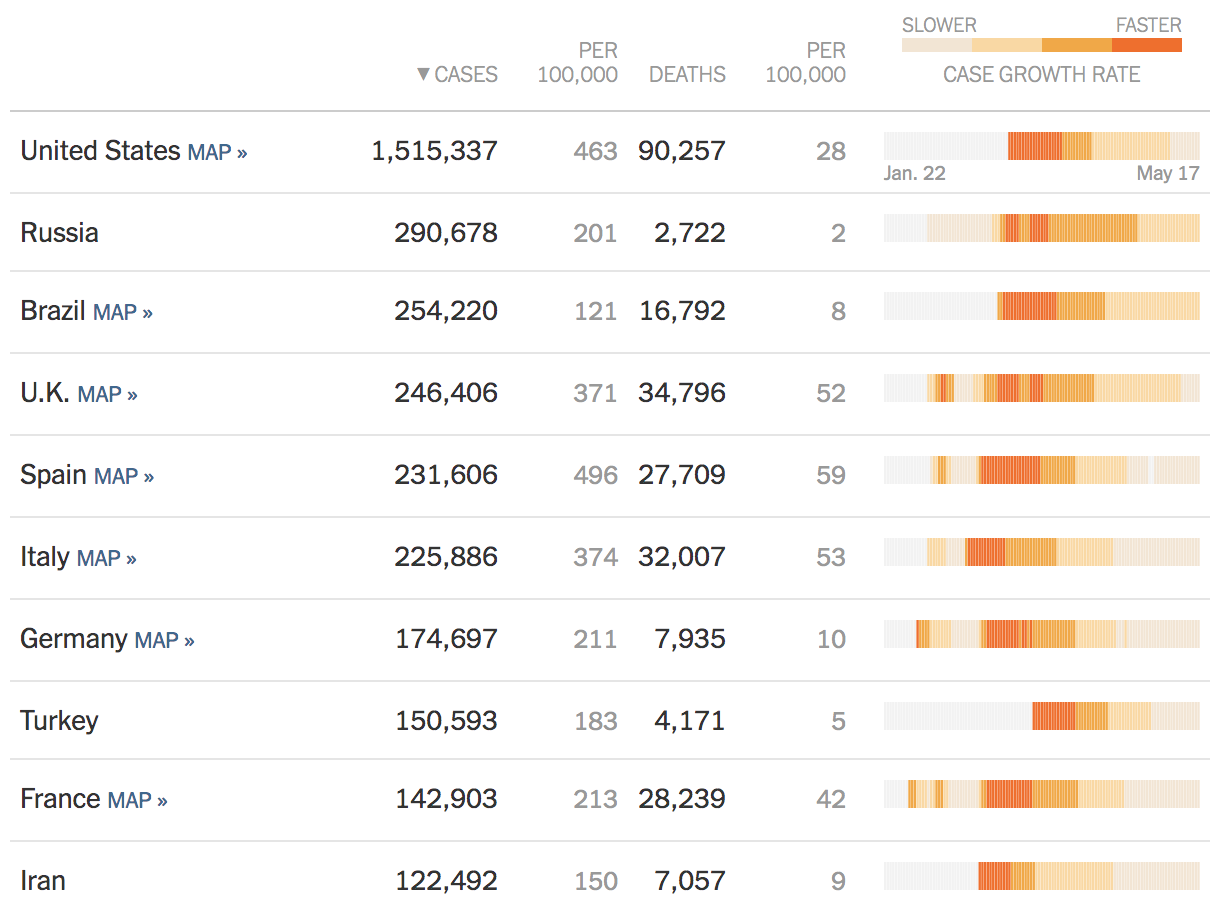 We're seeing some week-over-week day of week improvements in Illinois: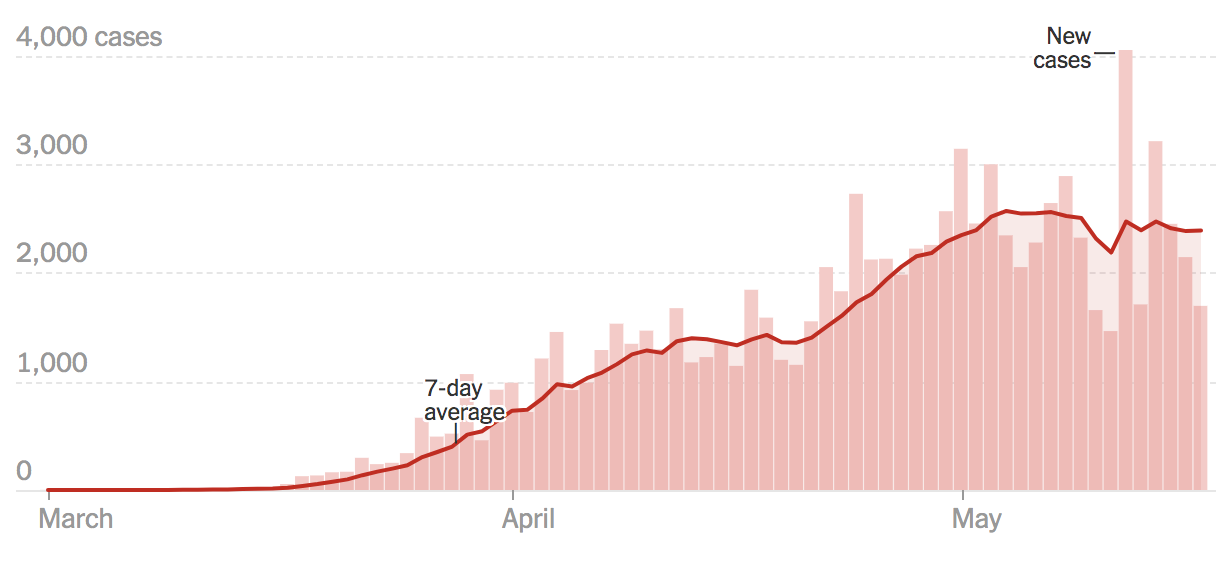 May 19
A Congressional oversight committee released a report on the CARES Act's s $500 Billion Emergency Economic Stabilization Funds. Highlights:
More than one quarter of the U.S. economy has been idled — a fall in output equivalent to what occurred between 1929 and 1933 during the Great Depression.
Over the eight weeks ending on May 9, 36.5 million Americans filed unemployment claims. When combined with the 7.1 million Americans already unemployed as of March 13, the total equals more than 40 million. Between people who are unemployed and underemployed, some experts estimate that the real unemployment rate is actually 22.8% or as high as 25%.
A Federal Reserve survey found that among people who were working in February, almost 40% of those in households making less than $40,000 a year had lost a job in March.
Of the $500 billion allocated, the Treasury Department has dispersed $37.5 billion to the Federal Reserve.
Elsewhere:
May 20
All 50 states have begun to reopen to some degree - many states require masks and for folks to social distance when gathering.
A prototype vaccine has protected monkeys from the virus. Small numbers (8 monkeys), but a great development nonetheless.
CDC releases guidance for reopening. A 60-page document that is similar to the draft version that was shelved by the White House, but with toned down guidance and section on 'communities of faith' removed.
June 2
A look at US aggregate trends: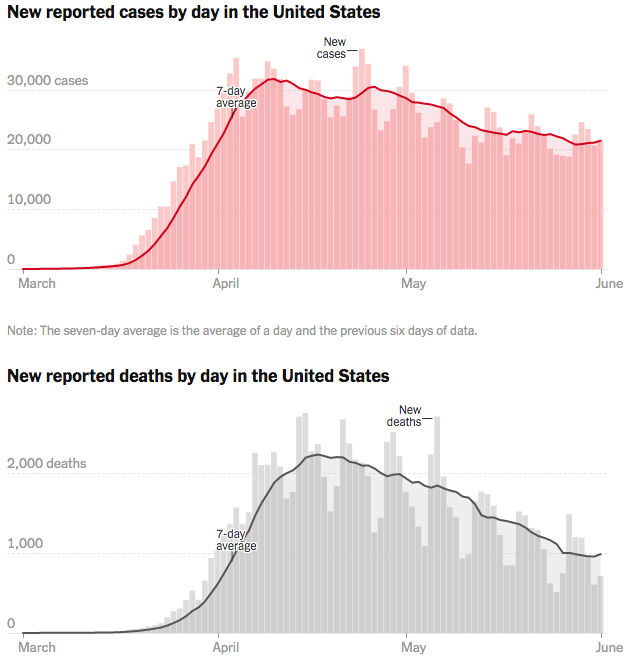 New cases slowly declining.
Zooming in on Illinois, we are thankfully seeing a sharp decline in new cases: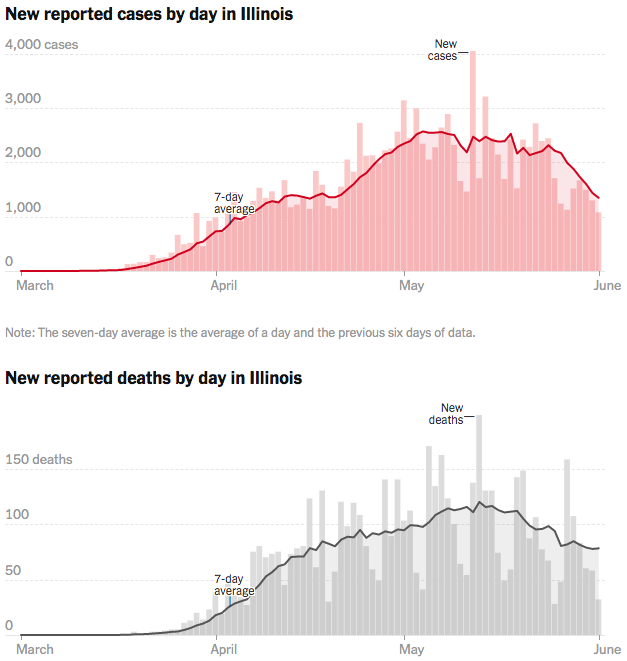 Mayors, public health experts and other officials worry that the risk of new coronavirus cases will increase with protests.
June 4
Illinois opens up community-based testing sites to all. Cases in the state are trending down to stable: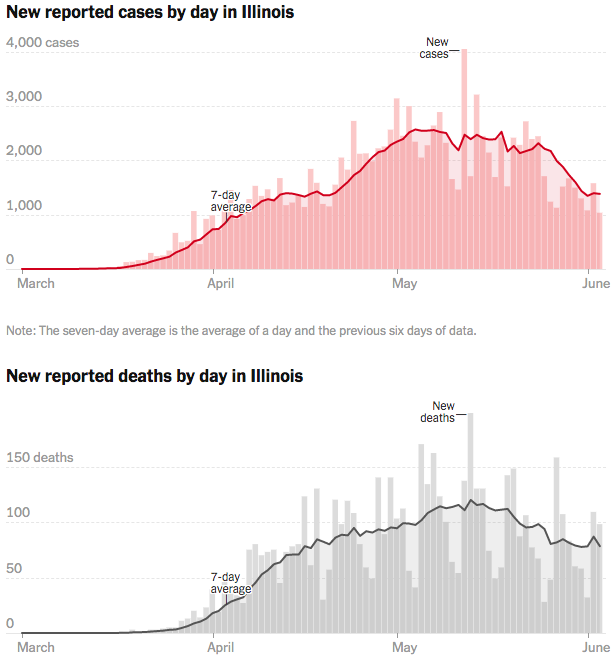 June 6
CNN reports we're pacing over 100K new cases per day worldwide, and growing: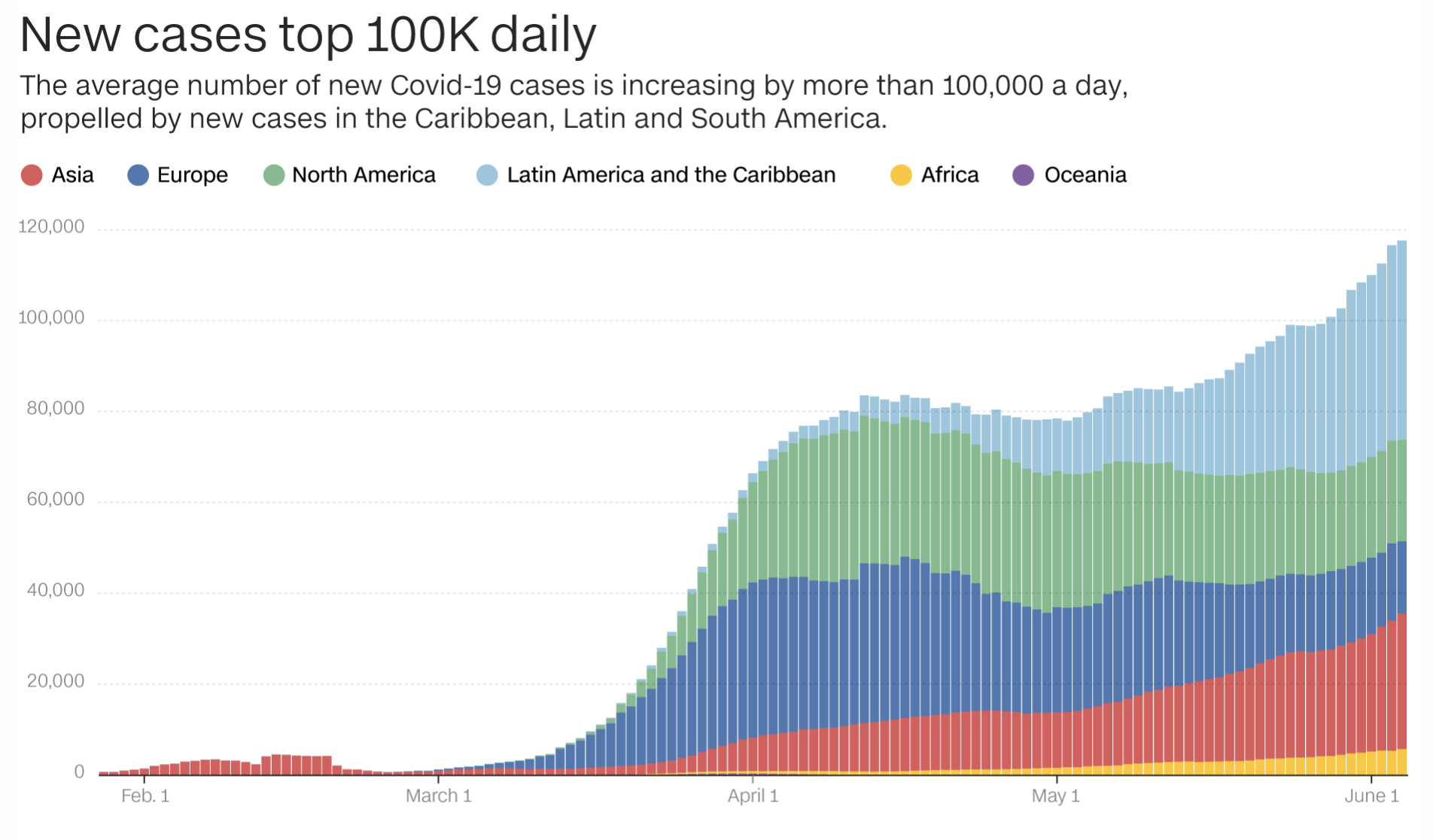 June 11
The US has officially crossed the 2M mark in cases (0.59% of the population):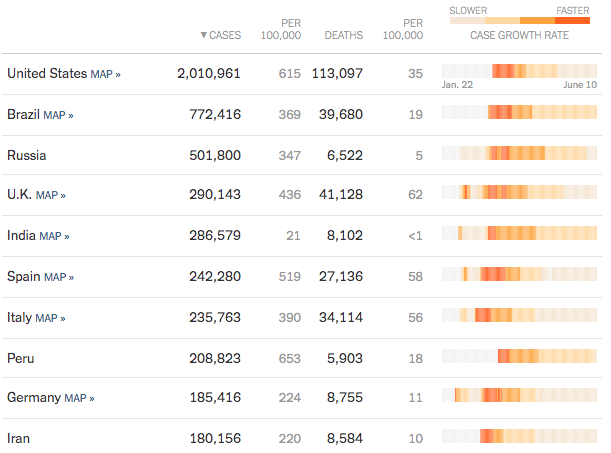 Fears of a second wave (or extension of the first wave) of cases are making the stock market skittish, with the Dow and S&P 500 both losing roughly 5% in value so far today.
June 15
Illinois continues to trend down, currently running at a rate of 600-900 new cases per day: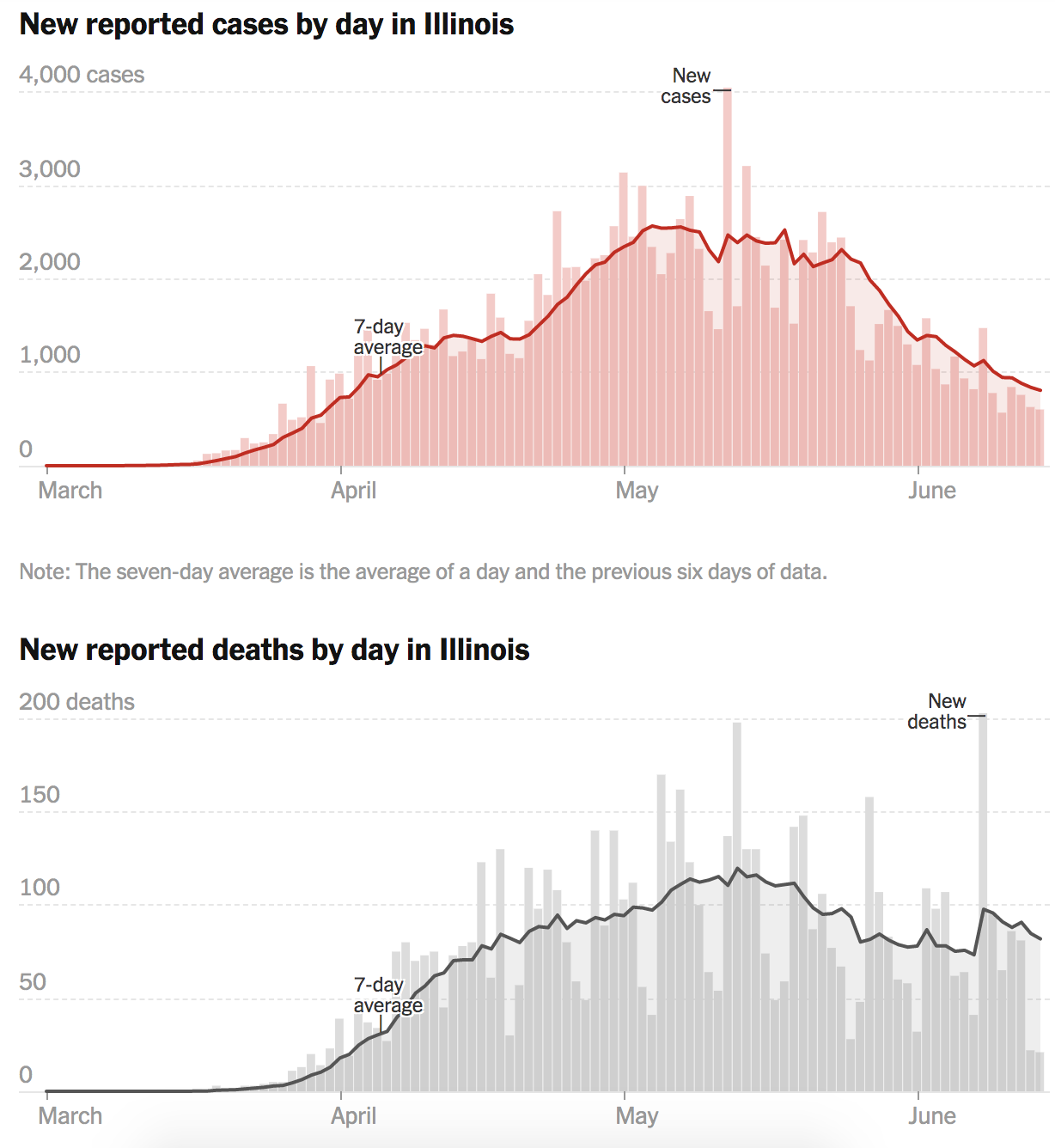 473 new cases were reported today. Let's keep this momentum. 🤞
Nationally, we have flatlined at around 20-25K new cases per day: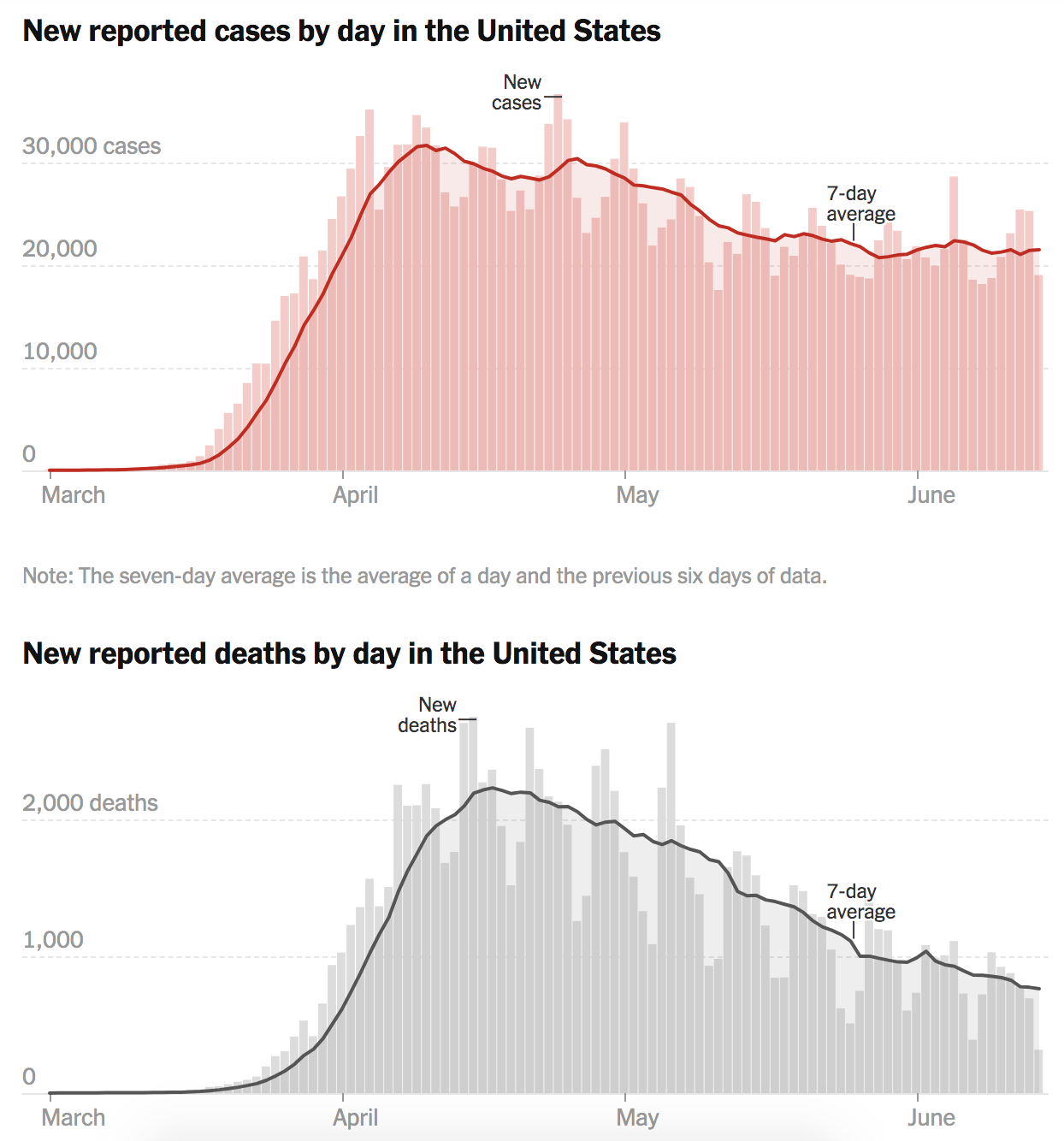 The FDA revoked emergency authorization to use two malaria drugs to treat COVID-19 promoted by the President.
June 19
It's not looking good for the US as cases start to increase again: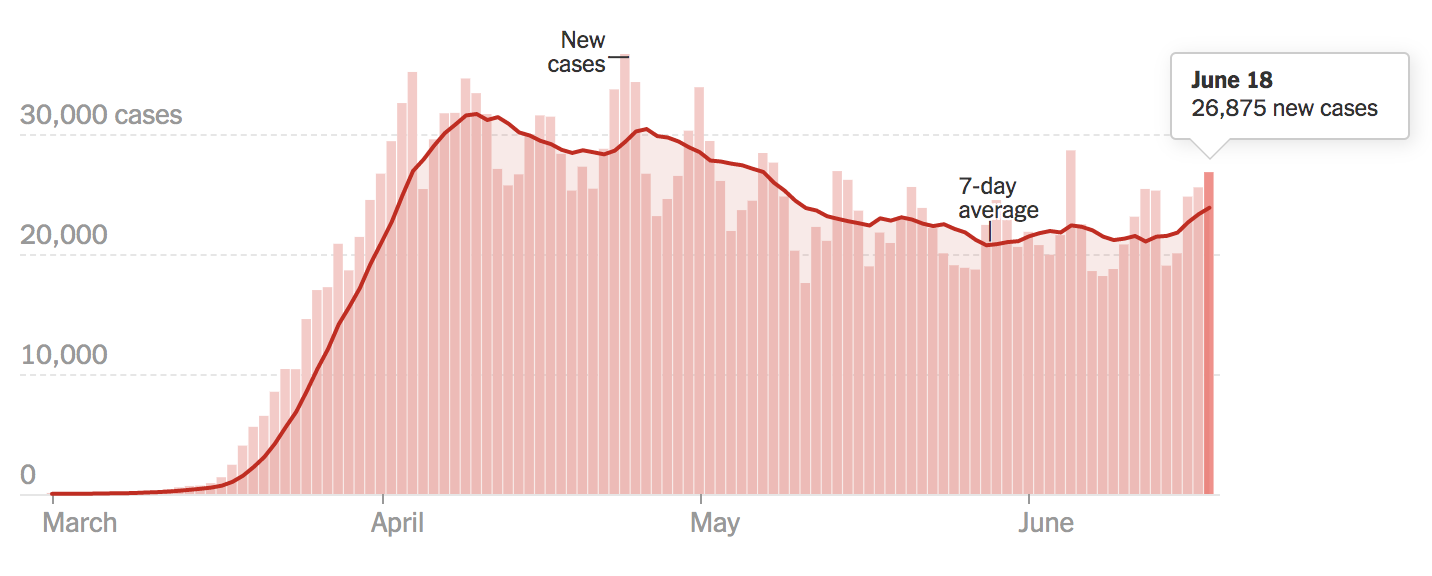 Many believe this is the first wave of cases continuing to extend in areas that were less severely impacted early on and decided to either forego or pursue less restrictive preventative measures.
Illinois continues to see cases decline:

The big test will be to see how these case counts change as the state reopens.
June 25
The US is officially getting crushed. Yesterday we saw the highest number of new cases reported in a single day yet: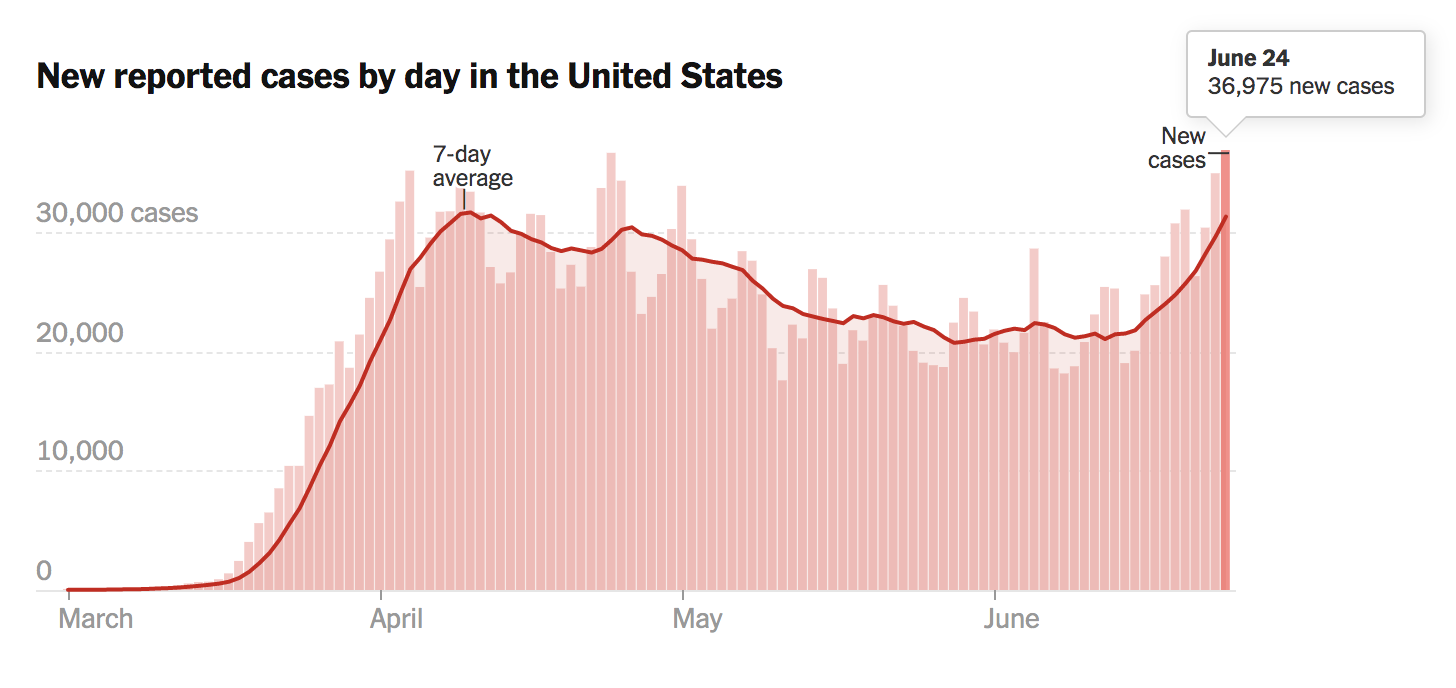 Complete failure of leadership at the federal level. Cases are currently rising in 29 states.
You can see how we compare to the rest of the world through the European CDC's COVID-19 reporting tools.
June 26
New York Times with a nice, abridged look at the US:

A look at Illinois - cases have been unfortunately rising the past three days:

Digging a bit deeper, I thought I'd look at aggregate stats in Cook County (home of Chicago, where I live):
Total population: 5.15M
Total cases: 88,650 (1.72%, or 1 in 58)
Total deaths: 4,500 (0.087%, or 1 in 1,145)
In my neighborhood, Lincoln Square, or zip code 60625:
Total population: 78,651
Total tested: 9,198 (11.6% of the population)
Total cases: 1,496 (1.9%, or 1 in 52)
Total deaths: N/A
I'm not sure why the deaths are not being reported on a zip code level. If we use the COVID-19 mortality rate of Cook County (0.087%) above, we can infer roughly 68 deaths in the neighborhood.
June 29
A look at case growth per week adjusted for population from the NYT: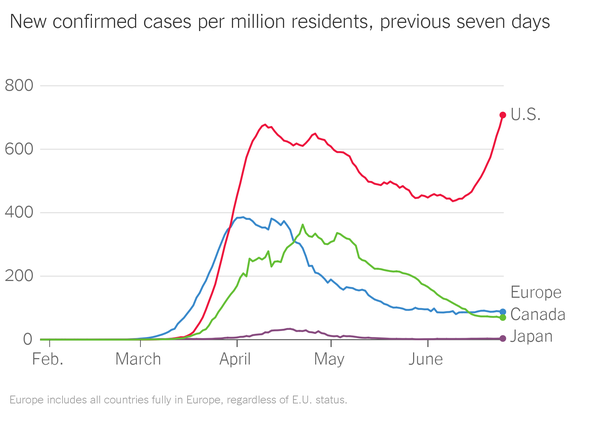 China and South Korea's line would look similar to Japan's.
Here's a look at death count per capita: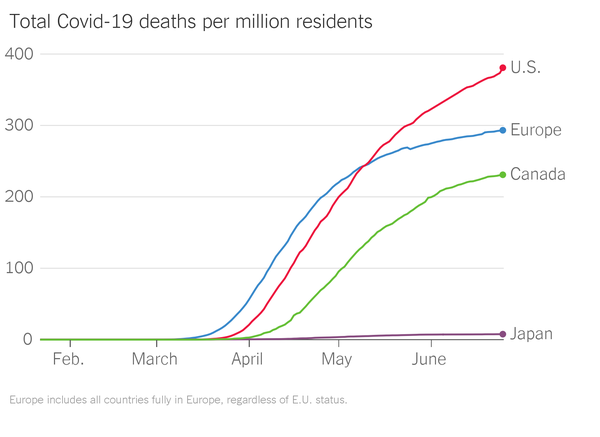 We're bad at this.
June 30
A helpful tool to view and filter on time series data for the city of Chicago. For example, my neighborhood: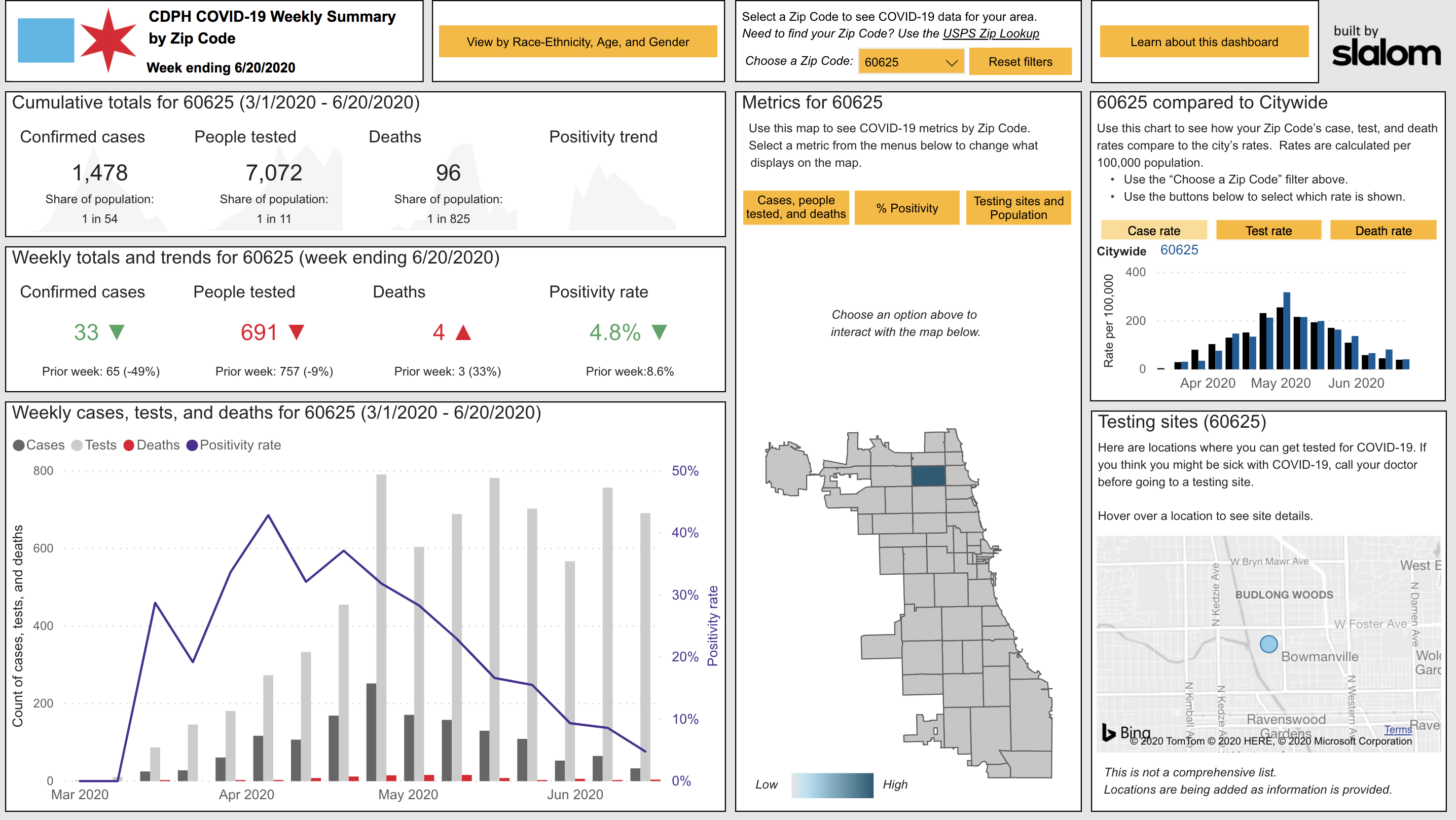 How Much Testing Do We Need? Great analysis from NPR on state by state testing. Two thirds of states are not doing enough testing, a big reason (coupled with reopening too early) as to why we're seeing a resurgence in large parts of the country.
I thought it was helpful to see a case study view of a mitigation strategy in Tennesse: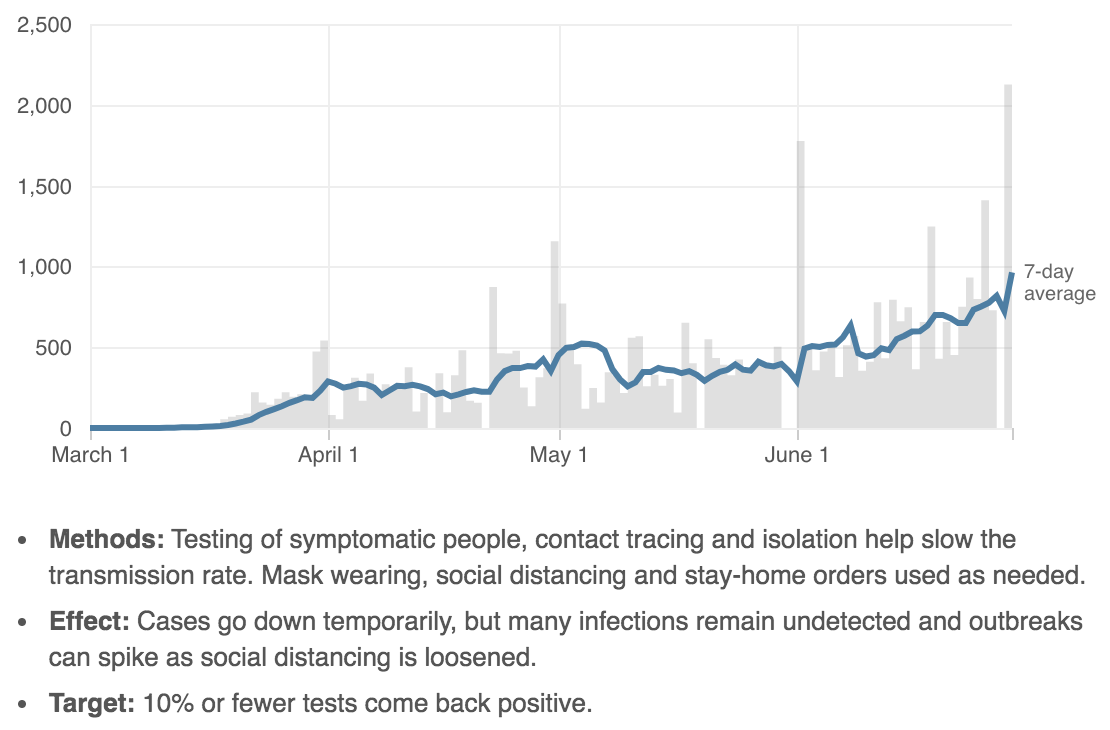 Contrast this with a supression strategy in Italy: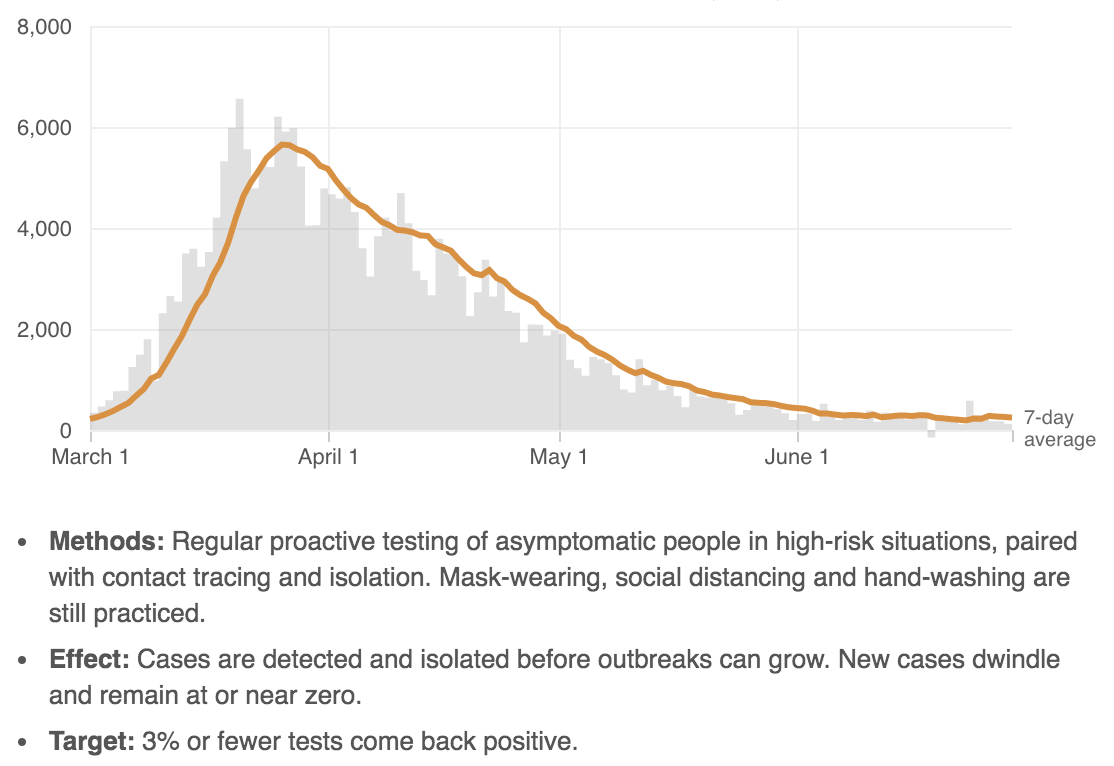 The key difference is that cases are detected and isolated before they lead to outbreaks. Extremely logical.
July 3
FT video on impact of stay at home orders. Some notes:
In April, daily global C02 emissions down 17% compared to same time last year
Millions adapting to working at home. Investment in London office state market dropped by a 1/3
Air quality has improved by 1/3 around prime London real estate
Peak rush hour traffic in Chinese city Shenzhen is 10% higher than 2019 baseline
July 10
Is Your State Doing Enough Coronavirus Testing? - 12 US states are meeting their target, 5 are near their target, and 34 states are below their target. I'm proud of Illinois.
July 14
We blew past 3M cases a few days ago and are approaching 3.4M in total: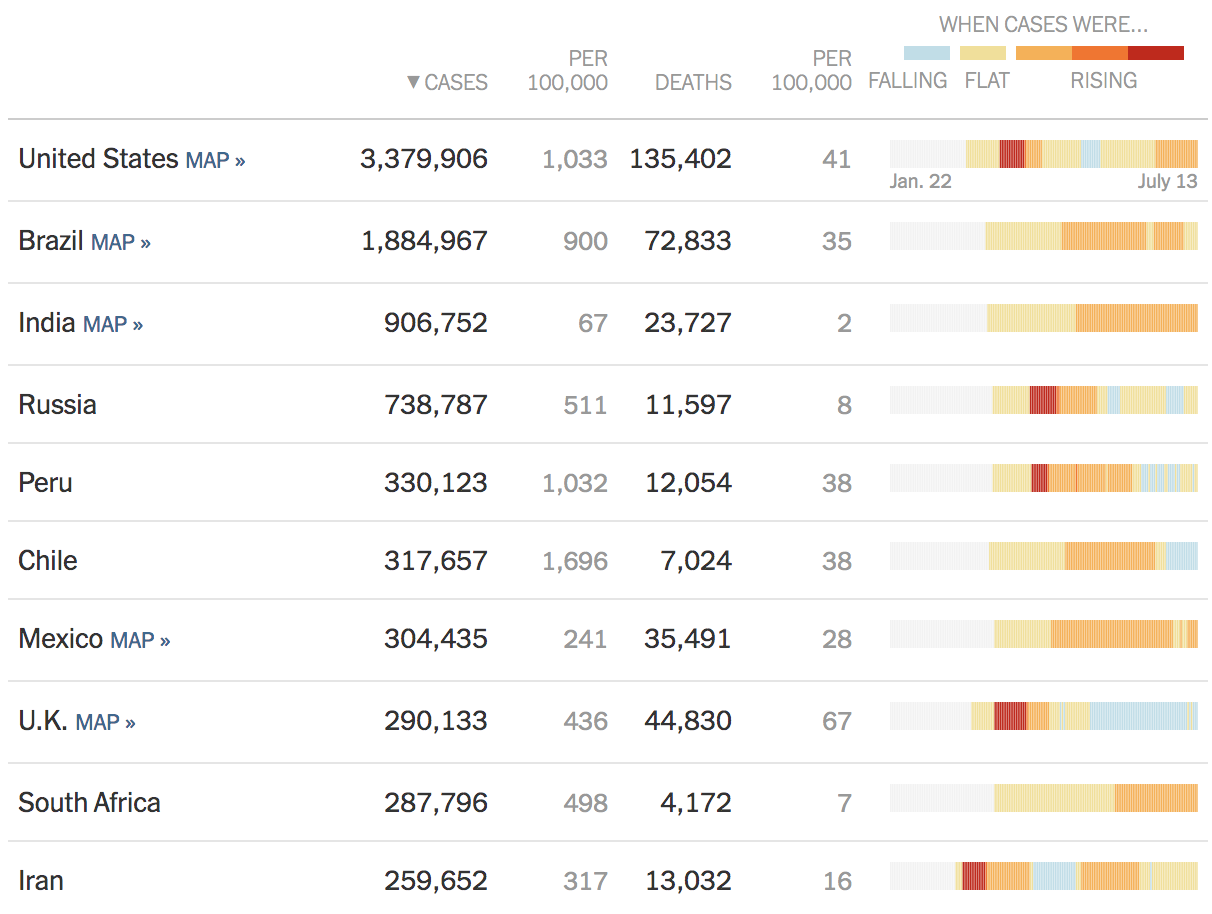 Scrolling up, I notice we crossed the 2M case mark roughly 30 days ago. It's hard to see where this ends. Everyone needs to listen to medical experts and do the part. We are all in this together.
5.4 million people lost health insurance after losing their jobs.
July 23
We crossed the 4M mark today: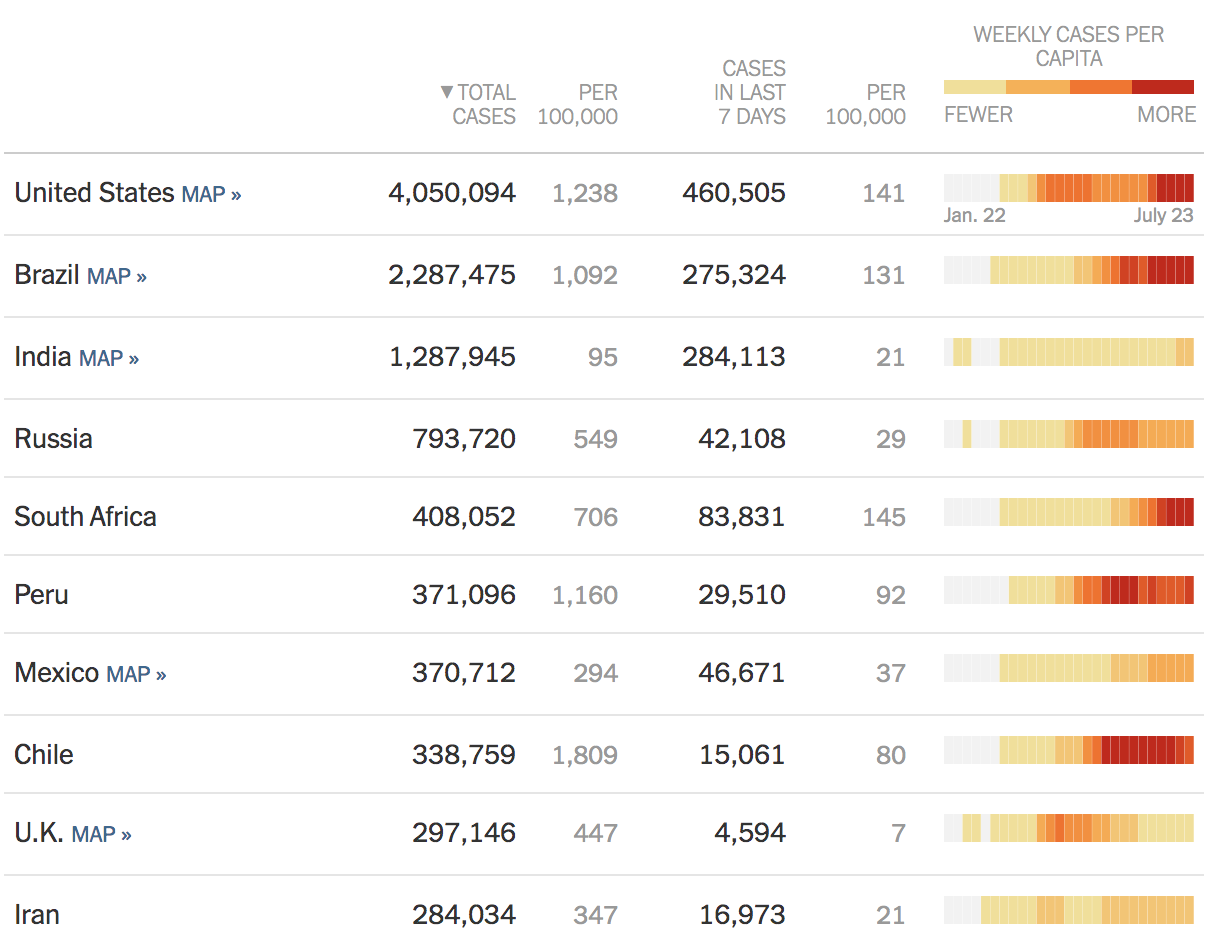 On a per capita basis, we are the nation with the seventh highest amount of cases over the last 7 days, wedged between South Africa and Israel: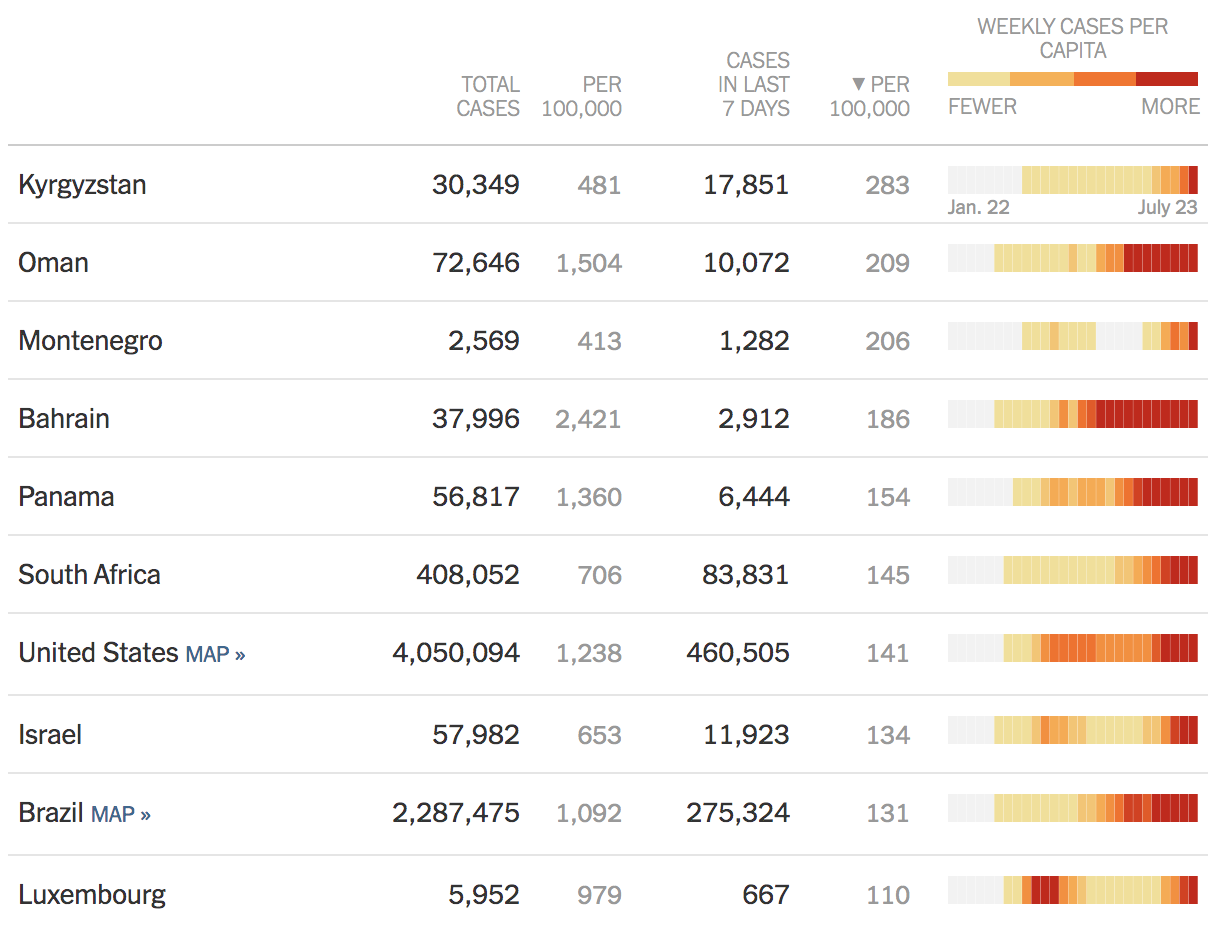 It's getting harder to log these updates given the case counts in the US are so grim.
Tweet